How to Reach Out to Popular Bloggers and Always Get Replies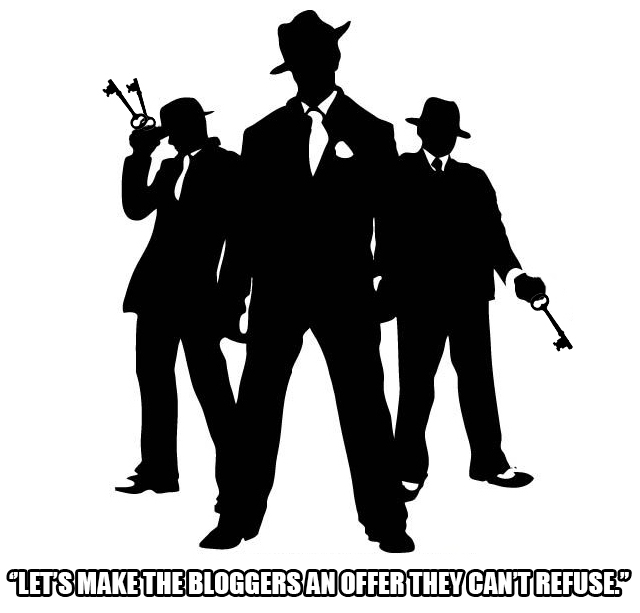 I remember when SEO software was built for desktops and they all had a tool to send bulk emails to site owners asking to link to your site. It never worked. You were ignored at best or even blacklisted for spam. However, if done right, cold emails are a powerful tool to get more relevant traffic and improve your ranking positions.
A quick recipe for a successful outreach would be the following:
Identify your "hit list"
Make initial contact
Grow a relationship
In order for your content marketing strategy to succeed, you will need to increase your promotion efforts. Let's dive deeper and get you some great new links and a ton of relevant traffic!
When do you need to reach out to popular bloggers & media?
You've just launched a new service or product. If you've investigated how to market a product, you must have been advised to ask some niche authority to write about you. Getting some publicity in relevant media is a great start for every new product.
You want to attract new readers. One of the most effective ways is to get an authoritative blogger or niche expert as a guest blogger on your site. You may think of an interview format.
You want to expose yourself as a niche expert. Try to publish some great content in a popular industry media outlet.
You need some good links from authoritative sites. Sometimes 1-2 links from a good relevant source can drastically improve your ranking and help you outrank your competitors.
5 tips for reaching out and getting results
1. Write about them, not about you
Templates that were massively used to spam popular bloggers and media all started with "Hello, I am XXXX from YYY". It didn't work then and it doesn't work today. Instead of writing about you, start with their work: "Your post …. really caught my eye." And then tell them who you are.
Example:
"Hello Jane!

You article on the keto-diet is great and I just retweeted it as @memyself! Your wit combined with thorough scientific approach makes your writing fascinating and useful. Our portal about healthy food could really use an article written by you."
Be sure you have, indeed, followed them on relevant social media and already liked and shared some of their articles. Unless they belong to a large organization, it is likely they will have noticed your kind attention before your direct email arrives (keep in mind that you can directly message someone from within LinkedIn or Facebook, etc and not send an actual email at all).
2. Make it easy to speak with you
It's highly important that you make it really easy to speak with you. Say that you are happy to work on your respondent's schedule and will be available when they are free. Provide every which way for someone to contact you. Remember, that you are the one who needs something.
3. Get social proof
After your email is read, it is very likely that your respondent will take a few seconds to find something about you and your business. Create trust with social proof: embed it into your initial email. Tell for how long your business has been operating, who has written content for you and where your own articles were published.
4. Send follow-ups
Quite often people don't respond, not because they don't want to but because they forgot to. On the image below you can see the number of follow-ups we tested. As you can see the third email has a rather high response rate. I would recommend that you send an initial email + 2 polite follow-ups. When you are smart and polite, your follow-ups will not look "pushy".
My advice for every follow-up is: share something valuable, share an exciting update on your achievement, repeat your ask in different words or from a different angle on why it's so important that you speak with them.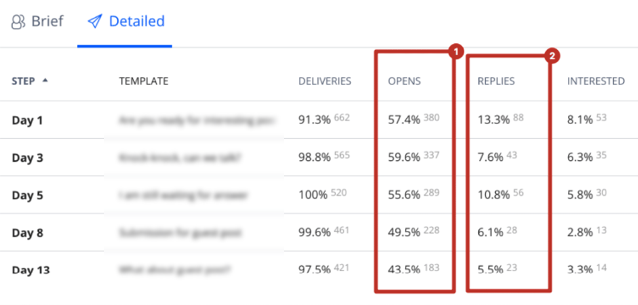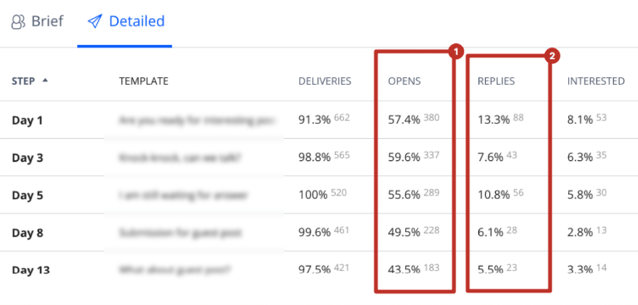 5. Grow the relationship
Now when you've reached out to a blogger and gotten their articles on your site or you've gotten your content promoted on theirs, it's time to strengthen your relationship. Follow them on more social media and keep sharing and commenting on their publications. Try to develop friendly win-win relations.
How to find bloggers to reach out to
1. Search for blogs in your niche
Create your hit list – find bloggers in your niche with whom you want to build relationships and whose networks you'd love to tap into.
I usually create a spreadsheet where I keep all the information found. First of all, search for bloggers who write on relevant topics. You may use the WebCEO Web Buzz monitoring tool. In the tool's settings enter keywords that describe your niche (try broad terms first), and see the latest posts with them.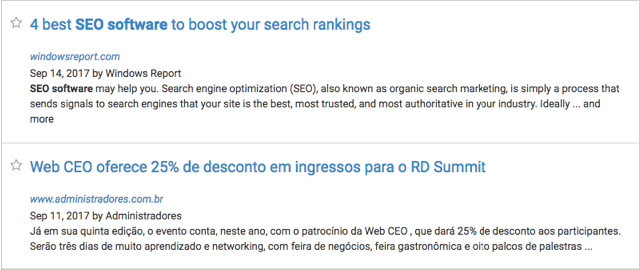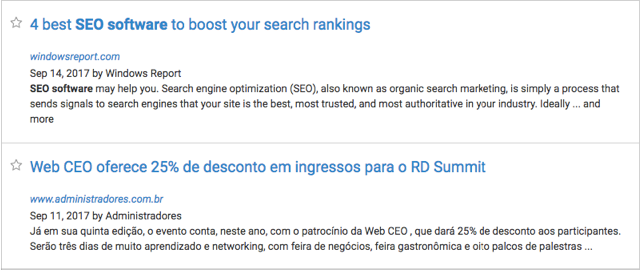 Add blogs you've found to your spreadsheet and move to the next step. The next step is to find a maximum information about them, especially their contact information.
2. Find twitter accounts that are popular in your industry
Twitter is the next great source of relative media. Very often authoritative journalists and bloggers have popular Twitter accounts. You can search for them on Twitter or use the second tab of the WebCEO Web Buzz monitoring tool. Here you will get a list of the most popular recent tweets with likes and retweets measured. Add these twitter accounts to your spreadsheet too.
3. See who links to other niche blogs
When someone links to other sites in your niche, there is a really high chance they will link to your site too. Use the WebCEO Competitor Backlink Spy to see who links to your competitors but not yet to you.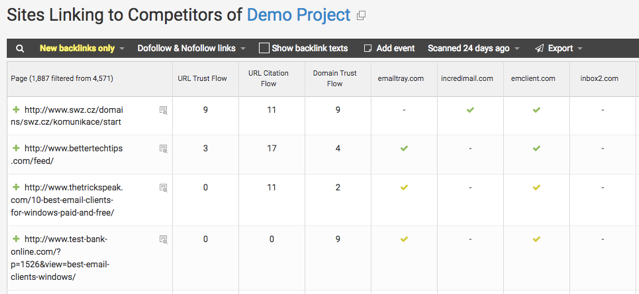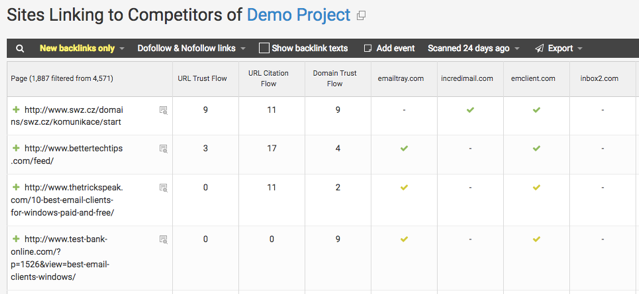 Add sites and blogs, that do not link to yours, to the spreadsheet. Now, when you've used these three tools you should have a massive hit list.
Investigate each of them carefully: find who the author is, what are his/her favorite topics, think of content you can provide to them. When all the preparation is done, reach out to them with PERSONAL emails and lots of likes and shares of their previous articles and do not forget the tips I've given.