15 Quick Ways to Improve Your SEO & Rankings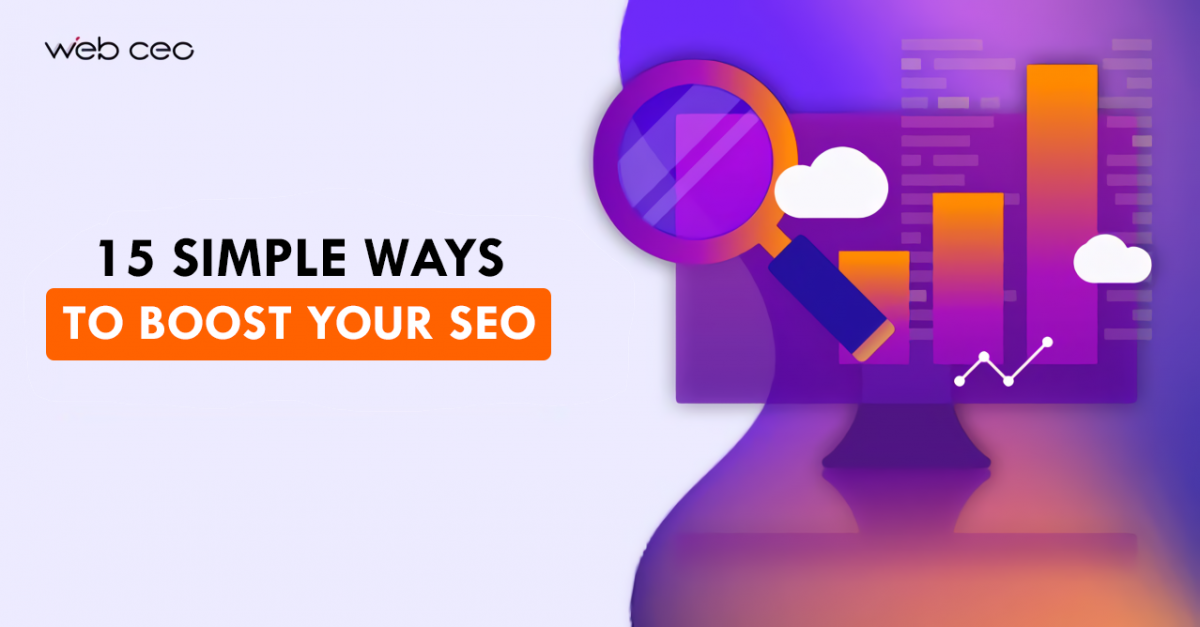 Given that 95% of search engine traffic goes all to the first page of search results, maintaining high site rankings is key to promoting awareness to your brand, establishing credibility, and generating more leads and customers for your business.
However, there are instances when you'll see your site rankings begin to drop. When that happens, so too will your ability to reach your business goals.
In this article, you'll learn 15 different reasons why your site rankings are dropping and tips on boosting them – by improving your SEO.
1. Monitor Changes in Google's Algorithm
Google is rolling out its Google Page Experience update in May 2021. This update will affect how Google will rank websites based on safe-browsing, HTTPS, mobile-friendliness, site loading speed, interactivity, and visual stability.
Updates like these are meant to ensure Google lives up to its mission of providing its users with relevant and useful information.
However, this also means that some SEO techniques that helped improve your site rankings in the past may no longer work. In some cases, it may even cause your rankings to drop.
Conducting an SEO Analysis on your website can help prevent this from happening. WebCEO's SEO Analysis tool, for instance, is regularly updating its system each time that Google updates its algorithm.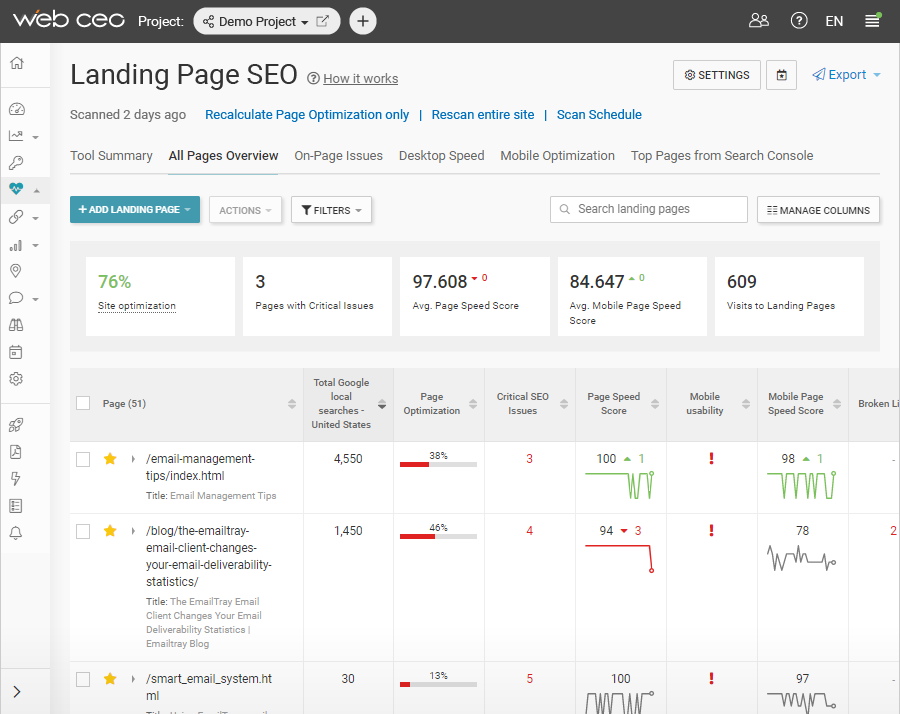 That way, you can find the areas that you'll need to address and promptly fix them.
A perfect example of how SEO can help your business is Agnew Group, a leading European motor group in Northern Ireland. By adjusting how they optimized their website and content, the Irish motor company achieved a record month of website visits, users, and customer inquiries in January 2019, which led to a 65% boost in leads.
2. Double-Check the Keywords You Are Targeting
It's not enough that you target long-tail keyword phrases that match your products and services. You also need to check the competition level of each keyword phrase you're trying to rank for.
If all the keywords you're trying to rank for are incredibly competitive, it's going to be more challenging to boost your site rankings.
When choosing the keywords to optimize your content and website, you'd want to make sure that you choose those with a high Keyword Effectiveness Index or KEI. That's because these are keyword phrases that have a high volume of traffic and low competition level.
Find the most effective keywords for your site with WebCEO's Keyword Research tool.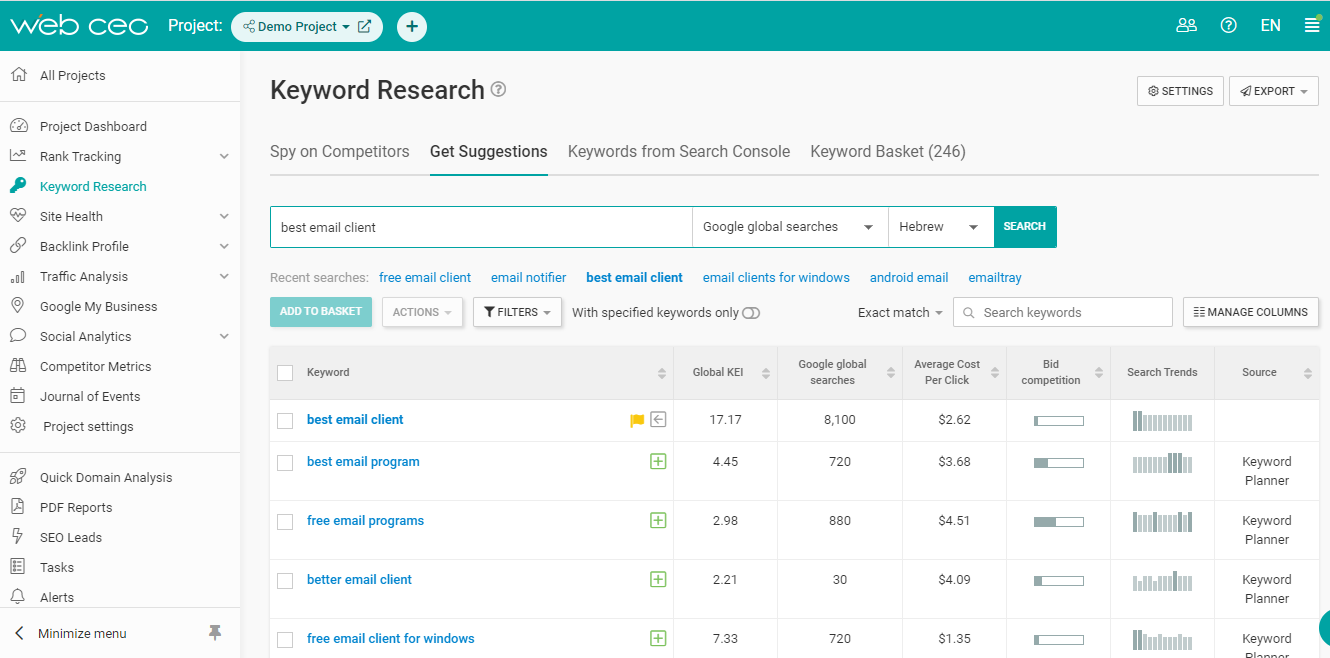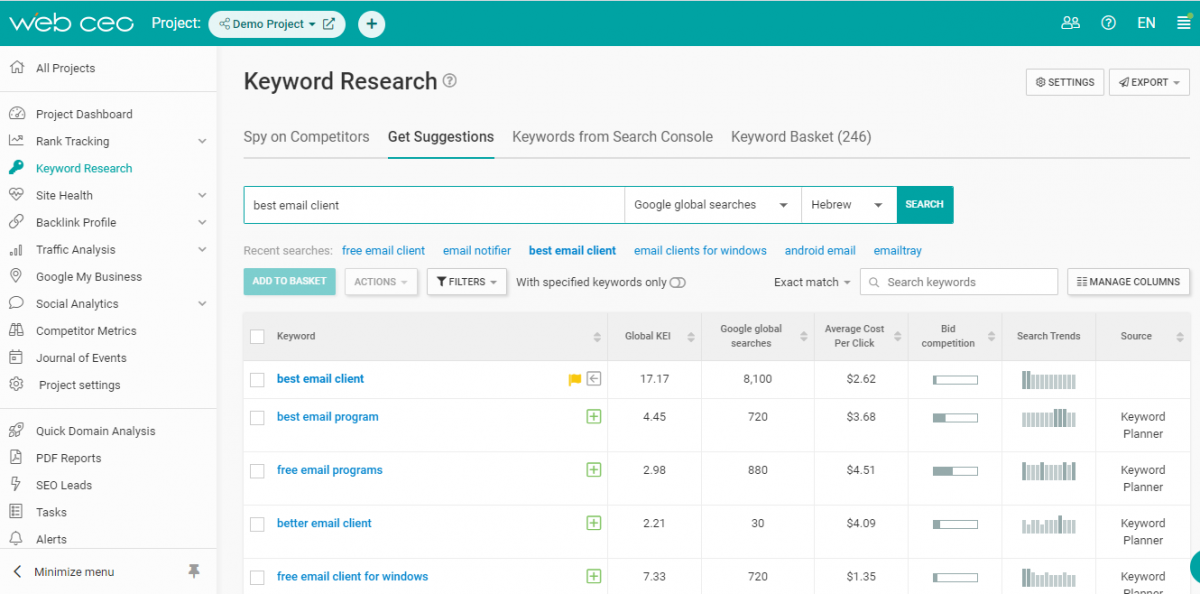 3. Fill Out Your Meta Information
Meta tags matter because they provide more context to a web page and give you extra opportunity to improve keywords rankings.
To prevent your site rankings from dropping, make sure that you fill out the following essential meta tags and include your targeted keyword in them:
Title tag
Meta description
Image ALT text
Heading tags (H1-H4)
There is a way to quickly find all pages where the meta information is lacking: scan your site with the On-Site Issues Overview tool. And then just add the necessary bits of information.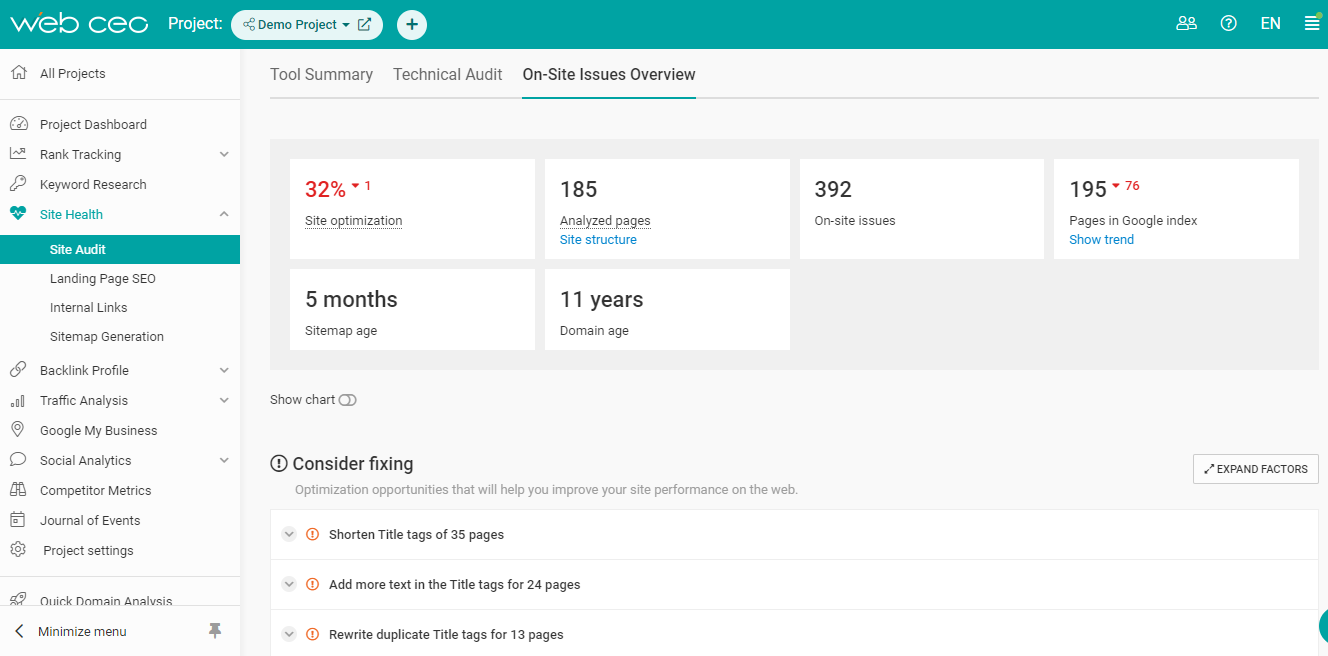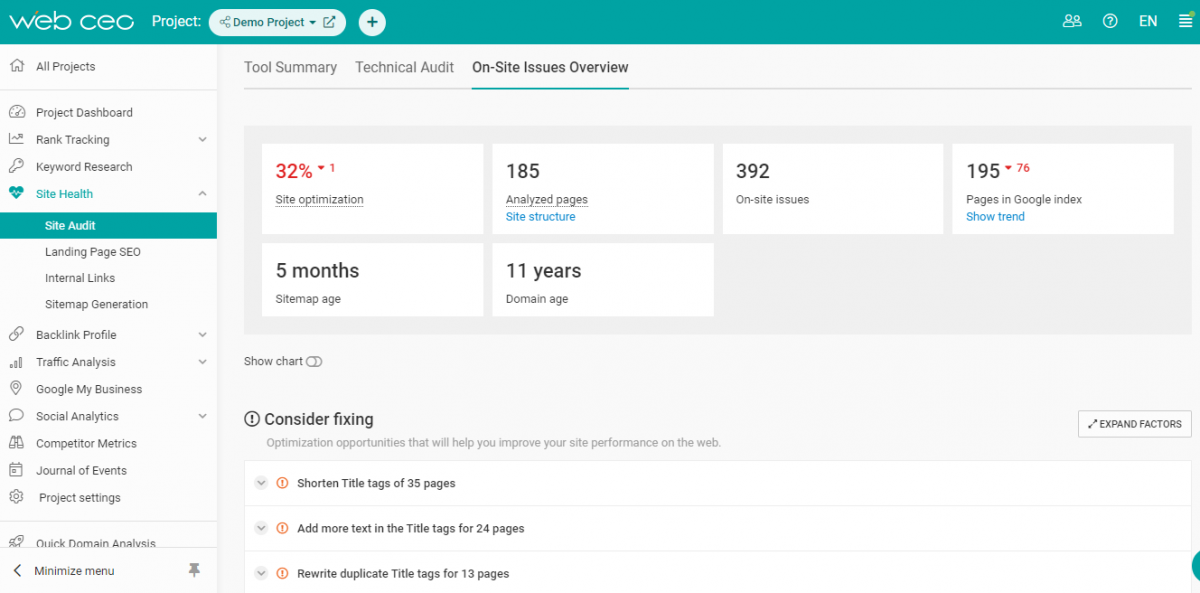 4. Find Your Broken and Inactive Links
Since the quality of your inbound and outbound links are among those that Google considers when ranking websites, it pays to regularly check if any of your links are broken and fix them.
WebCEO's Technical Audit allows you to run an audit of your internal links so that you can find which ones are broken and fix them.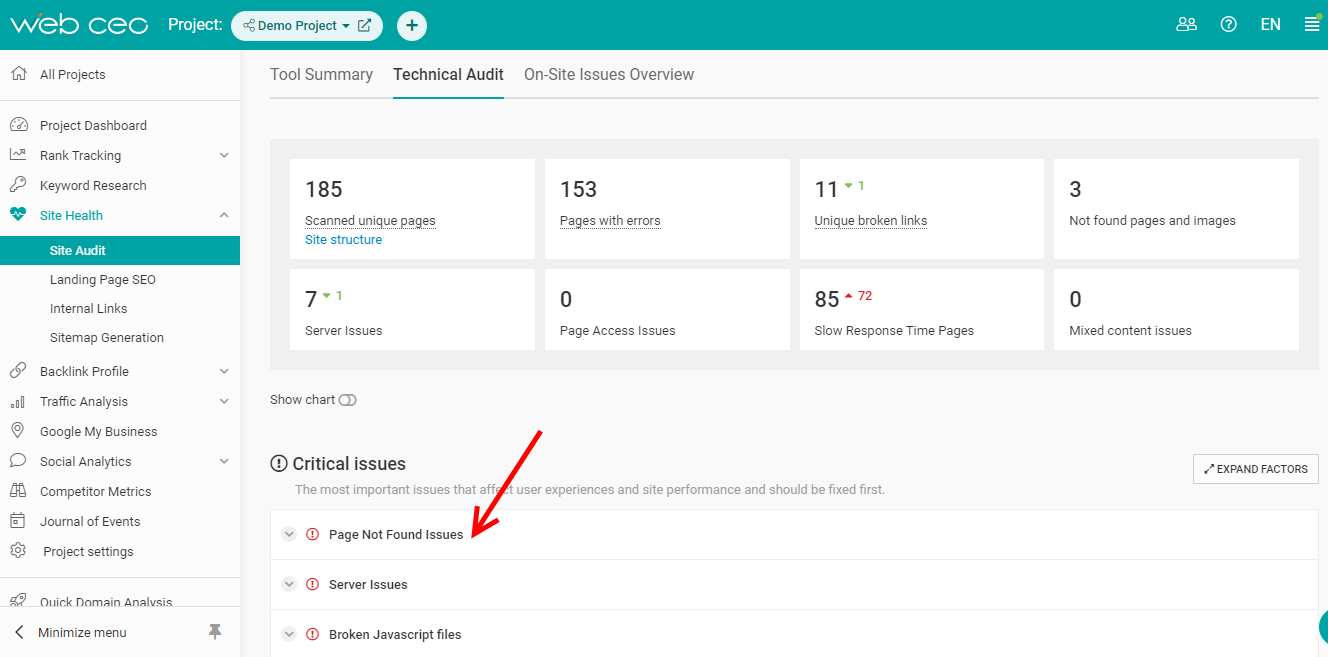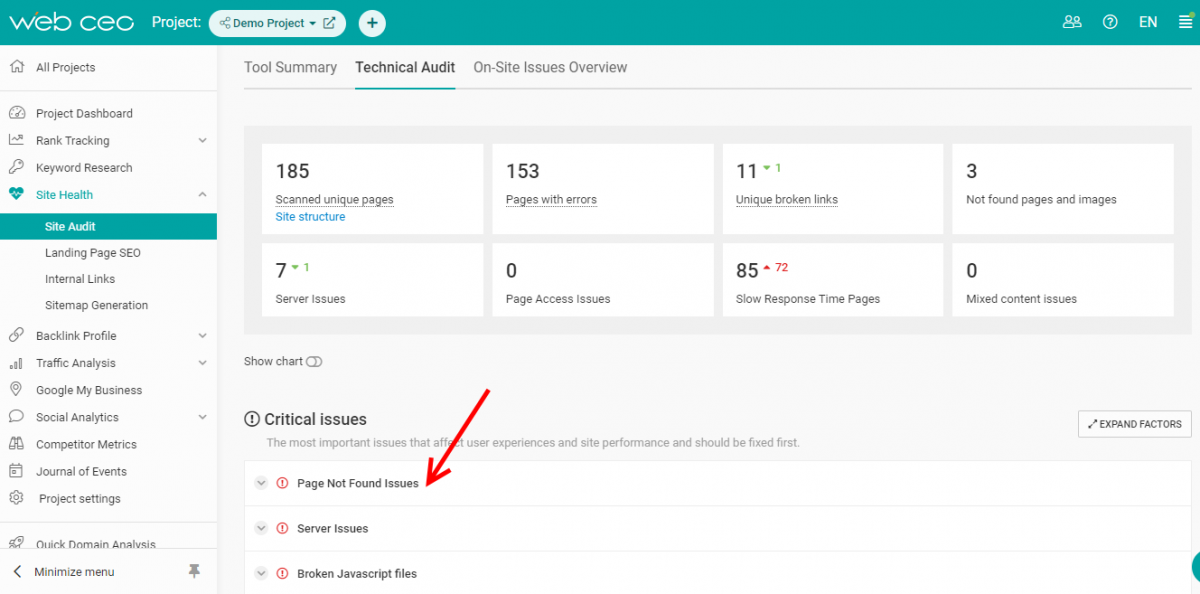 5. Give Public Relations a Try
Building quality backlinks is not as simple as sending out pitches and landing guest posts to random sites. They have to be established websites, preferably with high domain authority.
Publishing a press release is an effective way to build quality backlinks to your website on highly-reputable websites. In turn, you'll prevent your site rankings from dropping and may even help improve them.
This is precisely what happened to Shane Barker. By delving into various PR techniques, he was able to generate quality backlinks that drove more traffic and boost his site's rankings and establish him as a reputable resource in his industry.
6. Purge Backlinks From Poor Quality Sites
Writing guest blogs will help you build backlinks. But that doesn't mean that you just submit a guest post to any website.
The reason is that Google and other search engines also consider the quality of the sites your backlinks are located. Backlinks coming from low-quality websites can cause your site rankings to drop.
One way to make sure that you're submitting a guest post to a quality site is by checking its Domain Authority (DA) and Spam scores. Targeting sites with a high DA score and a low Spam score increase the likelihood you're submitting your guest post and create a backlink in a high-quality site.
What about the backlinks you've already collected? Sniff out the low-quality ones with WebCEO's Backlink Profile tools. All the potentially harmful backlinks will be in the Toxic Pages report where you can decide what to do with them.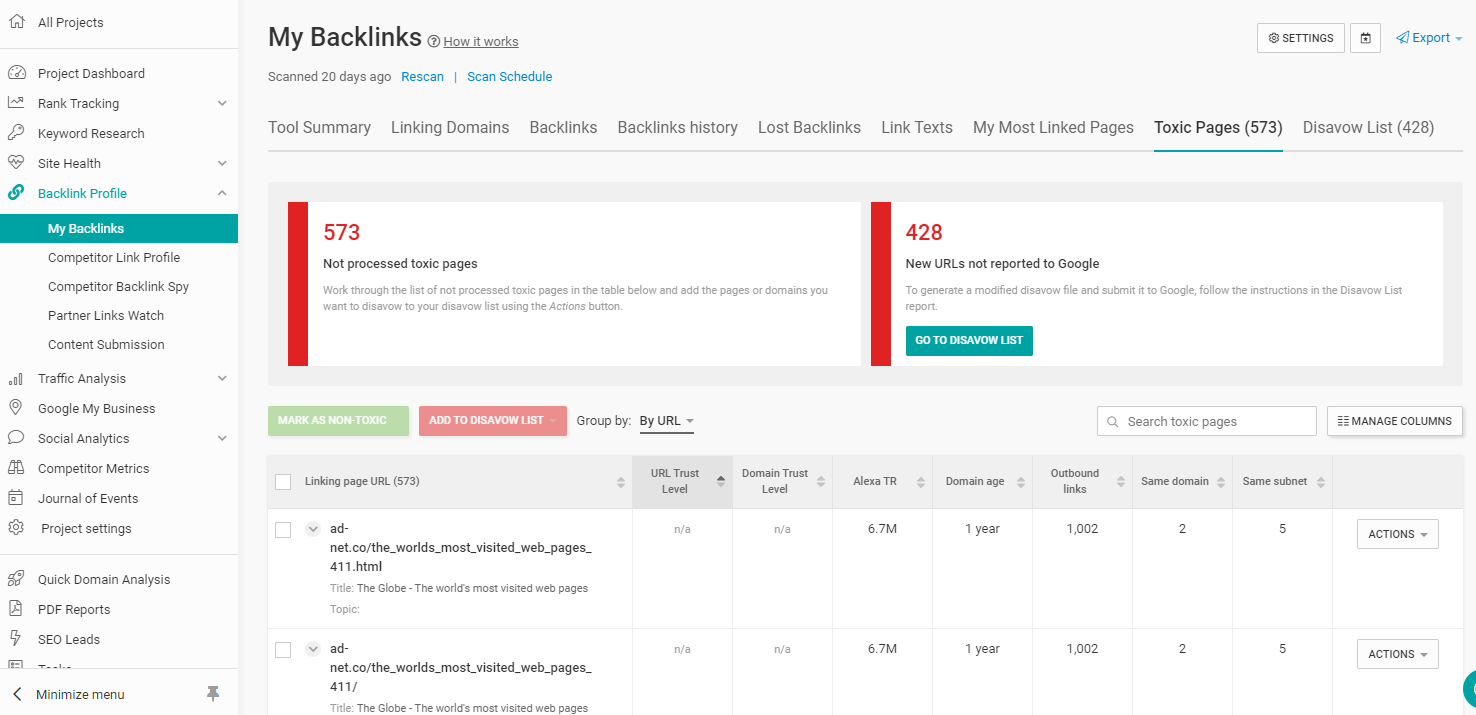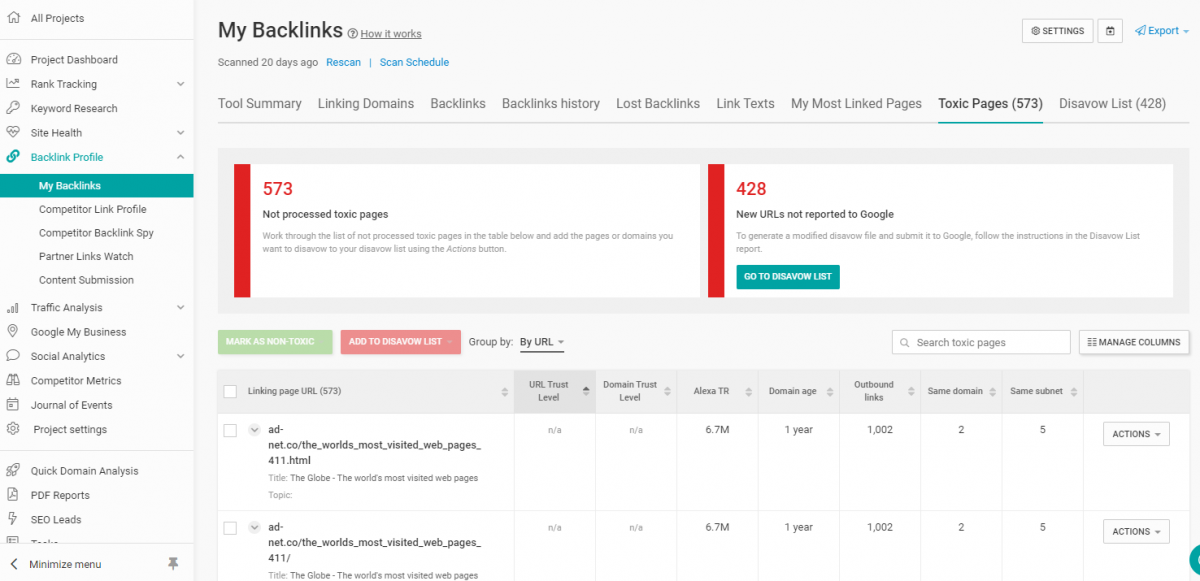 7. Know How Your Target Customers Search for Content
Another reason why your site rankings are dropping is because your content is not matching your customers' search intent.
You see, people go online for three specific reasons. They're looking to:
Find solutions to the problem they're currently facing.
Learn more about a specific brand, product or service.
Make a purchase.
That said, the best way to improve your site's rankings is to update—even revise—blog posts and guides you've previously published so that they match any of these purposes.
This is what Brian Dean of Backlinko did. By revising a case study he previously published into an in-depth SEO strategy guide, he successfully boosted its rankings from the second page of Google's SERP to number three on the first page.
8. Get Rid of Duplicate Content
Duplicate content is harmful to SEO because Google views it as an attempt to manipulate its search algorithms so that your website can rank higher.
The best to prevent this from happening is by organizing your website's content using the Topic Cluster model.
It'll be easier for you to find and eliminate duplicate content on your website by organizing content into clusters.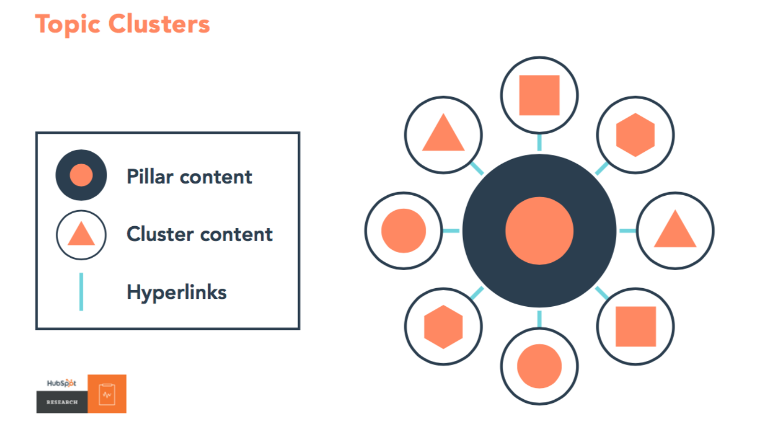 9. Double Down on Privacy and Security
Keeping your business' website safe and secure from cyberattacks is vital to prevent your site rankings from dropping and avoid legal trouble and revenue loss.
While most brands have taken steps to that traffic visiting their website using their desktops or laptops safe and secure, the same can't be said about those visiting their website using their mobile devices.
One study reports that 40% of website data breaches because their websites were accessed using a mobile device.
This is perplexing, especially since over half of the website traffic worldwide comes from mobile devices.
Investing in biometric authentication technology like face ID and fingerprint recognition is one way to keep your website visitors' data secure and minimize—if not eliminate—vulnerabilities to your website while they're accessing it on their mobile devices.
10. Monitor Your Competitors
If your competitors' site rankings keep going up, then it's a good idea to find out what they're doing so that you can replicate it for your site.
Conducting a competitor analysis will give you vital information like the keywords they're targeting, what types of content they're publishing, where they're promoting their content, and what sites they're building their backlinks.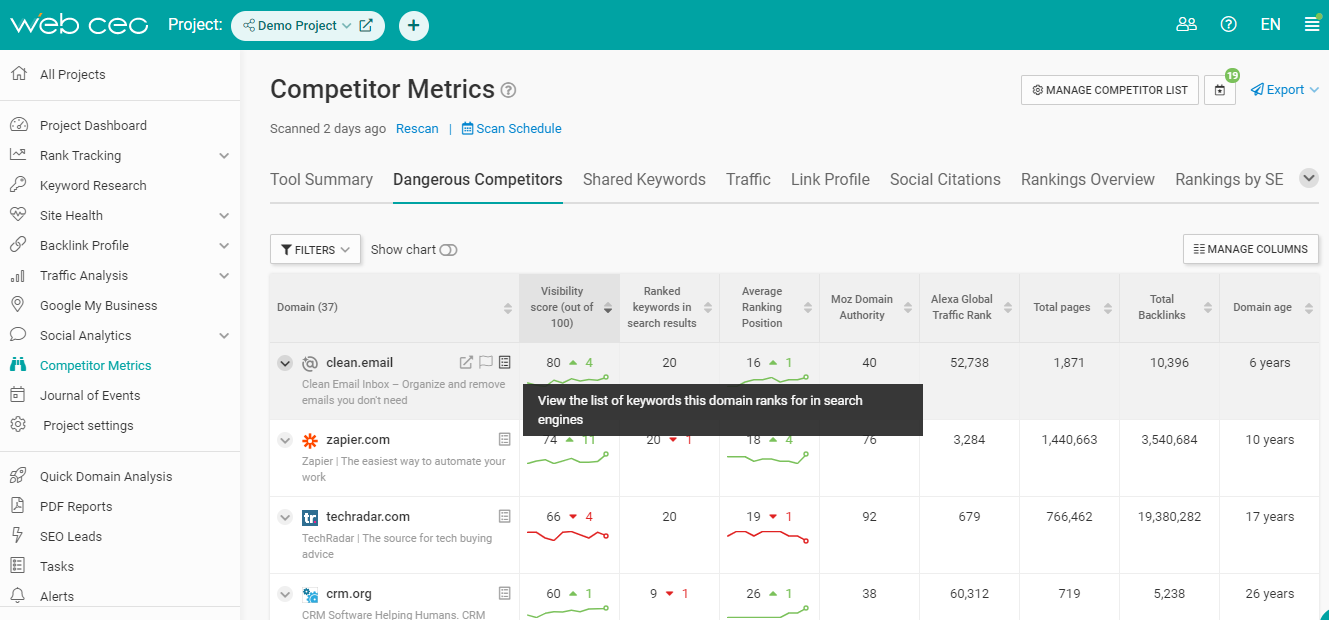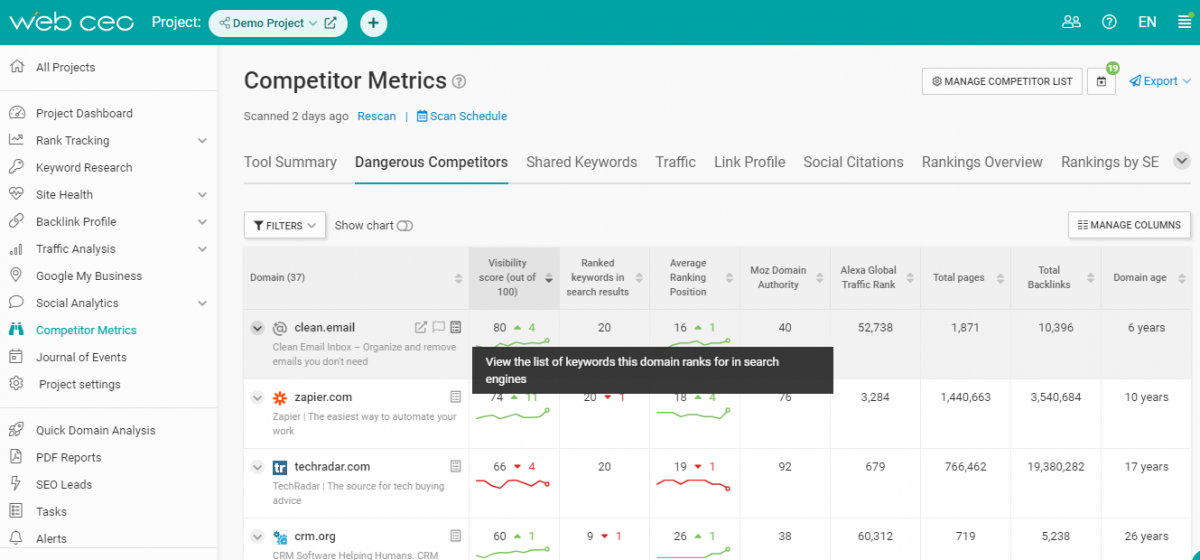 More importantly, a competitor analysis can also show you the areas where your competitors are struggling or falling short. You can then take this information and use it to optimize and improve your site rankings.
11. Check the Manual Actions Done By Google
If you violate one or more of Google's Webmaster Quality Guidelines, your website will be slapped with a Manual Action report, and you'll be promptly notified on your Google's Search Console or via email.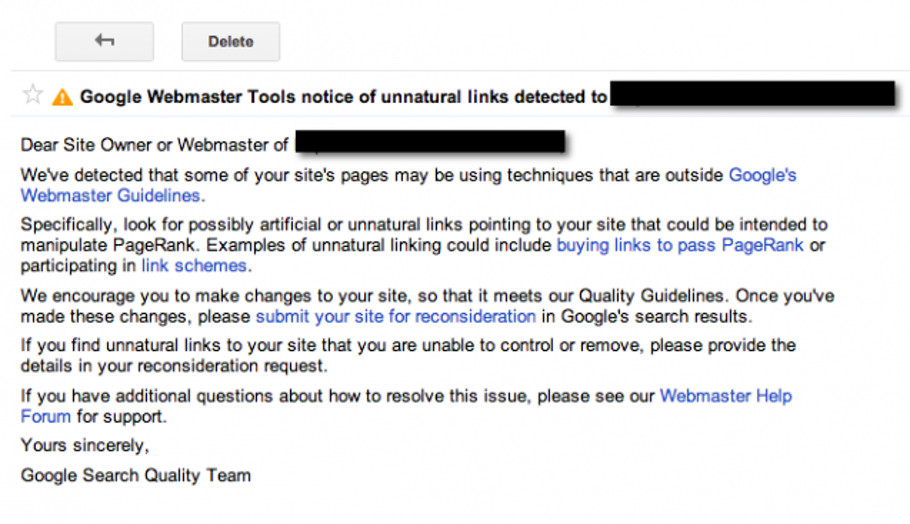 Websites that receive this notification won't just see their site rankings drop. They can also have their content—or even their website—taken out from Google's search results.
Google's Search Advocate, Daniel Waisberg, has explained in-depth the steps you can take to discover that your website was penalized.
12. Refine Your Website UX
Even if you publish quality content and your website looks attractive, if your visitors can't easily find what they're looking for, they'll opt-out and go elsewhere.
Implementing website UX best practices can help prevent this from happening. Here are some suggestions:
Simplify your website's navigation
Utilize a responsive website design
Create and upload a sitemap
Make your headers and labels easy to understand
Conduct usability testing when you update your website
IWillTeachYouToBeRich is an excellent example of a website that observes these best practices.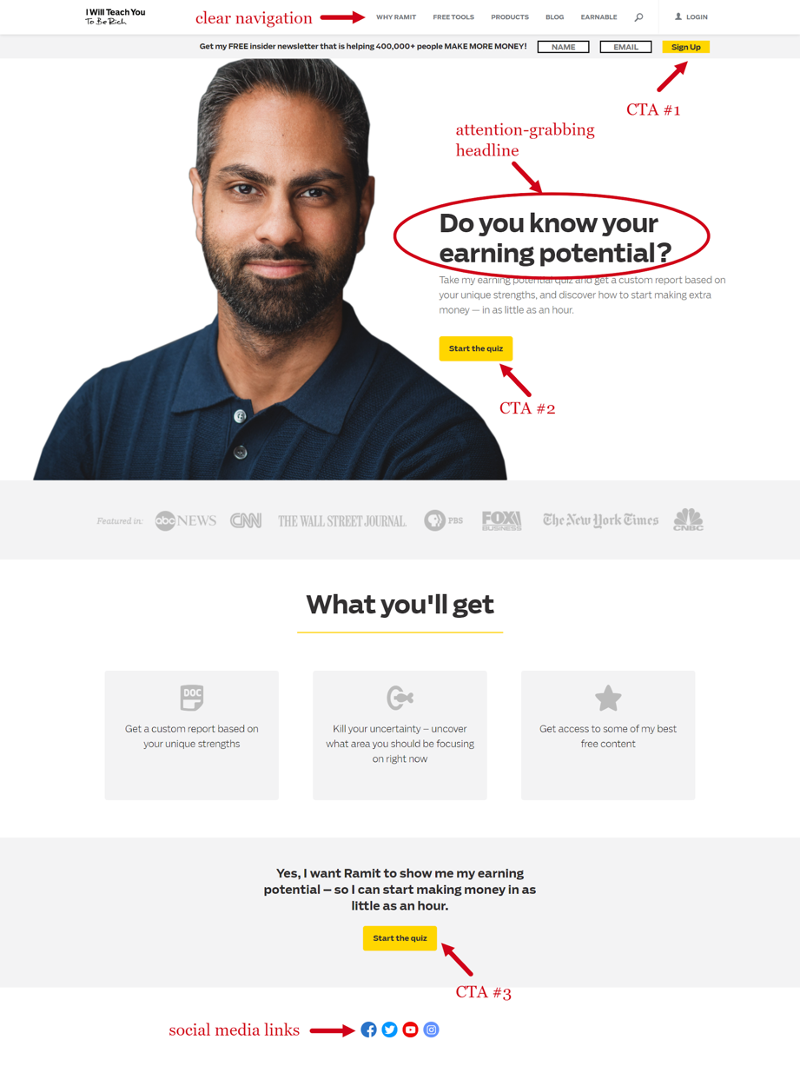 As you can see, the call-to-action buttons are a different color than the rest of the website, which instantly draws the user's attention. The navigation has short, descriptive menu titles. The minimal color palette, especially the white background, enables the user to focus more on the copy than the design.
13. Check How Long Your Visitors Stay
If you want to boost your site rankings, you need to ensure that you get your visitors to stay as long as possible.
That's because the length of time people spend on your website affects its bounce rate: the higher your bounce rate, the lower your site rankings.
Publishing quality long-form content is one way to get your visitors to stay longer on your site and lower your bounce rate.
Of course, that doesn't mean that you can just ramble on and on in your article. It needs to be carefully written, especially since 8 of 10 readers only read headlines and most site visitors only consume 20% of content on a page.
More importantly, it should provide practical solutions to your readers and promises to deliver what you've written in your title.
This SEO Optimization Guide by WebCEO is a perfect example. It teaches you the steps on how to write a blog post that will rank on Google's SERPs.
14. Check for Issues With Your Web Hosting Server
If your website goes down quite frequently, this can cause your site rankings to drop. Not only does this increase your site's bounce rate, but it also prevents Google bots from crawling and fetching your content each time someone searches for information online.
Switching to a more reliable web hosting provider can help solve this.
One of the most important things to check when choosing a new web hosting provider is carefully checking reviews about the web hosting company you're considering. Sites like PCMag and TechRadar are great resources for this.
15. After Redesigning, Evaluate Your Website
Whether you've updated some parts of your website or gave it a total makeover, this can cause your site rankings to drop if you're not careful.
For starters, redesigning your website could cause it to partially or entirely go offline.
Another reason is that redesigning your website can affect the way how your content's organized. How your website was coded will be altered during the process, especially if the web developer redesigning your website is different from the one who initially created it.
Setting up a staging site is the most effective way to prevent all of these from happening.
That's because a staging site is a clone of your website, except that it's not yet live. As such, any changes that can be made to the design and structure of your website won't affect your current site rankings.
It also allows you to test every single update made to your website to ensure it's free from errors and bugs before it goes live.
Key Takeaways
In this article, I've listed 15 of the easiest ways to improve your SEO and give your rankings a boost. Review each point and see which ones resonate with you the most. Then, apply the strategies and tips shared here to bring your ranking back up.
Remember that Google's primary objective is to ensure it provides the most relevant and useful information to its users. By ensuring each content you publish matches your target audience's search intent and present it on an easy-to-navigate website, you'll not only prevent your site rankings from dropping, but even cause your site to rank higher.