Real Estate SEO Guide: 7 Steps to Your Success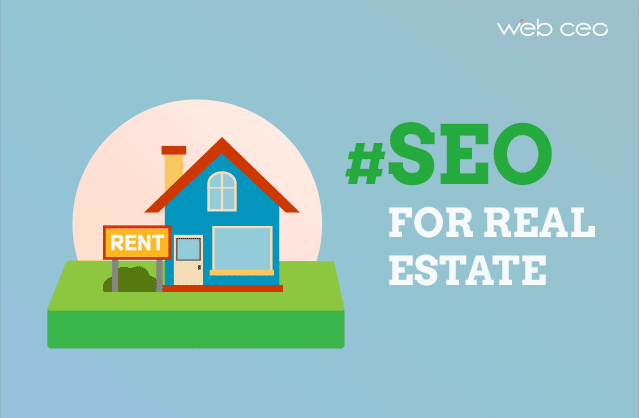 If you run a real estate website, blog or platform – you have surely faced cut-throat competition when trying to occupy the first page of Google for most of the property searches in your area. SEO for real estate has some peculiarities though, and I hope you will love this guide as you proceed with making your real estate SEO more effective.
Step 1. Do Keyword Research with Your Customers in Mind
To make your potential buyers find YOUR website online rather than the listings of your competitors, you should offer what they are really looking for. What words and phrases are they using when doing a search on Google or using a voice assistant? What's their search intent? Are they ready to buy or rent? Or, rather looking for general information or legal advice?
In the era of mobile search and voice assistants, long-tail phrases, local queries and question-like queries become more and more popular, so why not take advantage of this trend?
When doing in-depth keyword research, you can gather keywords using the following keyword research tactics:
Get keyword suggestions from Google. Use Google Search Autocomplete by typing real estate related terms and Google will automatically show a clue to all the related keywords phrases. Once you've entered a real estate related phrase, go down to the bottom of the search results page and you will get additional search query suggestions.
Spy on your competitors, especially on those who have better ranking positions than you.
Build a list of long-tail keywords using local real estate keywords. This will help you rank higher in local search in comparison with national search.
Instead of using multiple tools for keyword research, you can use an all-in-one Keyword Tool by WebCEO that combines general keyword suggestions along with local long-tail keywords and competitor keyword clues. It also helps you with grouping those keyword clusters using tags in your keyword basket.
Step 2. Tailor Your Website Content to These Keywords
Once you have all those words organized in your keyword basket, it's time to optimize the pages of your site for these keywords. Use both long-tail keywords and short tail keywords in the most sensitive parts of your website: TITLE tag, URL, anchor texts, image ALTs, titles and the subheadings of blog posts.
You can also work on your META description, however it is no longer a ranking factor anymore. It's now rather the text that can be used by Google in your search result snippet; it can help you increase your CTR if you have made it descriptive and attractive enough.
To make sure you've done everything right, you can now run a quick SEO audit of your site with WebCEO's SEO Analysis tool. In fact, any new piece of your website content should always start with preliminary keyword research, then comes SEO copywriting, then comes an SEO audit.
Don't forget about internal links optimization because it allows your site users to find more relevant information in the easiest way. It helps to involve visitors deeper in your website and reduce your site's bounce rate.
Step 3. Make Your Website a Lead Generation Hub
Based on the stats provided by the National Association of Realtors, 72% of real estate agents were disappointed in the prospects generated with the help of their websites. Well, something went wrong for those 72% of realtors. Most of them treated their website as a direct channel for sales and didn't care for the content provided on their websites.
In most cases, people use the Internet with several intentions in mind: initial search of real estate listings and analysis of all the options prior to taking a final decision. If you consider that they will buy a house once they find a listing on your site, it's a huge mistake. Buying real property is not the same as buying a bar of soap. It's a time-consuming process. Think about your website as one of the stages of your lead generation funnel. This lead generation funnel should be built in the following sequence:
Create educational and relevant content. Diversify your blog with how-to articles and tips, real estate news and trends (such as "Housing Market Predictions in New York 2018"), local real estate events (such as "5 Must Visit December Open House Events in New Jersey"), recommended neighborhood places of interests and activities, an FAQ and so on. You can draw inspiration for your blog from this list of 72 real estate blog ideas.
Create attractive calls-to-action at the end of each of your blog posts and an eye-catching blog subscription form in order to capture your potential clients' contact details. Store your readers' emails and phone numbers in your client database. Think about a robust CRM for real estate companies that will help you manage your client database in the most effective way.
Build smart marketing chains of informative emails that will help you retain your real estate client database. Your emails should be interactive, informative and helpful in order to efficiently convert leads from your email marketing campaigns. Start your email marketing strategy by using the following 10 email templates for real estate business.
Step 4. Submit Your Site to Local Real Estate Directories
Don't forget about an old tried-and-true local SEO tactic – website submission to the local real estate directories. The main reason why you should submit your is that business listings always show up on the first page of Google local search results. A real estate local submission strategy should include the following techniques.
Build local real estate citations. Submit your real estate company NAP (name, address and phone number) to the most popular real estate directories like Zillow, Trulia, Homes.com, Redfin. Make sure your NAP details are consistent throughout all the resources you have submitted your website to. Use WebCEO's Content Submission tool for automatic and local citation submission.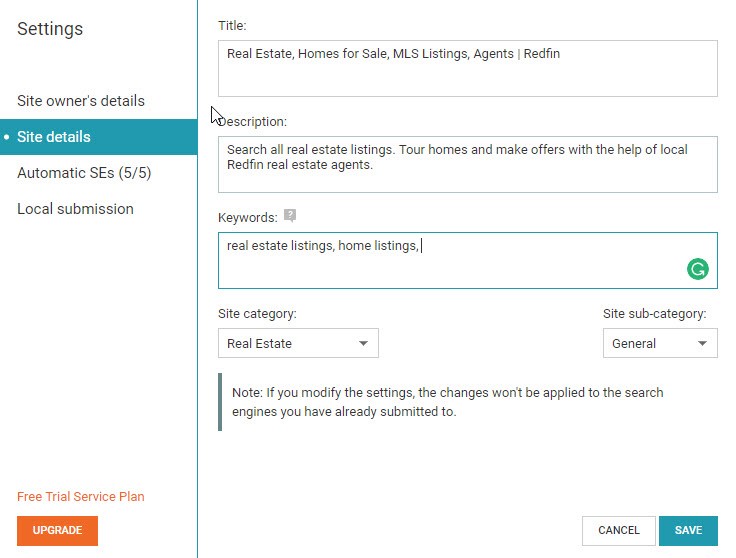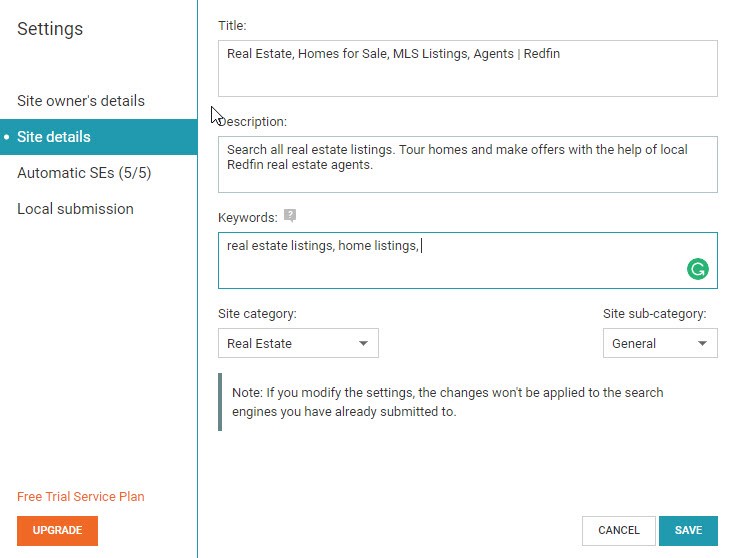 Get listed on Google My Business. By having a page on Google My Business, you will provide immediate access for your customers to contact information, directions to your office, business hours, reviews and ratings, quick links to your website, images, videos and apartment virtual tours etc. Besides, your agency profile on Google My Business can result in an additional local search visibility boost if you are listed in the Google 3-pack results. Read the following tips on how to get listed in the 3-pack. Some of the information provided in this 3-pack is taken from your Google My Business profile.
Step 5. Make the Most Out Of Social Media Channels
Think about a solid social media strategy to complement your real estate SEO.
Invest your time in the following social media activities:
create a Facebook business page and don't forget to use targeted keywords in its title and company info; create compelling posts and graphics at least several times a week with a link to your website in each post;
run a Quora account and show your real estate expertise when answering questions related to your business;
run an Instagram account and showcase your property there; use Instagram ads to reach a wider audience;
participate in discussions on local real estate forums to create a greater awareness of your business, build trustworthy relations with your potential clients and generate high quality leads for your business.
Step 6. Let Your Great Reputation Precede Your Real Estate Company
A word of mouth reputation is great, but if you want to generate more real estate leads online, start working on online reviews. Online reviews improve your reputation and lead to social proof of your real estate services. Here are several online review techniques you can use to enhance your business online reputation strategy:
Ask for long-written (300 words) Google Reviews.
Ask people to rate your product on your corporate Facebook page.
Use LinkedIn for personal references and recommendations.
Build your Yelp and Trulia review profiles.
Step 7. Analyze Your Competitors' Backlinks and Build Yours
In the world of SEO, links are still a prominent ranking factor, so you should work on your backlink profile on a regular basis. Guess what? The easiest way to accelerate your link building efforts is spying on your competitors' backlink strategies.
You can automate this SEO process and use the WebCEO Spy on Competitors tool to find websites which link back to your competitors. Pay special attention to the sites which link to several competitors – the chances are that they will willingly link to your real estate website as well.
Real estate SEO is definitely not a one-night endeavor. It requires time and effort, especially when it comes to highly competitive areas. The good news is that there are great tools online to help you make this process smarter and faster, so arm yourself with good tools and move your real estate business to a new level!