10 Ways You Could Improve Your SEO Content Strategy Right Now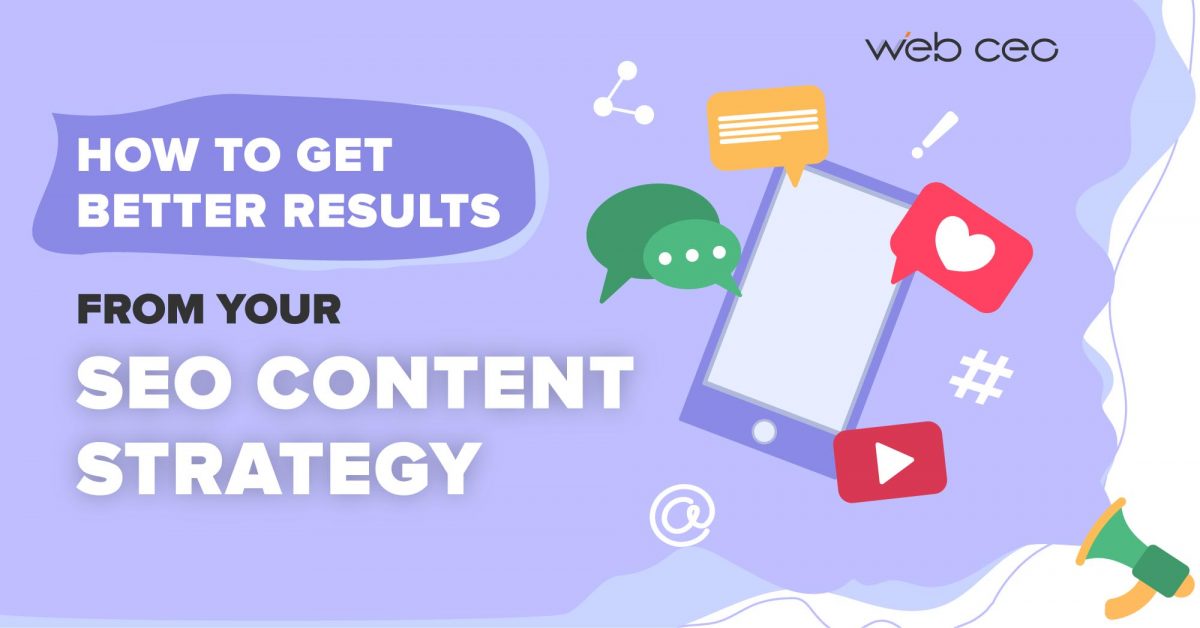 There's no shortage of how beneficial content marketing can be for a brand and business. Up to 96% of surveyed marketers claim that creating content has been successful at building their credibility and trust among their customers, especially when they prioritized creating high-value informational content over promotional ones.
Regardless, there's no denying that not every content marketing effort pays off. Many types of content—like long form pillar blog posts—may stand the test of time and get great results. These are often the types of content we invest the most in because if top-performing content can get us more traffic, that also helps us gain more leads, and eventually more sales endlessly at no extra cost.
Is your content underperforming?
It's great if your brand is able to churn out high-performing content every single time, but we know that that's not always a realistic goal. So what can you do if you constantly have underperforming content on your blog?
One option is to keep going at it and hope your next published blog posts will perform better. But we know this option can be costly to marketers and doesn't make the most of any existing content.
There are better ways. Keep reading because we'll show you 10 effective tips that will actually help you get better results from your underperforming content. Soon, you'll see better search results and traffic coming from even your older posts.
1. Ensure That Your Site Can Be Searched and Indexed
First of all, one reason you might not be seeing any results from your content is because of a site indexing issue. There can be a few reasons your site hasn't been indexed, i.e. can be discovered and read by search engine crawlers, or the special agents Google and other search engines use to discover, browse, and understand your content.
Having a website that isn't indexed means you're invisible to Google—and that means you're invisible to potential customers too.
Make sure all your content stands a chance to perform by ensuring your site is indexed. There are quick ways to check this too. Here's the simplest way to make sure your site is actually indexed, especially on Google:
Go to Google and type in site:yourwebsite.com.
You'll see how many pages on your site Google has actually indexed.
To search for a specific blog post, type in site:yourwebsite.com/slug where the slug is the actual slug of the content you're checking.
Don't get any search results? That means this specific page or content is not currently indexed by Google.
An easy fix for ensuring your site is indexed is by submitting an indexing request via Google Search Console. You simply need to log in to the app, navigate to the URL Inspection Tool and hit the "Request indexing" button.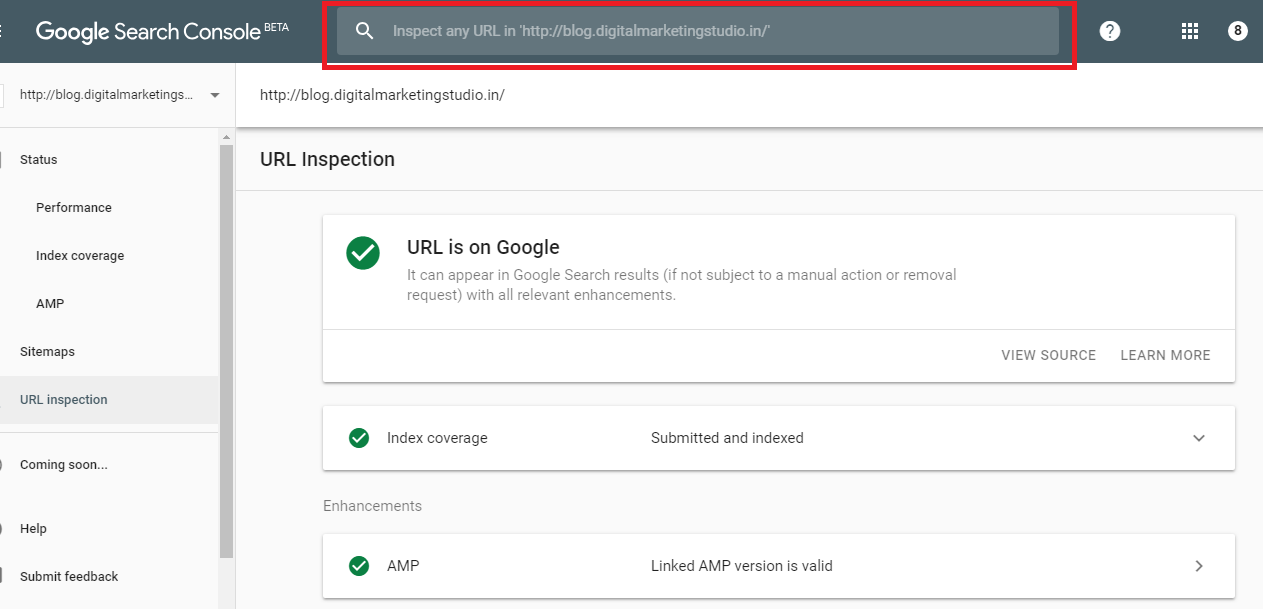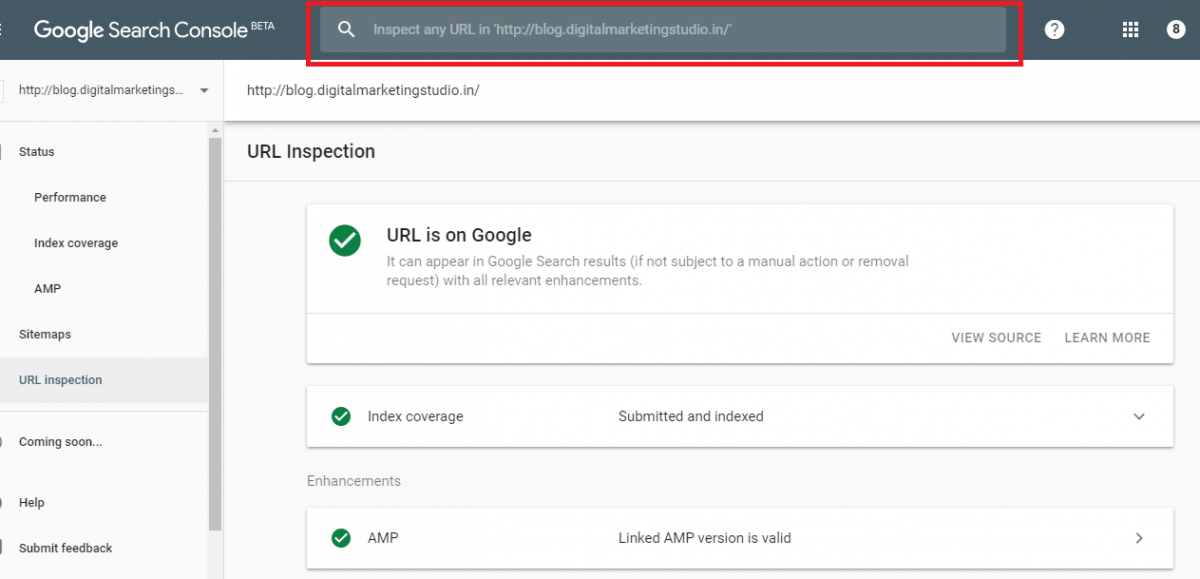 2. Improve Your Content's Headline
The power of an effective headline can do wonders for boosting content performance. Among all of the factors Google uses as a basis for ranking content, one of them is your click-through rate (CTR).
This refers to how often people are clicking through to your blog post or page after seeing it as a search query result. The higher you can raise your CTR, the higher your content will rank.
To apply this to underperforming content, change up your posts' or pages' headlines. Optimize for SEO as best as you can, but experiment with different headline formulas that might drastically improve those click-throughs.
Of course, give your headline tests enough time to gather data. You may only notice changes weeks and months down the line, so make it a habit to do regular SEO audits on your content to see how new headlines are performing or not performing.
3. Match Your Keywords and Your Content with Search Intent
Another tip to get better results from underperforming content is to see how the search engine result pages of your chosen keywords look like. By understanding what users were looking for when making their search—or search intent—you can edit your content or adjust your keywords accordingly.


When a user finds your page from a search result page then clicks through and finds that your content doesn't help them with their search, they're most likely to bounce right away. This can hurt your page's performance. So a quick remedy to save your content ranking is adjusting your content to match users' search intent.
You might do a quick skim of the top-performing content for your keywords and see what search engines are picking up from their content. Are they answering your users' questions better? Is there a section that would help match your content to people's search intent?
Small tweaks can bring great results, so review top performers to see how you can be the go-to post or page for your users.
4. Implement the Topic Cluster Model
The topic cluster model might be one of the best content marketing strategies you can use to boost the SEO performance of all your content overall. A topic cluster is essentially a group of blog posts centered around a broad topic, then tied together with a comprehensive pillar page that links between these cluster posts.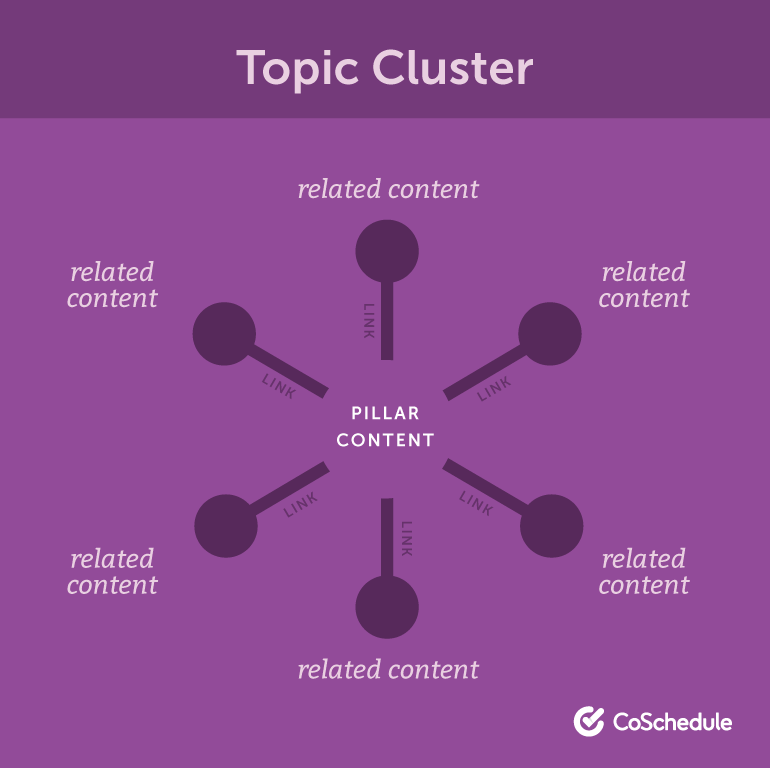 Boost your underperforming content by linking them to an existing pillar page you might have about the topic. If you don't have one yet, this is the perfect opportunity to write one. Make sure your main pillar content is broad enough to create several sub-sections and cluster content but without being too general.
If you have several blog posts on your site as is, using the topic cluster model can be a great way to get these posts organized. Plus, they play a big role in boosting your SEO since they help organize and prioritize your most important content pieces.
5. Incorporate Videos into Your Existing Content
When Google acquired YouTube in 2006, it slowly began introducing subtle changes to its search engine result pages. You might notice that many search queries render video results as well—this is no coincidence.
Some users do Google searches while being agnostic about the delivery of their query. So whether it's a long blog post or a video, your content might just be able to perform better if you explore another medium of delivery.
See which of your underperforming content might fare better if supplemented with a valuable video. To make the video creation process faster than it might otherwise be, use a tool like Boosted to create better videos faster, especially with templates and a stock library for footage and music.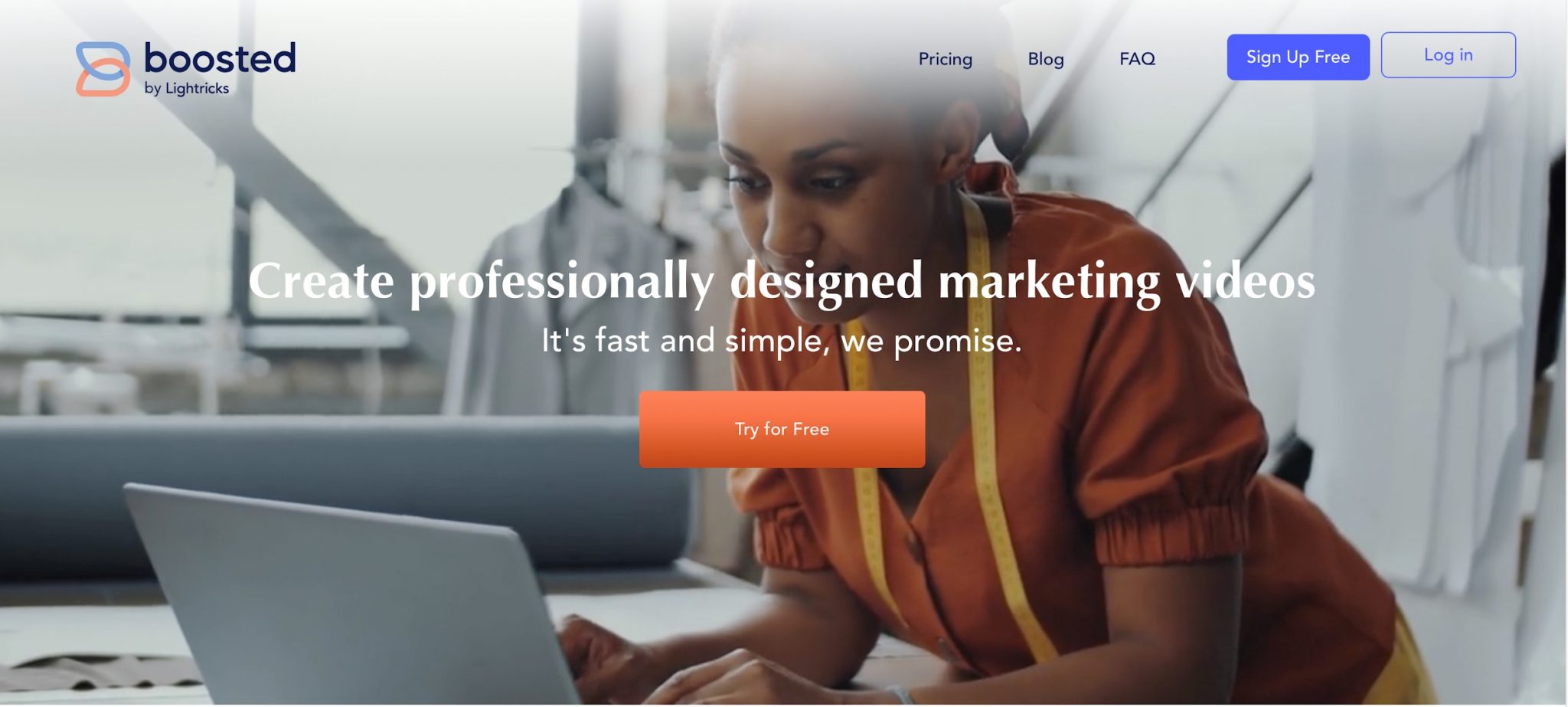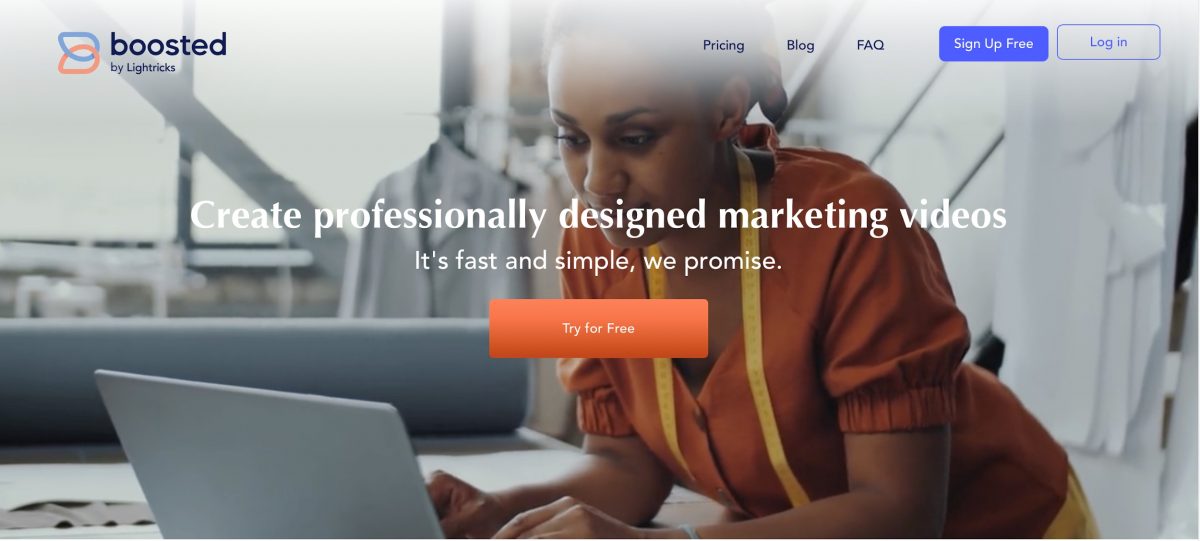 6. Don't Discount Your Content's Meta Data
Metadata can go a long way for improving those underperforming posts. After all, title tags are still a valuable ranking factor to search engines, so make sure those headings contain your chosen keywords.
On the other hand, meta descriptions might not necessarily bear any weight for on-page ranking anymore. However, many users read the meta descriptions to get a taste of what to expect from your content. Optimize this copy accordingly; convince your users that your page has the information they're looking for so that your CTR gets better too.
Because you have limited room to optimize your metadata copy, use a robust keyword research tool so you can cover them in your blog posts and headings as needed.
7. Make Your Content More Comprehensive
Finally, one way to really make those underperforming content pieces shine is by updating these old blogs and making them more valuable to readers. If your blog post is looking a little thin and doesn't contain enough information, readers might bounce and look for another site that could help.
It's a little-known strategy for promoting your content but it works so well because of how easy it can be to refresh an old post with new or more information. Use more updated examples and sources, look for better modern photos and images, and remove any information that might now be outdated.
Try to check what the top performers in your search query have, then aim to make your blog post better than theirs. Fill in the gaps of their content, then use all the other tips you've learned above to really pack a powerful punch.
This step is helpful in that you don't need to constantly create new posts about the same topic from scratch. You can simply repurpose old and underperforming content and make it better than it was before.
8. Get Rid of Low-Quality Backlinks
There can be no SEO content strategy without backlinks. But they are like food: more isn't always better. Do your link building right, and you will have sites with authority vouching for yours and boosting your rankings. But if you collect backlinks with no care about where they come from, Google will have a hard time seeing value in your site.
Run a check of your website's backlink profile with WebCEO's My Backlinks tool.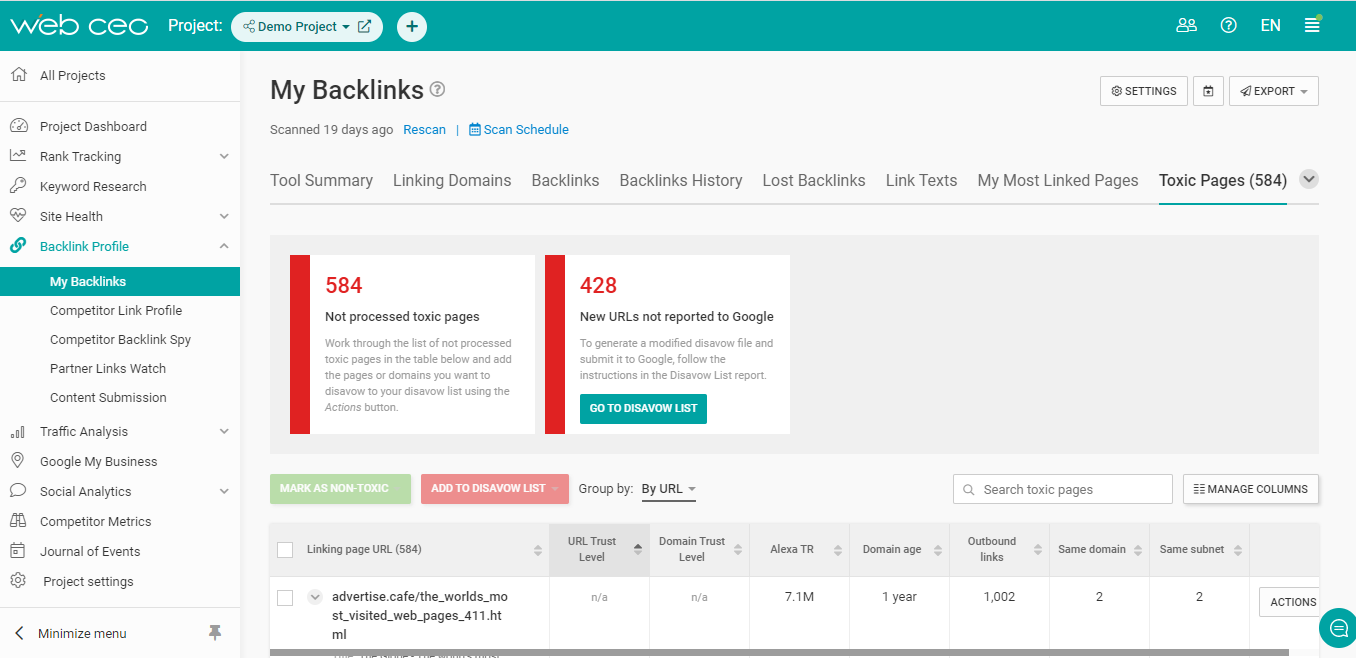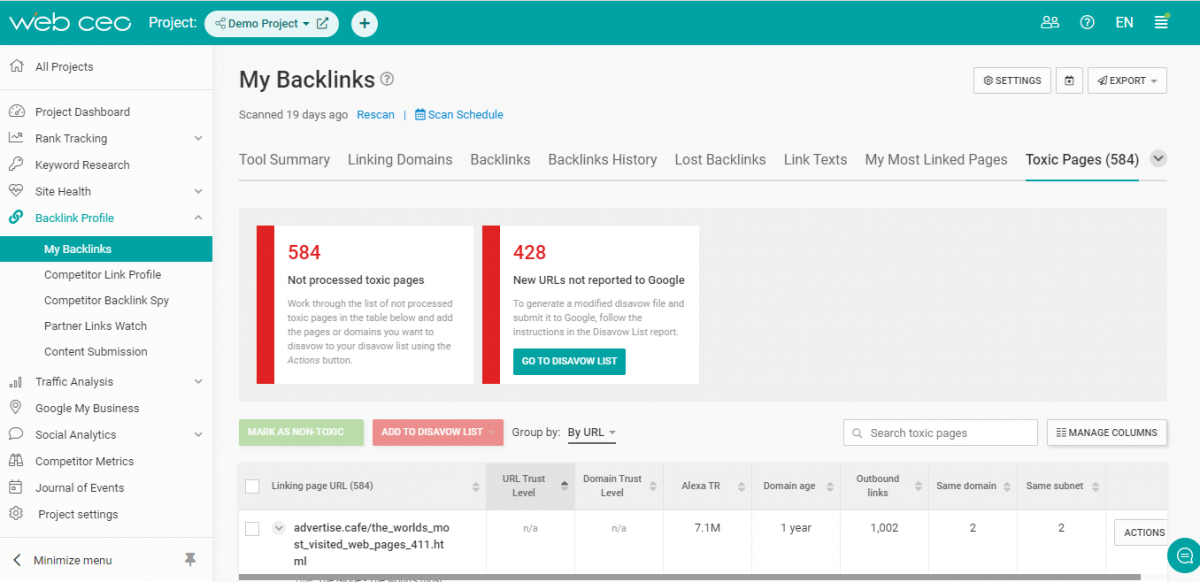 Specifically, look inside the Toxic Pages report. It will have a list of potentially harmful backlinks from sites of low authority – and if you disagree with how the tool defines "low authority", you can tweak the settings to your own liking.
Find the backlinks coming from web pages that are not relevant to your content at all – those are the ones hurting your rankings. Get rid of those backlinks by any means you prefer (by changing the linking pages directly or through Google Disavow).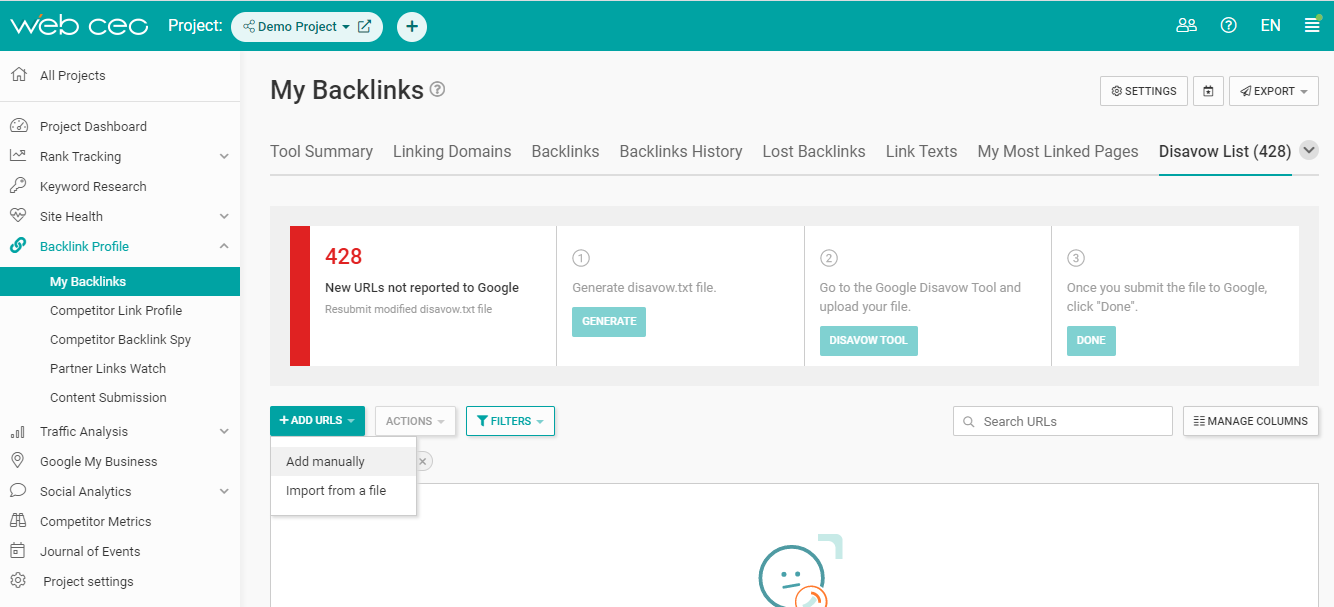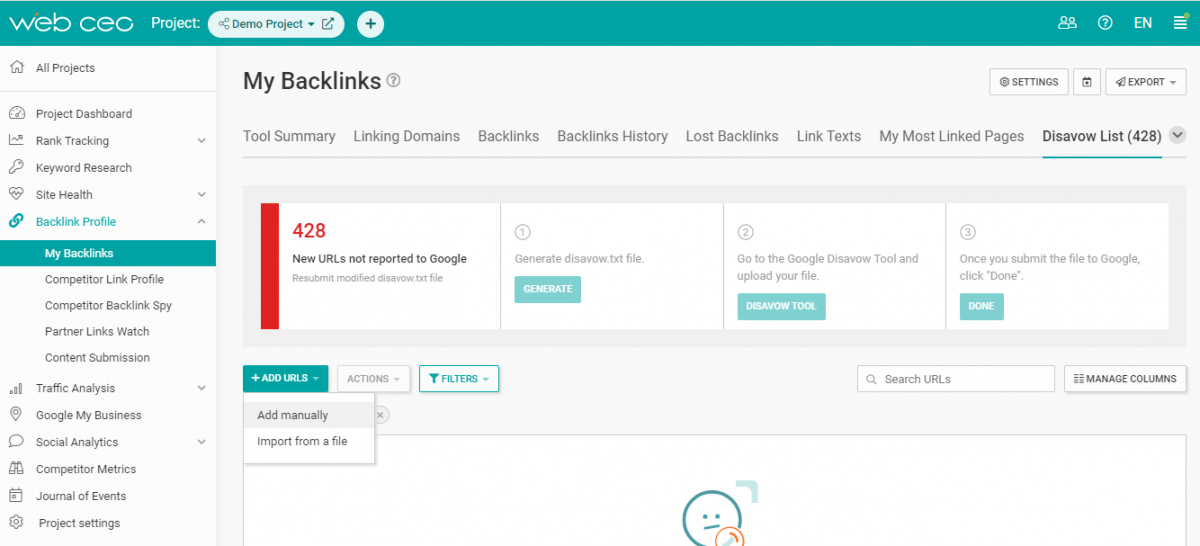 9. Fix the Technical Issues on Your Site
Perhaps the most obvious reason behind your content's poor performance could be its, well, poor performance. In a technical sense. Maybe something on the page doesn't load. Have you checked?
Site errors can be really sneaky if you neglect tracking them with SEO tools. If you haven't scanned your site for errors lately, now is the best time to do it.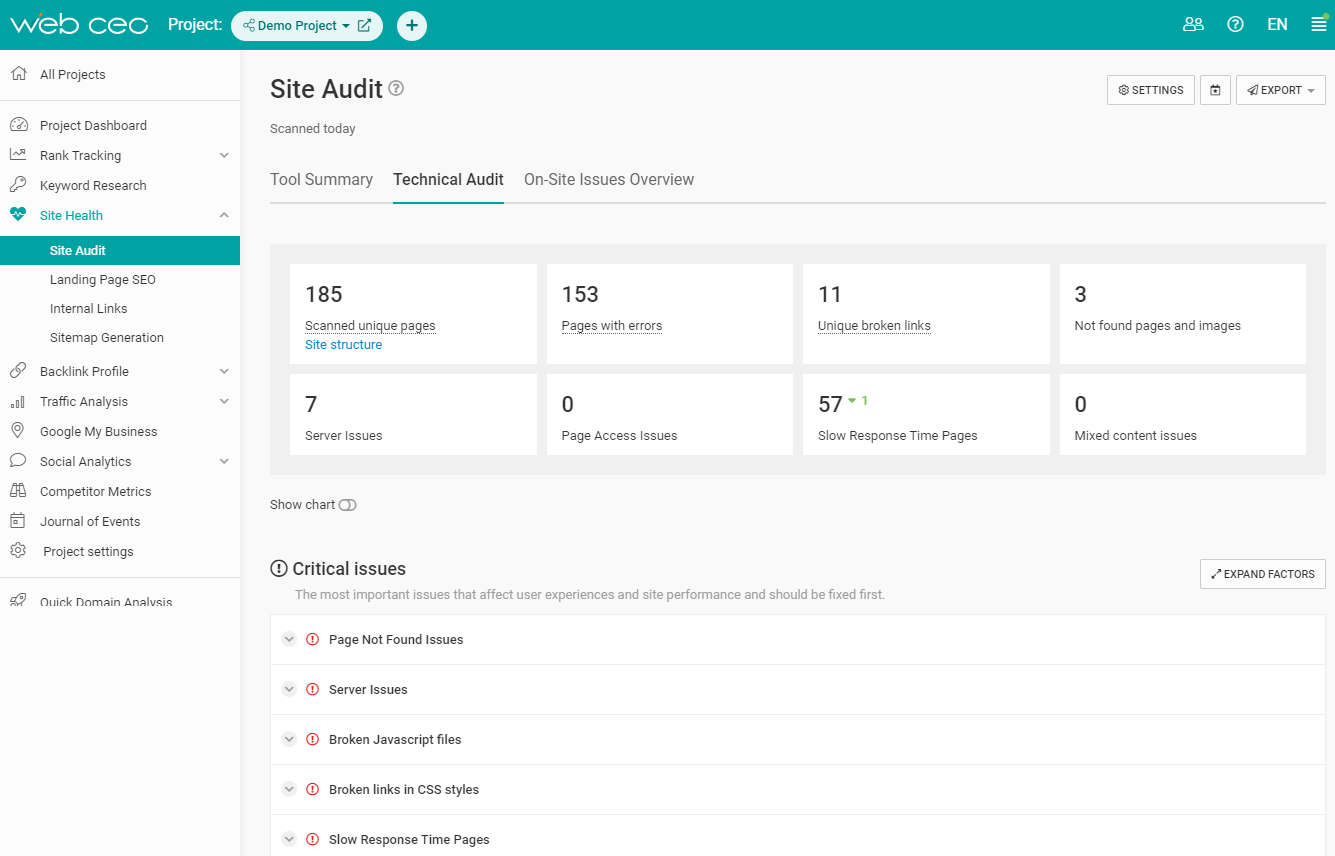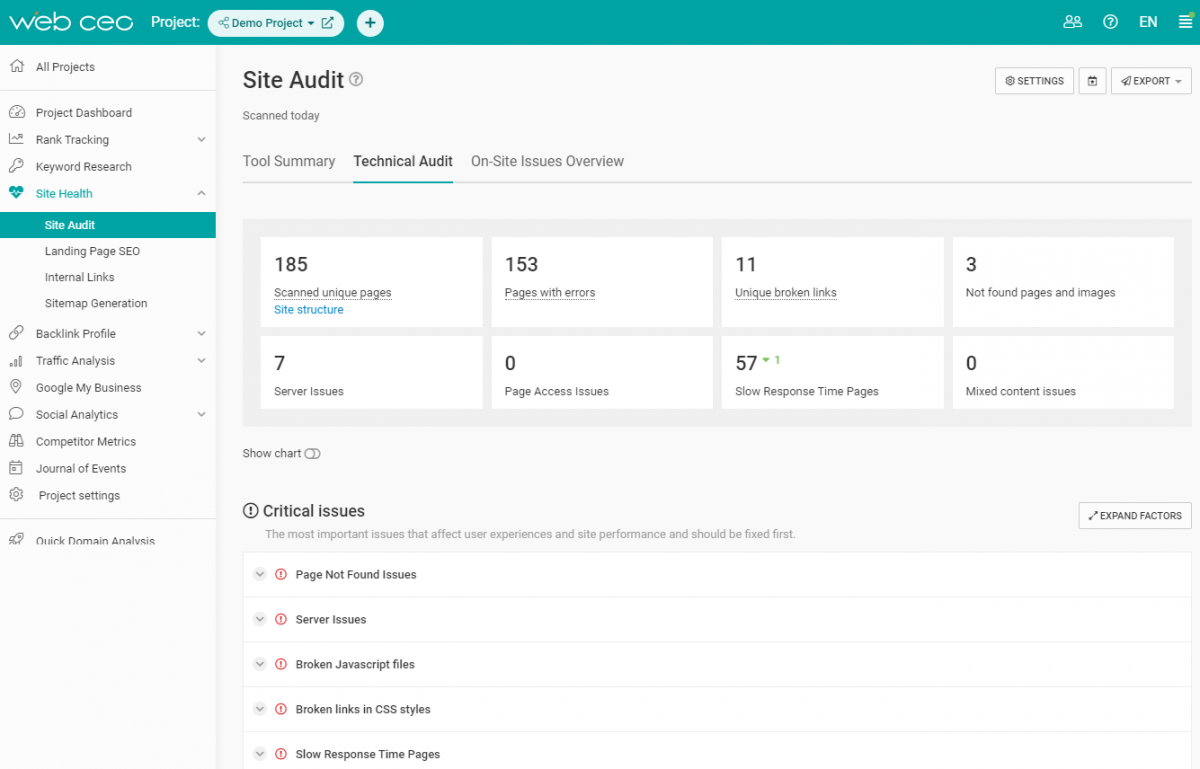 This is what you will see after scanning your site with WebCEO's Technical Audit tool: a list of issues currently present on your site with tips for fixing them. Tend to everything you can, then see later if it helped your rankings rise. Unfortunately, Google offers no fixed time frame for when it takes effect.
10. Strengthen Your Internal Linking Structure
When a page links to another page, it shares some of its authority. Does it mean that pages with high authority have more of it to share? Correct.
It applies both to pages from other sites and to your own site's pages. So what happens to a page when no high-authority pages link to it? Its own authority stays low and it doesn't rank high. There you have another potential reason why your SEO content strategy suffers.
Scan your site's internal linking structure with WebCEO and see how you can improve it.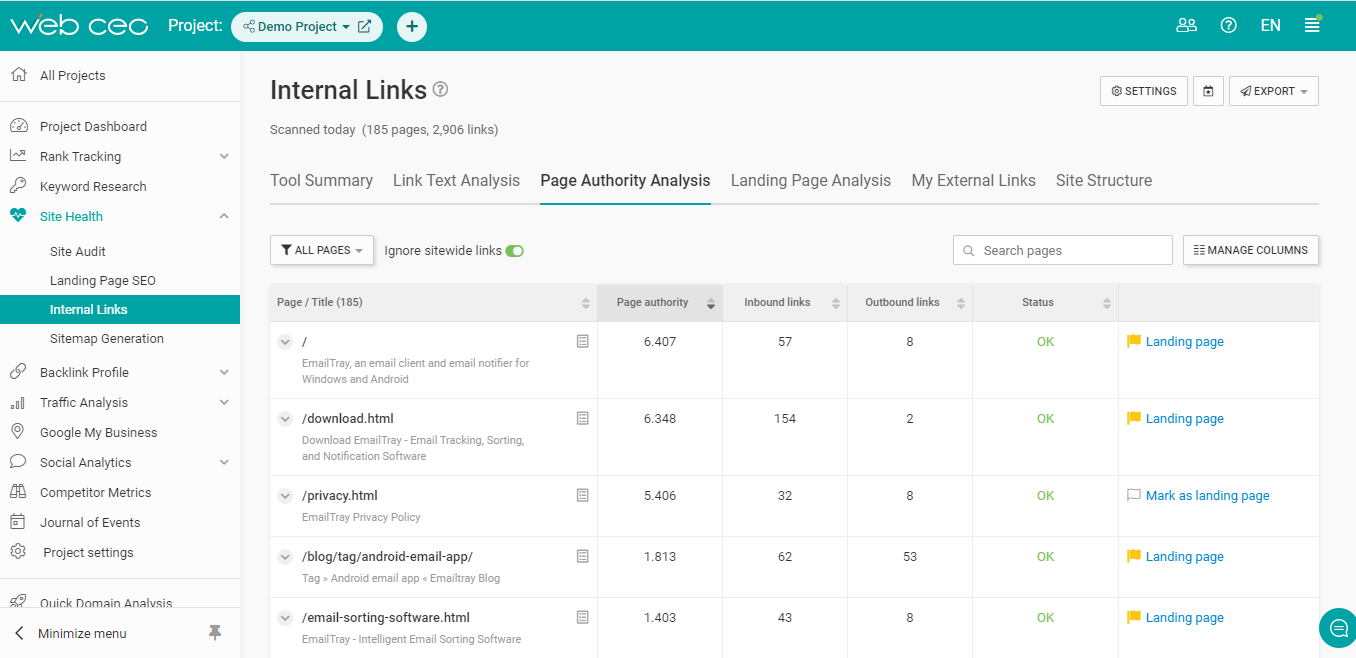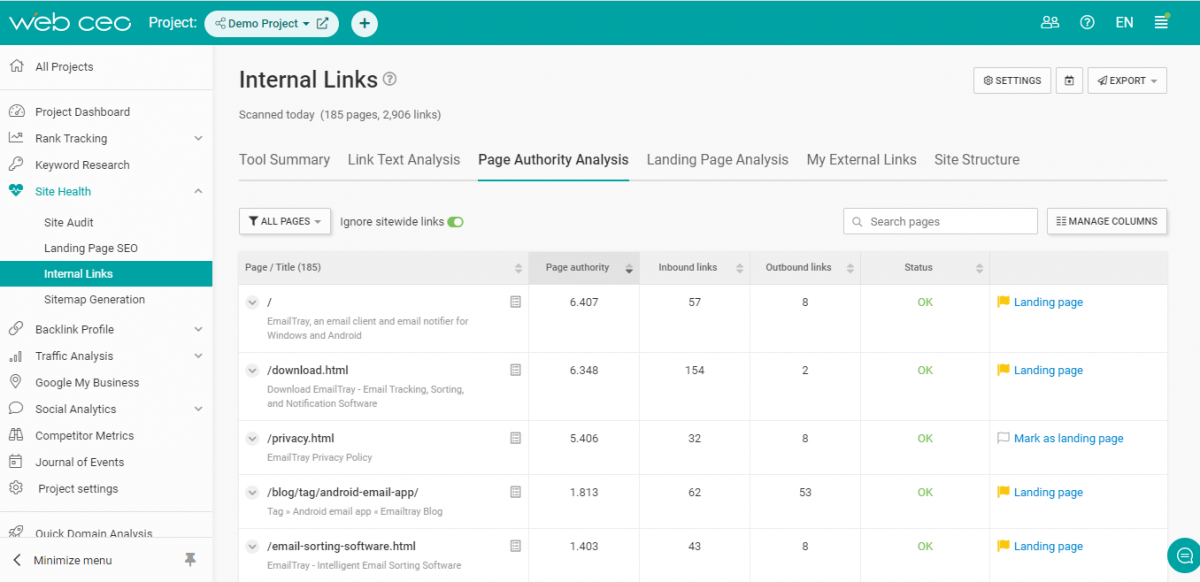 Specifically, here's what you can do:
Check the Page Authority Analysis report to find out which of your site's pages have the most authority. Try linking from those to your content (but only when such links make sense).
See the Landing Page Analysis report to analyze individual pages. In this report, you can check which pages link to your content and which do not.
Key Takeaways
Getting better results from underperforming content is one of the best ways to boost your engagement and get more meaningful conversions from existing pages on your site.
Remember that perfecting your SEO strategy is an ongoing process and can be tedious—however, what sets the best SEO players apart is how they're able to play the long game of ranking content, and that includes putting in the work to make even underperforming content on their site perform better.