SEO TRENDS FOR 2021: The world is changing. Be ready!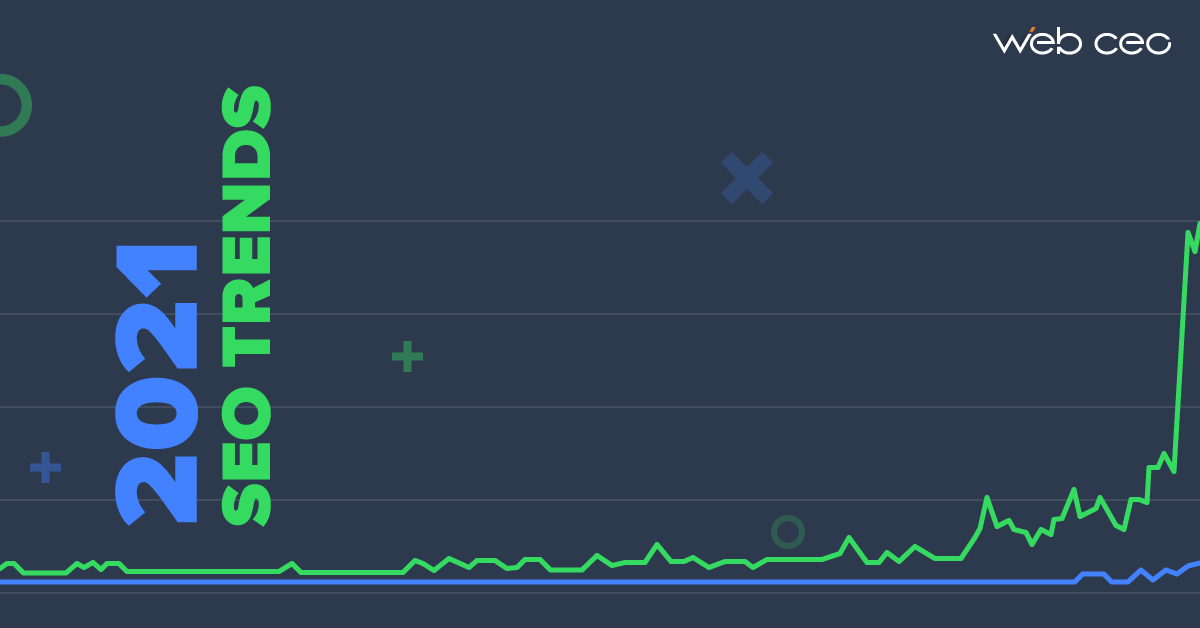 Time flies. Trends that were previously popular, now gradually sink into oblivion. The SEO Trends list is updated and new items are added. Today we want to discuss with you those factors that will be decisive for 2021. Some of them remain evergreen, but for whatever reason, webmasters aren't hurrying to optimize for them. It's probably a lack of knowledge or time in most cases, so it will be to your advantage to learn about them:
CONCENTRATE ON HIGH QUALITY CONTENT
High quality content became a decisive factor for your website's rank popularity a long time ago and it's still in first place. The better content you create, the more people notice you and come again to enjoy your writing. Your work becomes appreciated. Google doesn't like poorly written text and will put you down very quickly if you can't meet users' needs or fail to create a pleasing user experience on your website. Remember the following line and keep it in mind while working on your next copy: high quality is a must have, betraying it means you will be betraying your rankings.
If you've thought for a second that you can write short articles and optimize them with tons of keywords and overplay all the rules this way, then I have to say: this technique is too old and outdated to even mention. Now the quality of your article is more important than the quantity of keywords used. A natural way of writing with a moderate quantity of keywords will now be your formula for success. Start your keyword selection without delay. Use the WebCEO Keyword Research Tool and get top-notch word prospects. Then analyze them via important metrics: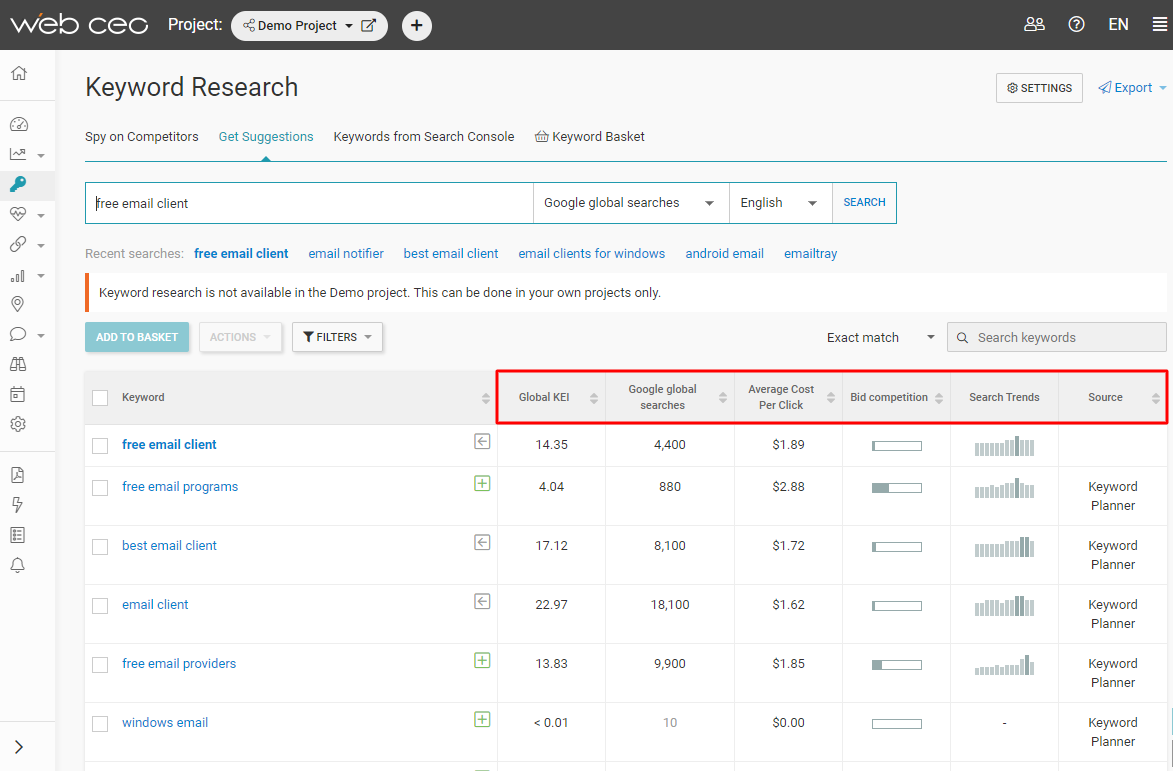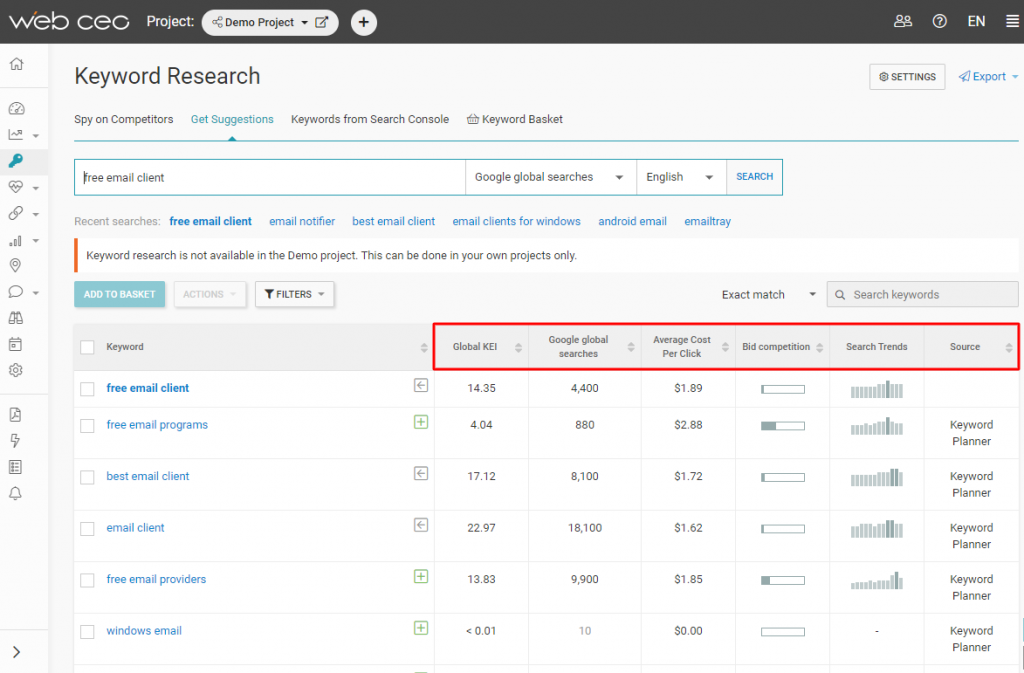 RECONSIDER YOUR TRAFFIC INTENT
Huge waves of traffic are great. You did a great job attracting various audiences to your website if you have an enormous number of viewers. However, do you really need that much?
Chasing the quantity of traffic, we often forget about the quality of it. Let's imagine you have millions of people visiting your website on a monthly basis.
If you run a blog and your goal is more readers – congratulations, it was accomplished. If you want more buyers who take only 2-3% of that million – you have failed. The remaining 97-98% will never click on the "Buy Now" button on your website. In this case, you have attracted readers but not buyers.
Stop useless traffic quests and aim for real goals and audiences. With the right goals, you can create a solid SEO strategy; choose the right platforms for promotion depending on your target audience and products; choose the right keywords for your articles to bring convertible attention to your goods, and build a beneficial offer for your future clients that they cannot resist.
The WebCEO Google Analytics Integration will help you analyze received traffic in terms of completed goals and the sources people came from: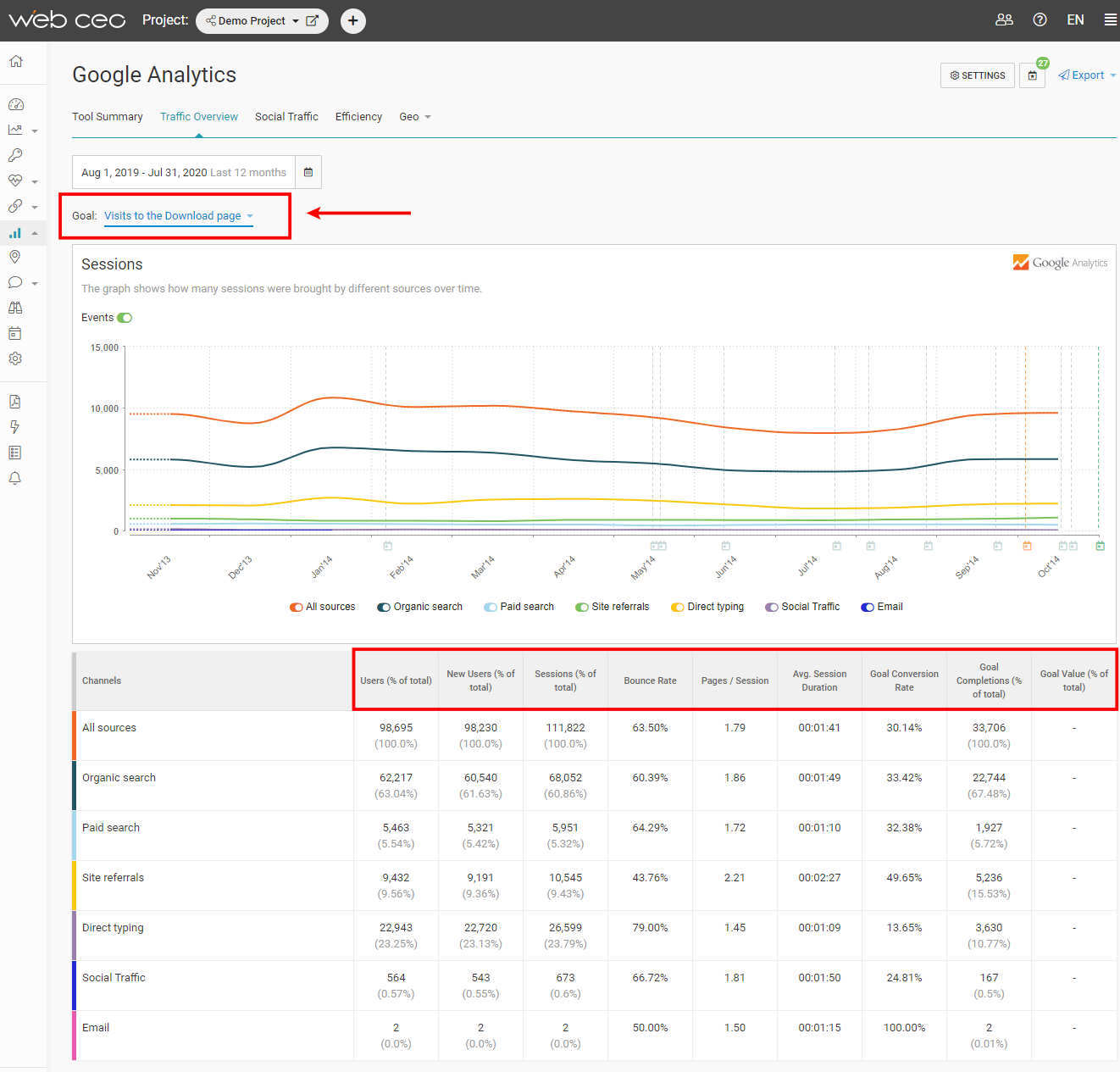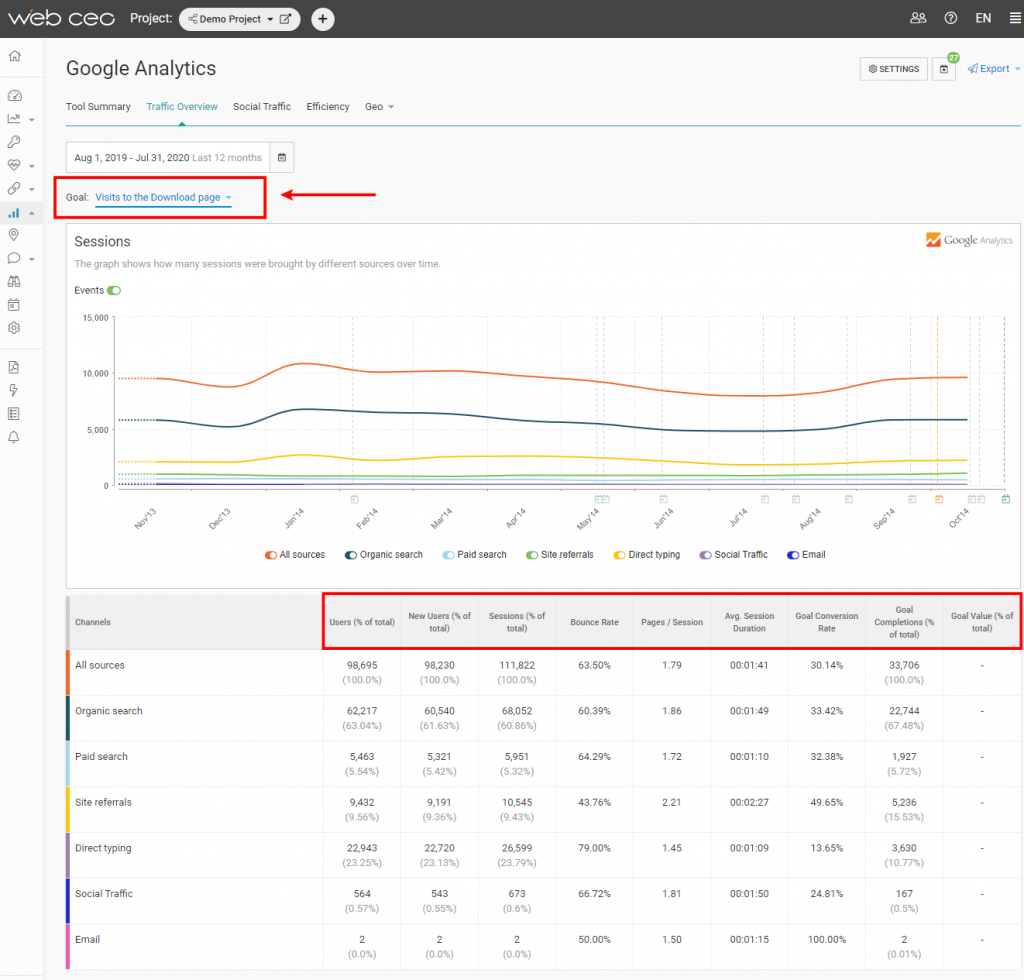 PROVE YOUR AUTHORITY: E.A.T. CONCEPT
What is the E.A.T. concept?
The E.A.T. concept stands for Expertise, Authority and Trust and embodies itself in the idea of a webmaster (or a copywriter) being a real and proven professional in a niche he or she works in, and who produces publicly open content that likely won't affect people's well-being negatively. Google may seek evidence of qualifications, a diploma and/or certificates.
Why will E.A.T. be important?
Google says it wants users to receive only relevant, fresh and PROVEN data. If your words might hurt users in the opinion of the algorithm, Google will catch this and drop your website to the deepest layers of the SERP ocean. Protect yourself and try to prove that you know what you are writing about. Unproven data can be a catastrophe for a website's rankings. Bad reviews may not take long to come if you write something others quickly learn is untrue. Eventually, users may no longer visit your website because they can't be sure that you are for real. Google will notice this and your rankings will go down faster than you can write new articles. There are specific algorithm updates focused on detecting and punishing websites that might cause harm to users. Whether Google also considers "harm" to come from politically arguable content is outside the scope of this discussion.
How does one work best with E.A.T.?
Introduce yourself properly: The "About" page is always the best place to enumerate all of your achievements and write about who you are and the reasons why people can use your knowledge without any fear.
Gather positive reviews on other Internet platforms: your website is not the only place where people can learn about you and your work. There are many websites where people can share their opinion about different services. These can be either praising or blaming. Provide people with the best knowledge you will not feel ashamed or guilty about.
Backlink to and from authoritative sources: people don't trust links nowadays. To be more accurate, people don't trust unknown or suspicious sources, and consequently, they will not trust you. If you get a backlink from an extremely low authority or irrelevant domain – eliminate it via Google Disavow; if you are going to link to a suspicious domain – check it and, if anything, don't link to it at all. Find another one with high authority on the Internet.
You can check the quality of your backlinks with the WebCEO Backlink Checker Tool and then clean your backlink profile if there are any suspicious signs: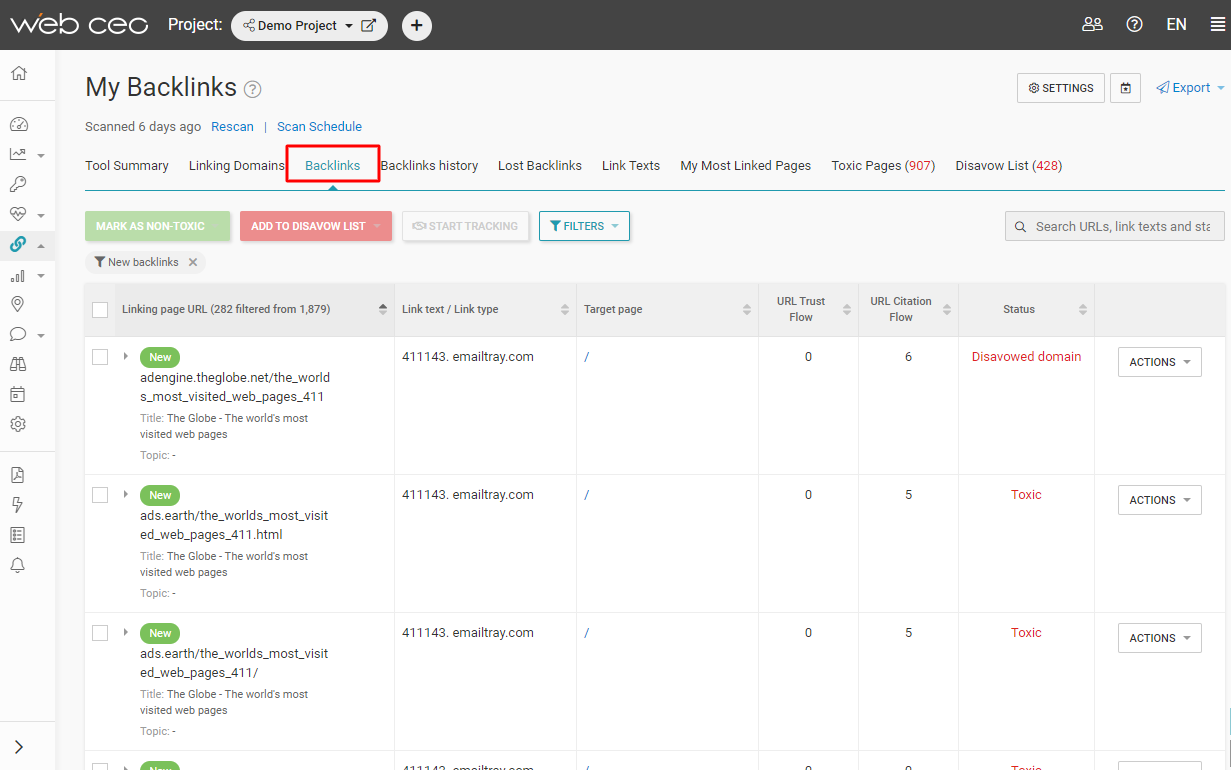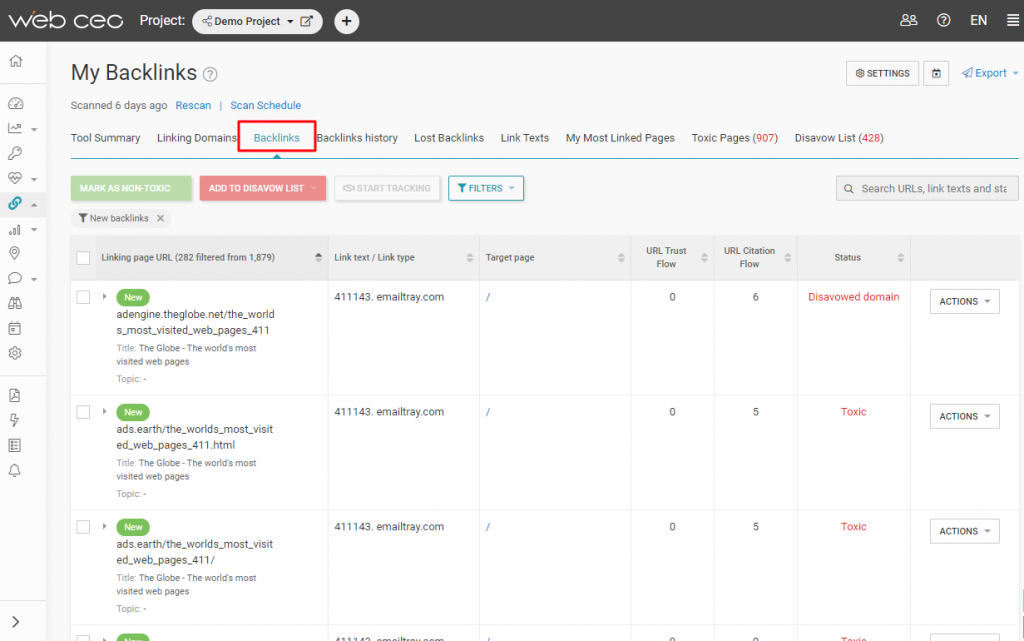 GET INTO LOCAL SEO
Local SEO has been performed less this year as so many people have been sitting at home. Nevertheless, it's not a reason to give up. Despite what's happening in the world, Google constantly updates its algorithm regarding local search and how the results are shown on the SERPs, implementing new methods of filtering data and setting up specific restrictions and opportunities for different types of businesses. If you are in the local league, you can't postpone your local optimization anymore if you want users to know about your existence. This is relevant even now, as you can adapt your business to ongoing people's needs.
With the WebCEO Google My Business Module you will be able to analyze your performance, learn about and track your local competitors and work with reviews that people leave on Google Maps.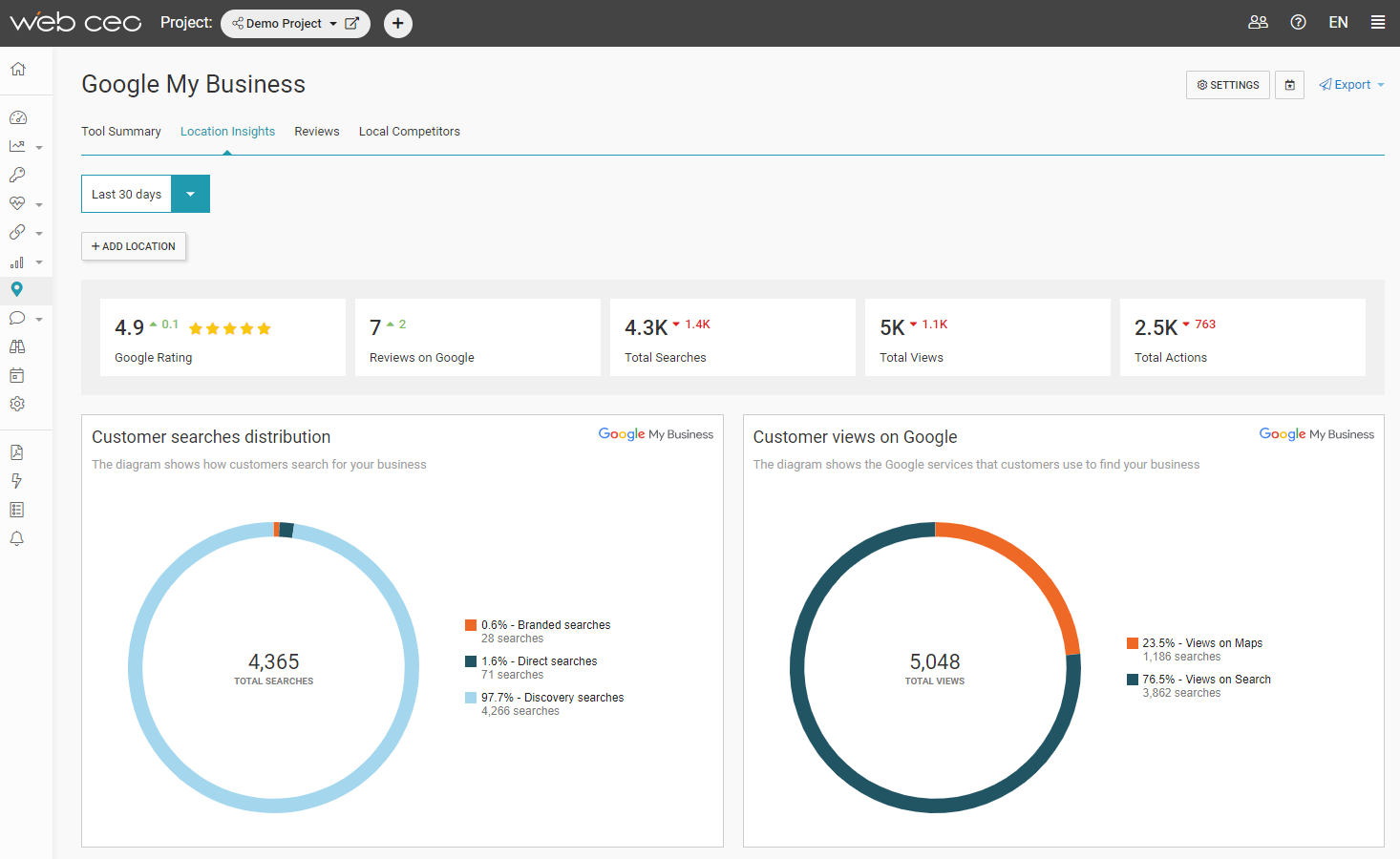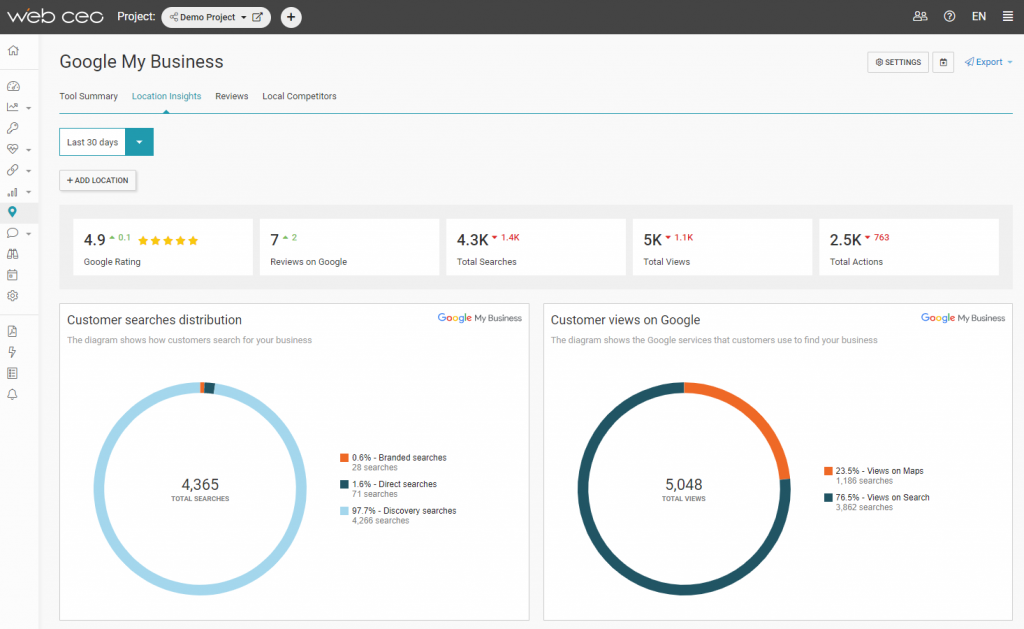 ADJUST YOUR BUSINESS TO CHANGED CIRCUMSTANCES
In the United States alone, ecommerce sales are expected to surpass $740 billion by 2023.

BigCommerce
Even if you run a brick-and-mortar business, what the lockdowns taught business owners is that you can always extend your offering with new options. People prefer online if there is an opportunity to choose. It's not the easiest task. However, if you want to stay afloat, you'll definitely find a solution. For our part, we want to offer several options that you can use as a backup plan for a rainy day:
1. Delivery: if your field of activity is food and beverages, it's easier to keep up with this change. You will function as usual but the way of serving customers will differ. Develop a flexible, clean and affordable system of delivering food and drinks to people, and they will definitely use it. It's great to introduce this system in advance, so people will get used to it sooner. If difficult times come, they will know that you already have everything to make their lives stay comfortable.

This works well for SEO. You will embrace those layers of your audience who usually rely on delivery. Therefore, you will use a greater number of valuable keywords and build a reputation as a multi-tasking business.
You can cooperate with the delivery services of the cities where your business operates. This cooperation can be used in marketing goals: advertisement on your partner's website or social media – maybe even with discounts people love – all this will bring you more conversions and traffic.
2. Takeaway: takeaway service is common for food & beverage restaurants. However, who said that you can't use it for other types of products?
How do you implement this way of serving customers?
Work on your website a little. Create a page that will be fully devoted to takeaway purchasing and provide an opportunity to pay for things online. Website visitors order a product, pay online, come to a special rack at your store, and walk away happy.
Some businesses may experience some difficulties in adapting to such a feature. However, if you want to save your business – who cares? If a customer wants to specify something with a worker, he or she can agree on everything using messages, phone calls, emails.
3. Online Consultations: people prefer to work on the Internet more and more, because this helps them save precious time. Businesses that concern Law, Financial Planning, and Real Estate can implement this system right away. This will be comfortable both for customers who can't afford private meetings for whatever reason. It will help your workers because there will be no binding to the office or a specific location. You can extend your client base and Internet popularity by placing online-consultation-focused keywords on your website.
It will be more difficult for in-home businesses to adapt to the online regime. But why not? It's comfortable in terms of saving time and serving more customers.
How do you fit into the situation? – Step by step phone/video instructions.
How can one describe consultation services online? – Create a page for "Online Consultations/Instructions/Services". There you can list your specialists and create their profiles, enumerating their skills, years of experience, etc. and point out how they can help people without coming to their house.
How will this improve SEO? There are two aspects which you will improve in terms of local and on-page SEO:
There will be a greater variety of new keywords on your website that will focus on online services;
You will be able to get more favorable reviews of your services as one assumes you will help more people.
That's a pretty ambitious idea and maybe it won't fit everybody, but… why not? Some time ago people didn't believe the Earth was round, but things have a tendency to change.
4. Video/Photo Tours: this is a great idea for businesses that show objects to their customers: such as real estate agencies and furniture stores. Modern technologies like 3D photography have taken the world by storm. You can use this to better extend your business to the online community.
How does this idea work?
There are several options to implement this:
Online galleries: here we mean 3D galleries where a customer can stroll between the goods like between exhibits in a real gallery;
If a 3D gallery is too much for you, you can use comfortable and cheap video calls (of high quality!) during which you will be able to show any products to your customers in detail, be it a simple chair, a three-story cottage or software viewed via screenshare;
Photos will save you a lot of time. However, you will have to capture each detail. If, during the video call, you can show everything in real time, during a photo session, you will have to write a lot and take a lot of photos. Be ready for this.
IMPRESS YOUR CUSTOMERS WITH A GREAT USER EXPERIENCE (UX)
89% of consumers shop with a competitor after a poor website user experience.

Ledgeview Partners
Apart from high quality content, which has been in the middle of the spotlight since Google started filtering search results – a long-long time ago, there is one more point you have to bring your attention to. A Great UX (user experience) will be one of the most discussed topics throughout 2021 and beyond. The way people navigate, investigate and feel on your website has become one of the greatest problems in SEO, especially since people started using mobile devices more than desktops. The necessity to optimize websites for mobile devices has broken into every webmaster's life. This is a big deal for Google as well. If the user experience on your website is still so-so, then you know what to do early in 2021.
TAKE CARE OF YOUR POSITIONS IN MOBILE SEARCH
We are living in the era of new technologies and their constant improvement. People of all ages try to follow new trends and master them as soon as possible. You should be on the same path. Mobile search is gaining more popularity day by day.
Users will appreciate your hard work if you organize your content so it will be easy to find and access via mobile search. Leaving your website optimized strictly for desktops is the worst idea ever. A great desktop appearance is definitely cool, however, but Google itself has warned you that mobile optimization is a must with its mobile first indexing update.
The WebCEO Website Auditor will help you check whether you are ready for 2021 from the mobile point of view. It will show you how well your website is optimized for mobile devices: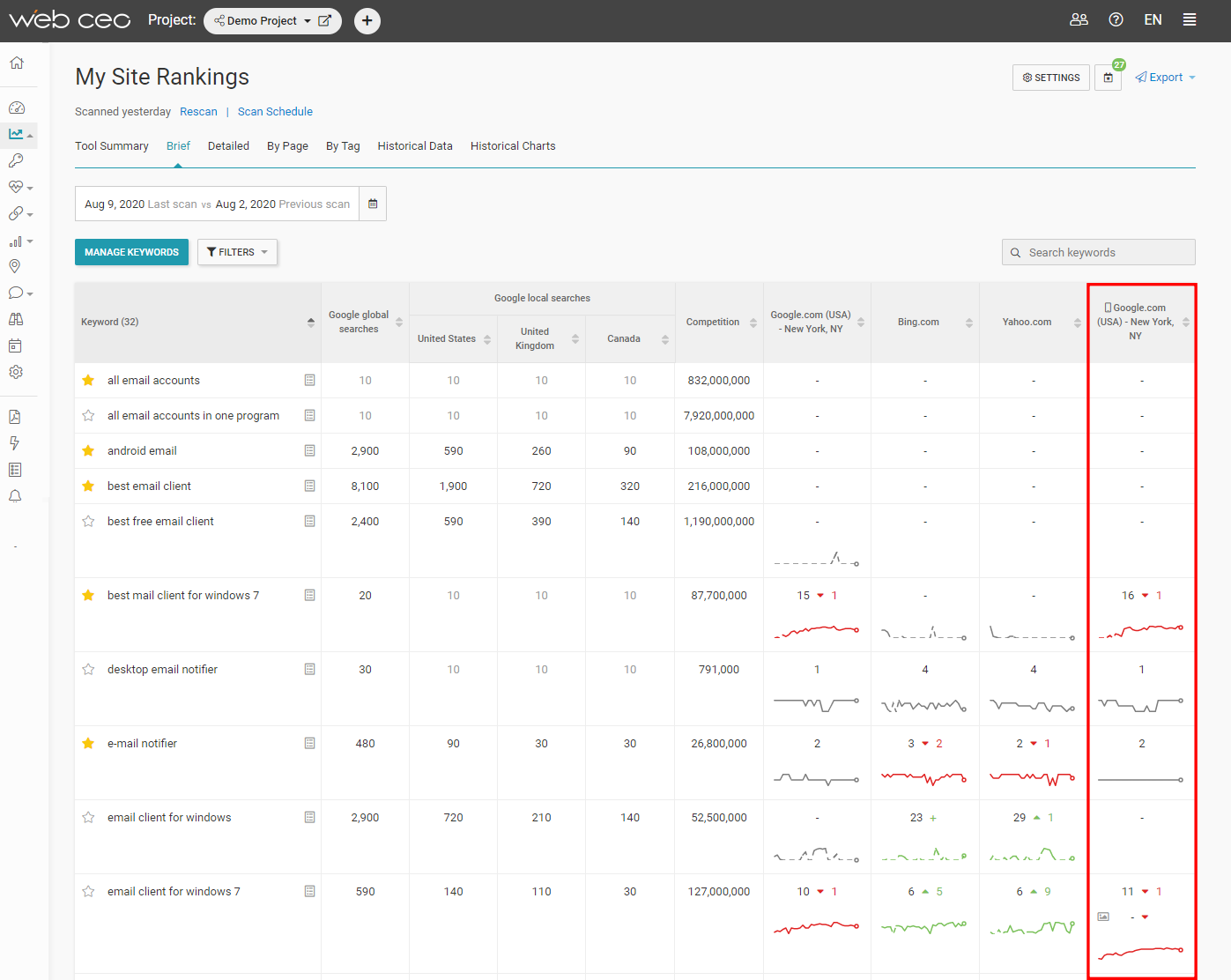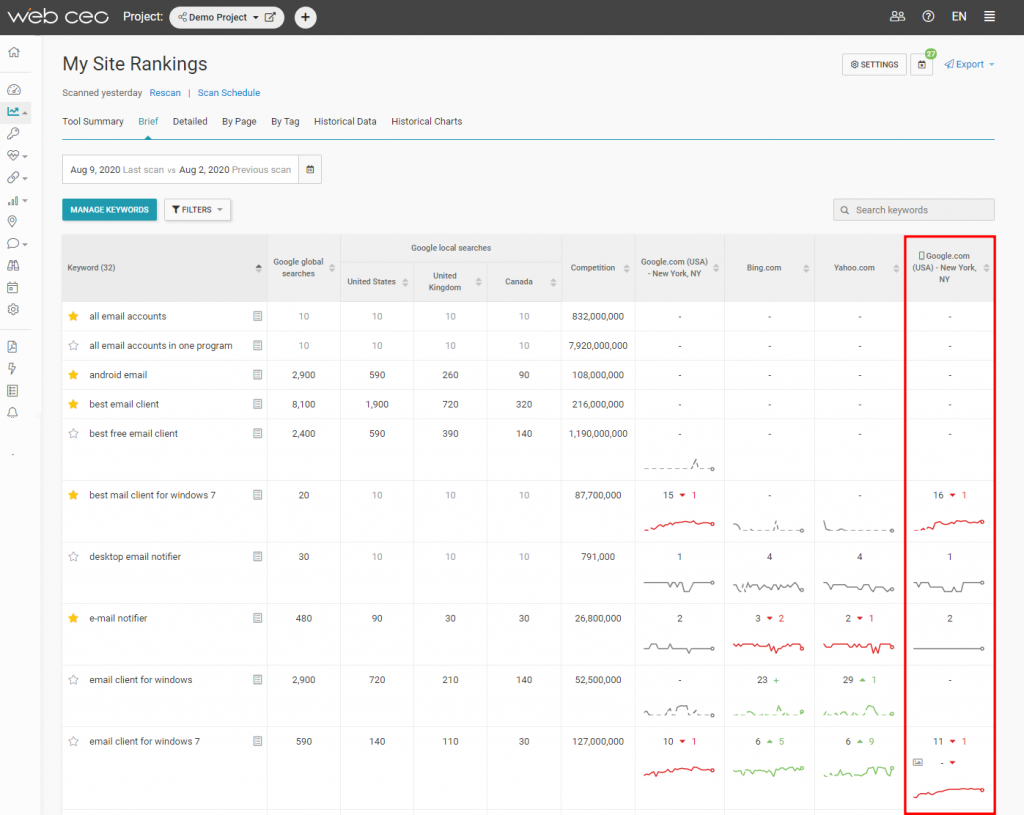 You can use the WebCEO Rank Tracking Tool to monitor your mobile rankings for the keywords you have optimized your website for: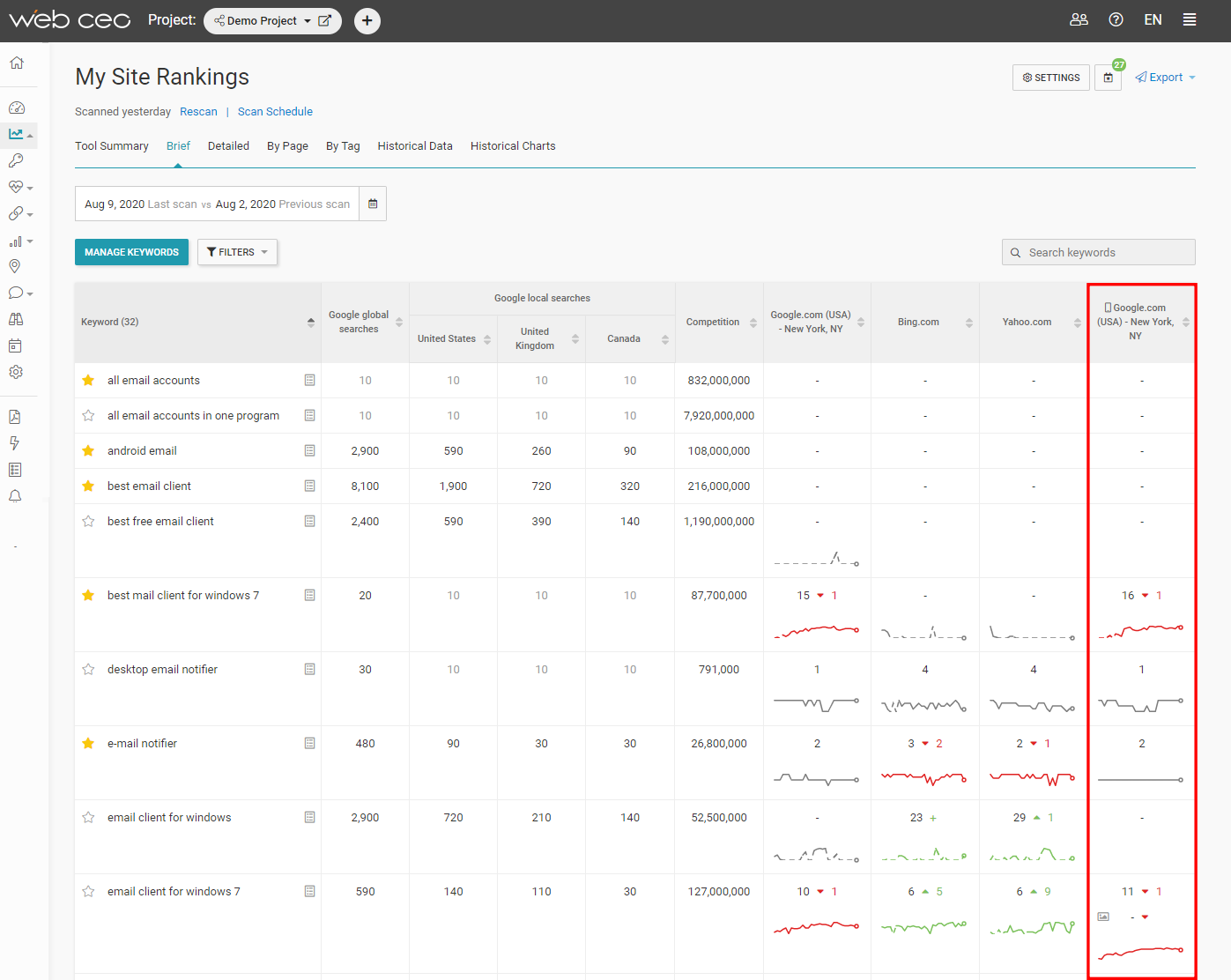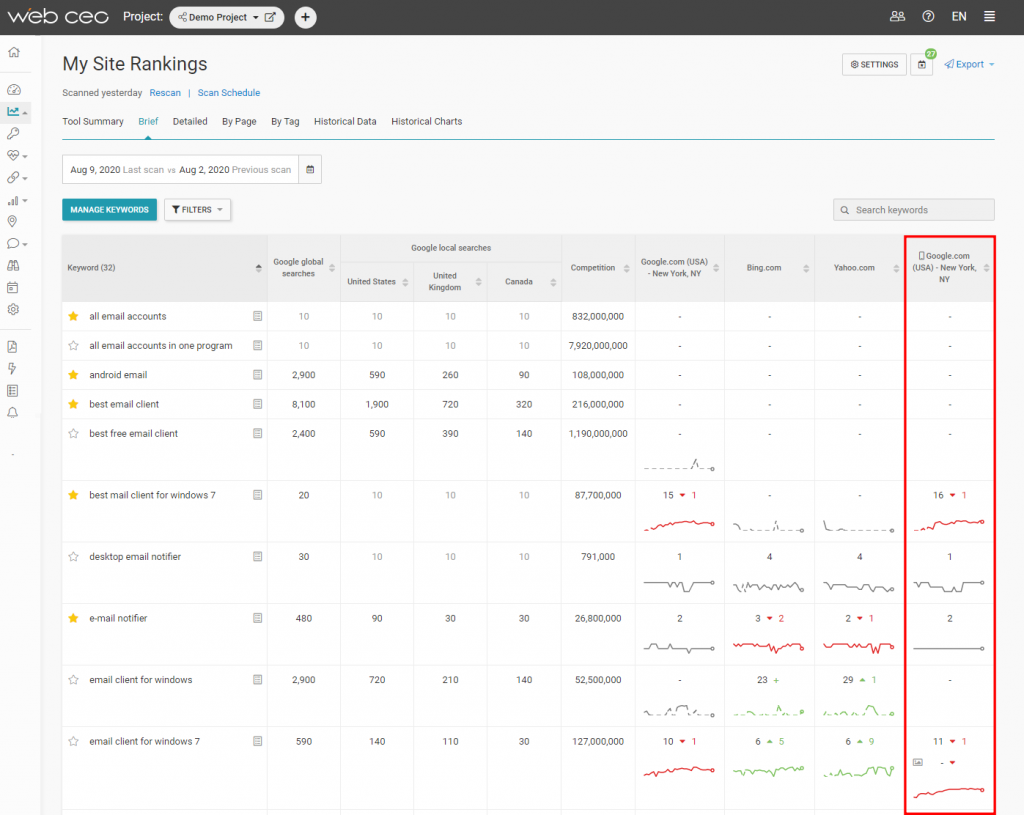 OPTIMIZE FOR VOICE SEARCH
27% of the global online population is using voice search on mobile.

google
Voice search provides us with information at any moment: while we are on our way, or we can't type, or we haven't much free time, or we're just lazy. It's a matter of convenience so humor us by working on your content to optimize it for a possible voice search for one of your articles, which can be given as an answer to a spoken request.
The best way to optimize your content for voice search is to organize it according to people's most likely spoken queries and their language. What do we mean by that? Here is some of the advice we want to share:
Start some paragraphs of your articles with questions, such as "what", "how", "when" and so on;
While producing your content, think about niches where voice search is used the most. For instance, people are more likely to use Google Assistant when they are interested in purchasing, such as cinema tickets, schedules and premieres. People will use voice search to seek lifehacks, cooking recipes, cooking video tutorials, how-to's, etc. Voice search is also often used to find restaurants with their menus and their work hours and so on. Here the type of your business, structured data and local optimization come to the fore;
Since voice search is predominantly carried out on mobile devices, the mobile optimization of your website is more compulsive than ever this time around;
Your website speed is essential for voice search, as well as for other types of searches. If you aren't able to provide fast results for a searcher's query, you aren't worthy of Google Assistant's attention yet.
START WORKING ON YOUR VIDEO MARKETING STRATEGY
54% of consumers want to see more video content from a brand or business they support.

oberlo
Videos are everywhere. People want them everywhere. Because they are interesting, entertaining, multidirectional, and available from any device. That's why this type of content can help you go viral.
The first thing that probably comes to your mind is YouTube. That's understandable. YouTube still stands right after Google and is one of the most important zones for promotion. However, don't aim for it exclusively because YouTube is a highly competitive place for a newcomer. You will risk wasting too much effort and time if your business is just on its rise.
There are a lot of platforms you can use to achieve your business goals. Extend your field of operation in terms of video format and add "Social Media Marketing" to your SEO strategy.
What's the best way to do video marketing?
Divide and rule: trim, crop and reroute a larger video and place them on Instagram Reels, Snapchat and other services can potentially bring you a lot of interested visitors. Just crop a long video which you will prepare for YouTube and post a short piece of it on these platforms with a link to the whole video or with the name of your YouTube channel. An interested public will click through to the main video and to your site.
Of course, you can't miss this step of optimization. Prepare your videos to be on the Internet and be seen each time a user seeks your content.
The WebCEO Rank Tracking Tool will show you which queries your videos appeared for. You can also see your YouTube ranks in this tool, just choose YouTube as one of the search engines you want to get your ranks from. This is a unique WebCEO feature you will not find anywhere else.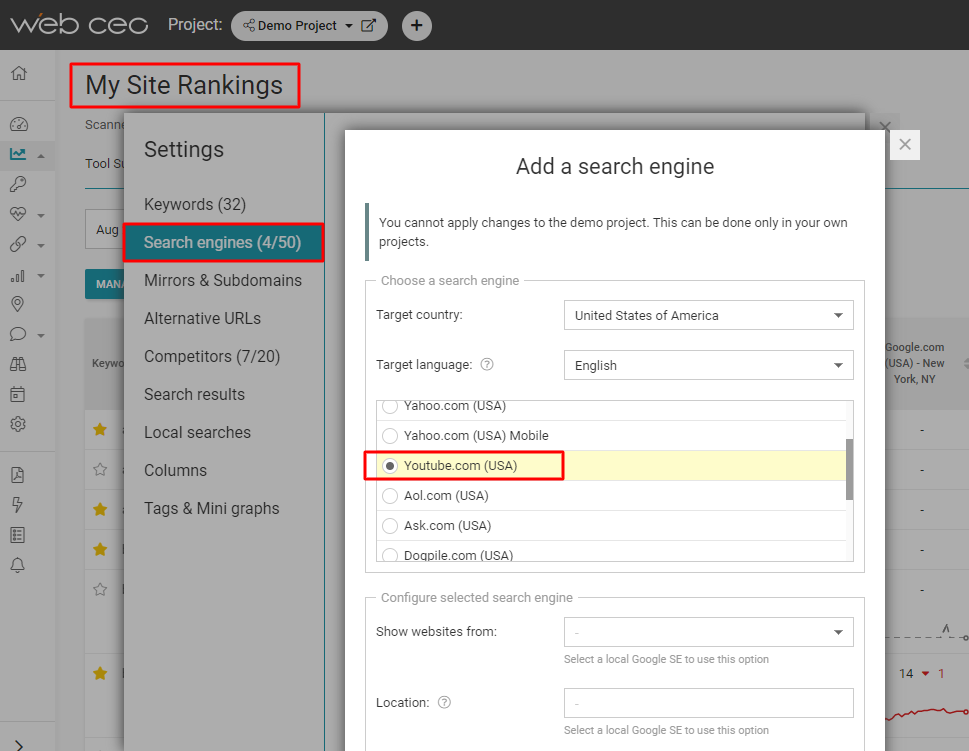 INCREASE YOUR BRAND AWARENESS AND BUILD TRUST WITH INFLUENCERS
Influencers may have millions of followers and these followers may become your customers.
Social media bloggers have always been in demand among product suppliers because they are associated with trust. The more trust the ambassador of your brand has, the more sales you are going to generate.
Currently, bloggers are getting even more successful than ever because circumstances kicked all of us to Instagram, YouTube, Facebook, etc. where blog posts can be better marketed. It has become a so-called breaking point which has opened the door to an online world wider than ever before. You have to catch the moment and redesign your social media strategy including at least a micro-influencer to see if he or she plays with the audience better than all of your previous effort.
Important! Partnerships with influencers require you to collect some data on aspects such as an influencer's audiences, a level of engagement and trust, previous partnerships and feedback about this person. Don't choose just any Influencer because of the number of followers. Choose a micro-influencer with 50-100k followers but with a higher level of engagement and stronger relationships with the audience than millionaires have developed. Such a collaboration will fit your brand perfectly and may bring significantly higher profits.
ENSURE THE SECURITY OF PERSONAL USER DATA
People have become more aware of their security and safety on the Internet. Private data should stay private by all means and on every website. Security is even more necessary if your website is about selling or reselling goods, because users leave data regarding their bank accounts and cards there. If you want to be trusted by them, spend some time and money on a hosting system that provides your website with all the security certificates users appreciate. A "Not secure" status for your website is a quick way to see your rankings drop. Google considers your website's security status while building the search result lists. This is a ranking factor that features in the top 10 of the most important factors. Protect your users' personal data and, for this, Google will guard your rankings more faithfully.
GET ACQUAINTED WITH STRUCTURED DATA
Structured data helps Google understand what the content on a page is about. This can also help your site to become a featured snippet that will attract more and more attention. This can be the top result at Position Zero, an entry in the Answers section, which is a little "Q&A menu" or how-to form on the SERP, or the Knowledge Panel on the upper right of a results page.
A Featured Snippet at Position Zero has become a huge issue for content structuring by webmasters. "How to get a featured snippet?" – is a problem you can actually try to solve on your own. All you need to do is to write high quality content with valuable keywords and structure your data (using Schema and Open Graph code) so it will be a top-notch answer for a specific query. Wikipedia is a perfect example of such answers. Of course, it will be difficult to win in most cases, but it's worth a try.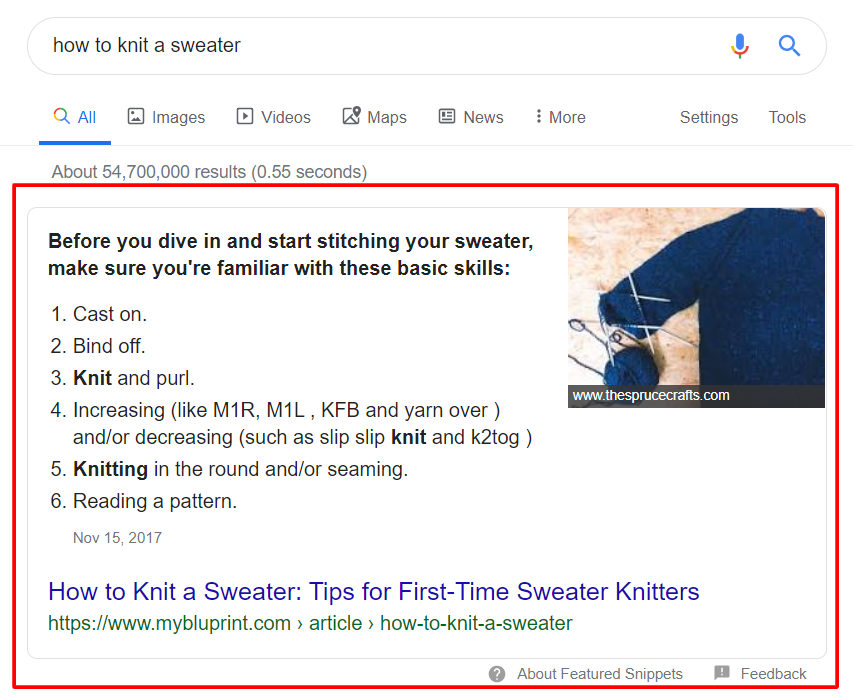 How to optimize for featured snippets?
Work on the layout of your content: this doesn't mean that you need to change something in your writing style, just add some small details that will help you work with users and Google easier. For instance, start your articles with the definitions of the terms you are going to use in the article or in your title. Google might consider these pieces of content the most relevant short answers to users' queries.
Apply Schema Markup: Schema markup is a great helper for you to be noticeable in the SERPs. For instance, marked up FAQ pages have a greater chance to appear in the SERPs in the form of rich results. There are many types of Schema code you can use to make your page's layout work for you.
Learn what types of featured snippets exist and optimize your content for those that fit your website.
IN CONCLUSION, trends are changing day by day. We don't know what will be in the future and, respectively, what changes we will go through. However, we have to adjust to any circumstances and adapt our business models to them to win any race in the niche. Let's start with content optimization. Seek and use the most beneficial keywords from your niche with the WebCEO Keyword Research Tool.