14 Secrets of the Best SEO for Law Firms in 2017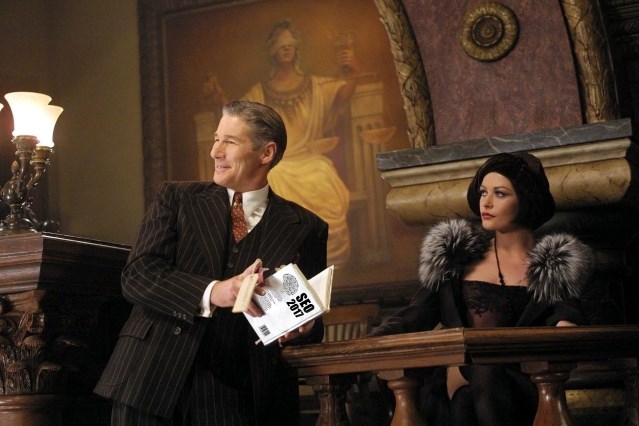 In today's world, technology is a blessing. When somebody needs help with the law, the Internet will be the first place they'll look for solutions. Law offices are aware of this, so each of them attempts to make the solution-finding process easier by creating its own lawyer website… and then they have to compete for their would-be clients' attention. That's where the fun begins.
Indeed, while looking for the best law firm in your city is only a matter of a few clicks, it's not such a walk in the park for the firm that wants to be found. Even a team of the world's greatest divorce lawyers may find themselves at a loss if you ask them to place their company's site on Google's first page. And yet, without an SEO-friendly site, they'll have but to watch how less outstanding firms are getting the clients that could be theirs. Driving traffic and clients to a legal service office's website can be a tricky business, but it's really about figuring out the proper approach to this niche. So let's see how SEO can help your law business take over the market.
Research Local Keywords in Your Niche
Since you're running a business in a physical office with walls and windows, your goal is to make your clients walk in through your door after they've visited your website. Before that, however, you'll need to attract visitors who'll want to do just that. The way to do that is to speak the language they use, which is known in SEO terms as local keywords.
You can find the necessary location-related keywords through several means:
Keyword research tools. There's a variety of free and powerful tools, such as WebCEO's Keyword Suggestions or Google AdWords.
Google's autocomplete function. When you begin typing a search request, Google will attempt to finish it for you. The options it offers are the most popular requests typed by users.
Local forums. They are bound to have topics related to your business. You can find the keywords you need inside the topics' titles and comments left by posters.
Question-and-answer sites. Those offer even better key phrases than forums. Quora and Yahoo! Answers are the best-known Q&A sites.
Don't Overstep the Boundaries of Your Niche
When setting up a niche website, the most important thing to keep in mind is the audience you plan to attract. People who look for the nearest law firm in Google are unlikely to require a blog post about 10 ways to tell a competent lawyer from a fraud. Instead, they'll want help with a very specific problem, which will show in their search request: for example, "bankruptcy law firm London" or "criminal lawyer Manchester."
Being a representative of your office, you know better than anyone what kind of services you provide. That knowledge is the foundation on which your site will stand. Aim precisely at the audience that wants what you have to offer. A legal service firm is meant to help people with a narrow set of very characteristic problems that you may find only where the law is involved. Some firms specialize only in a certain area, such as family law, and therefore deal with issues like divorce, alimony and child support. Other firms take on multiple areas; they cast a bigger net and occupy a wider niche.
Takeaways: the content of your firm's website must be optimized strictly for the issues you deal with. Act within your niche, or else you will attract an audience that needs something your website cannot provide.
Create a Listing on Google My Business
This is an absolute must for every business with a physical location, I cannot emphasize its importance enough. Creating a listing on GMB will make your office visible on Google Maps; not doing so will turn it into an even better place to hide a dead body than Google's page 2 of search results. Believe me, living clients are much better to have in your office than dead bodies.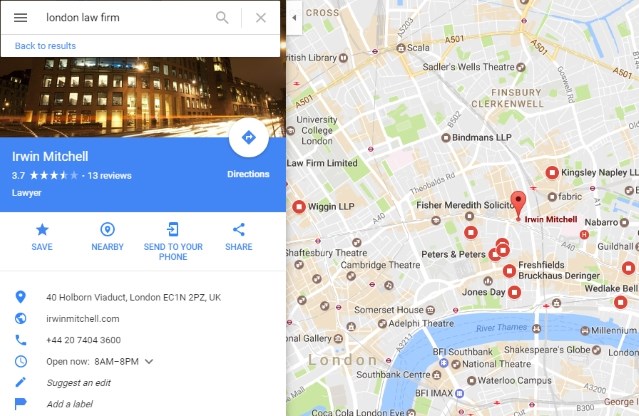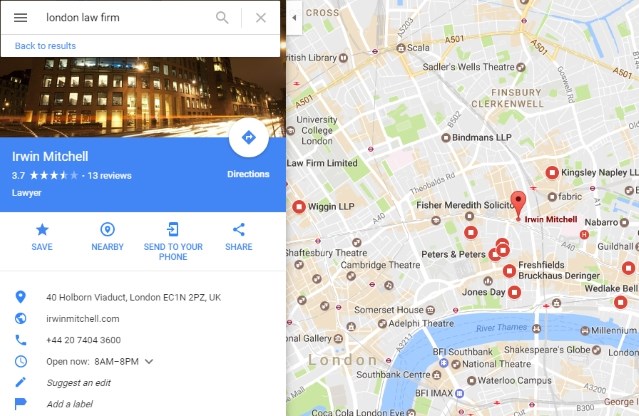 Be Efficient at Using Your Keywords On-Page
While you're busy keyword hunting and handpicking the best of them, I'd like to say a few words about squeezing the most out of them. Other than your site's content, there are four places on your website's pages for your keywords to be:
URLs (both in the domain name and the slug)
title tags
description tags
H1-H3 tags
Create a Page for Your Attorneys' Profiles
Your clients will want to know who will be their heroes; introduce them on a dedicated page! Each lawyer working in your firm should have a professional headshot and detailed information about their education, practice areas, work history and success rate.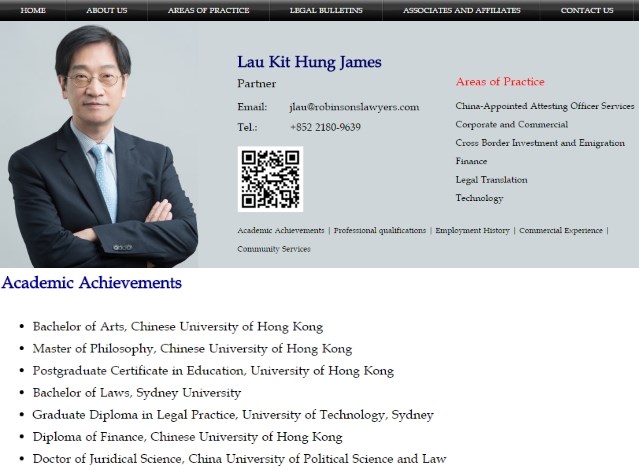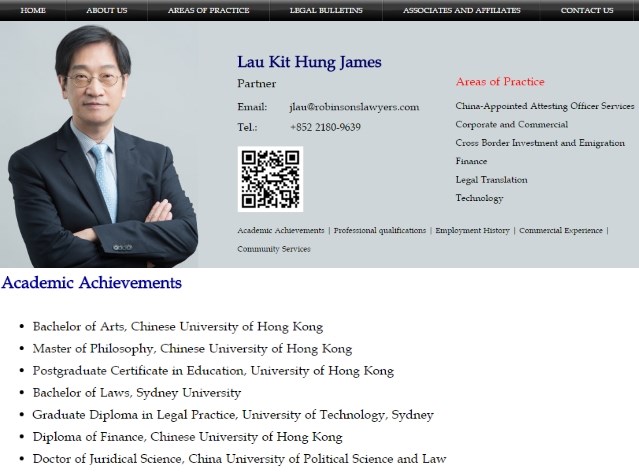 Start a Blog and Share Your Expertise
Articles that are relevant to your field of practice will be helpful to your visitors and drive additional traffic to your site, too. Even better would be if you write a stellar post that gets picked up by Google and lands in its News results. This might bring you even more visitor traffic than a regular blog post. Other types of content that are worth having on your blog are Frequently Asked Questions and case studies.
Employ Calls-to-Action
Yours is a law service site; act like it. Write calls-to-action that will make your clients feel like they are about to receive help from a real professional (which you must be, anyway). Help them contact you now!
Make Your Site Mobile-Friendly
Google likes sites that succeed in providing users with a nice experience, which quite often translates to avoiding the opposite. The mobile age is flourishing; you'd do well to optimize your content for handheld devices. An Ultimate Guide to SEO Mobile Ranking Factors 2017 on our blog goes into great detail about this process.
Don't forget to test your site's pages for mobile friendliness with WebCEO's Mobile Optimization tool!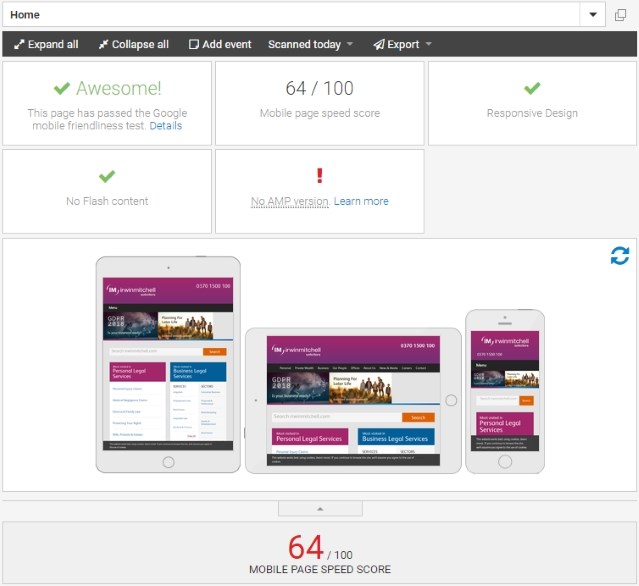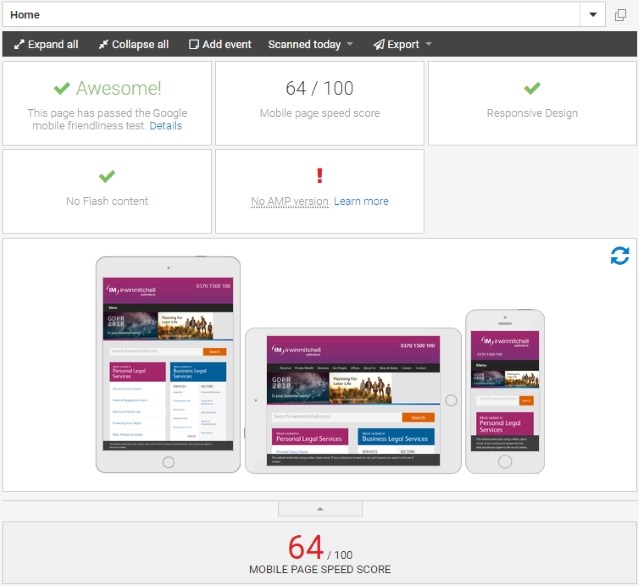 Use Voice-Search Oriented Keywords
Mobile users don't just type their search requests; they prefer to say them out loud, too. In fact, voice commands are expected to become the main search medium in a few years. You can see where this is going: how we perform search on the Internet directly affects SEO, so expect it to adapt accordingly. The sooner you start using spoken requests as keywords on your site, the better.
Check out this post to make your website voice-search friendly, and you will have rightfully deserved every client who finds you that way.
Earn Reviews and Proudly Show Them Off
Create a page on your site where clients can write and submit what they have to say about you, as well as read what others have said. Don't be shy to ask the clients you've helped for reviews and praises; money isn't the only reward you deserve for your work! It'll send a positive message to anyone who considers hiring you in the future, as well as search engines.
Create a Schema Markup for Your Site
Marking up content on your site will give Google extra information to display in search results – and which users may find valuable. Direct links to important pages, as well as your firm's telephone number, address, schedule, rating – all displayed for potential clients in the form of a rich snippet before they even open your site. Schema.org has a dedicated schema for attorneys which you'll find helpful.
Be Active on Social Networks
Facebook, Google+, LinkedIn, Twitter and others that may come to mind – they are all business-friendly, so make sure to set up a page on each of them and update it regularly. Google looks at social signals and turns them into a ranking bonus; besides, it's all extra publicity for your law firm and people do conduct searches from within their favorite social media platforms.
Sign Up on Popular Business Directories
Creating profiles for your lawyers on authoritative directories like Avvo, Justia and Nolo is definitely a must. Be careful with other, less specialized directories, as not all of them possess substantial authority to make them a good place for submitting a listing. If you manage to pick the right directories, though, they'll be a great source of citations and backlinks (although far from the only one), which are crucial for moving up in SERPs.
Stalk Your Competitors
No, not in real life, or else you'll end up needing legal defense yourself. I'm talking about their sites and any useful gimmicks and tricks you may learn from them. If you can't find inspiration by just looking, then spying on their backlinks may be of more use to you instead.
In fact, make sure to fully utilize WebCEO's Backlink Quality Check tools including Competitor Backlink Spy in order to keep a close eye on your inbound links.