How do I make landing pages rank as well as my home page? Listen to Web CEO's suggestions and solutions!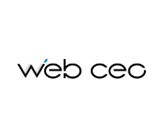 We are often asked why the home page of a website ranks high in the search results, while inner pages appear deeper in results. Sometimes, inner pages don't appear at all because they seem to be invisible to search engines for some reasons. What are those reasons? We are here to approach these reasons and make them clear for you.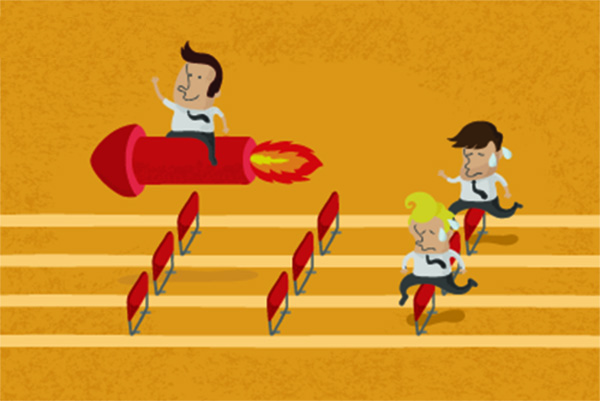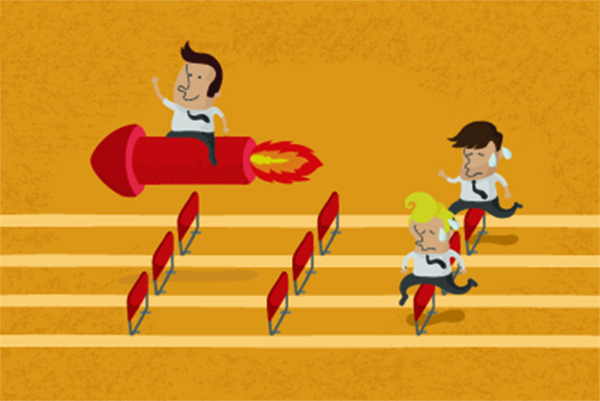 First off, the link building strategy you have chosen may have taken a wrong tack. Backlinks built through article submission directories, guest post blogs etc, are now looked at poorly by Google. Google has recently been penalizing article directories and guest posting blogs for manipulative link techniques. One of the most authoritative guest post platform, MyBlogGuest  has just been penalized. Though Ann Smarty (founder of the MBG) says that this is just a PR game run by Matt Cutts, the fact is no one will find salvation from Google's "eagle eye" if it looks to them like you might be playing link-building games.
So, in light of recent events, a primary focus on backlink building is not a good and safe strategy for your website promotion. Besides, building backlinks is out of your control.
You can't keep an eye on all the backlinks built over the internet. A great number of your inbound links are built automatically and a mass of them often point to your home page. This is one of the reasons why only your home page has high rankings. You should be careful, if too many backlinks point to the home page with the same anchor text, search engines may start to wonder if a link manipulation is going on and penalize your website. The only thing here that you can do is to track and analyze your backlink profile with the help of SEO reporting tools.
This is what Web CEO toolset was built for: our Backlink Quality Check and Competitor Backlink Spy with the Toxic Links reporting tool provide a comprehensive up-to-date analysis of your backlink profile and those of your competitors.
There is another side of this issue. Poor internal link structure is what makes search engines love a home page and ignore inner pages of your website. Let's make it clear, a well-structured internal link map of your website helps Google to determine the most important landing pages of your website. Internal linking enables search engines to better understand what the theme of your website is.
The good news is that internal link building is something that you can and should take under control. And Web CEO has developed a control device for you to analyze and manage your website internal link optimization. Make use of our Internal Links Optimization tool to perform a detailed internal link text analysis, page authority and a landing page analysis of the links that connect your site pages. With this tool you can easily see how your pages are linked, and analyze the performance of link text. As a result you will find ways to better optimize internal links all over your website.
I strongly recommend that you analyze the authority of your landing pages to improve their internal links structure and make them relevant to the goals of the website.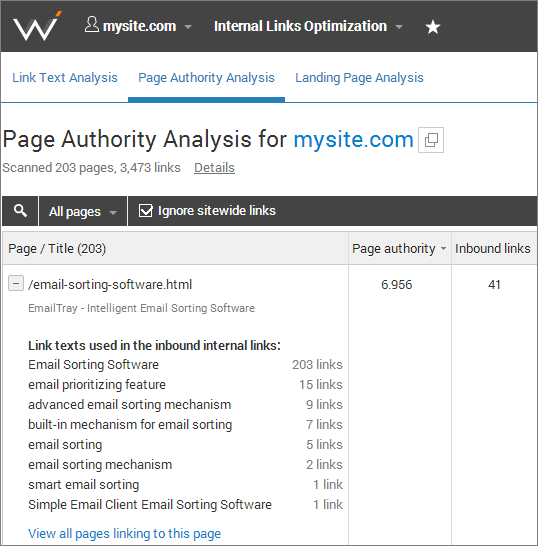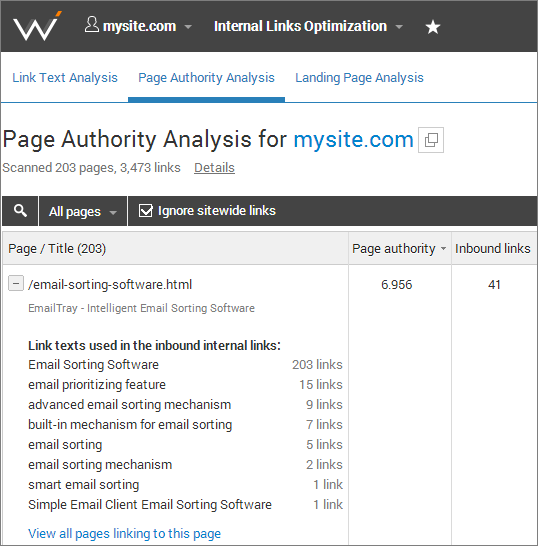 As soon as you have analyzed page authority, open your Landing Page Analysis report to discover what pages are not yet linked to this or that landing page. This is a great opportunity for the "underestimated" pages to get additional link juice.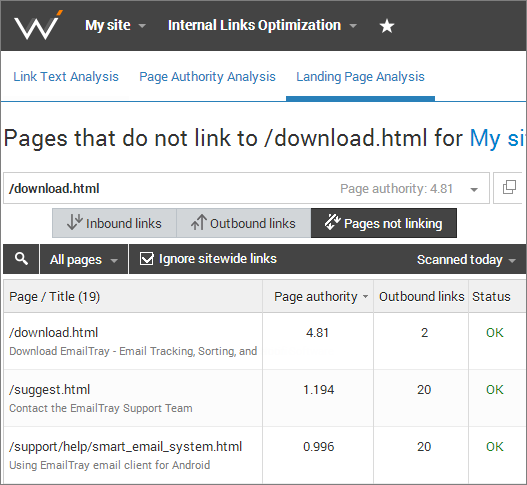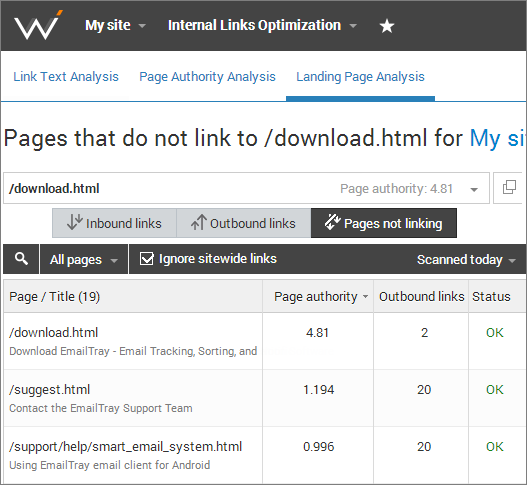 You will get so many "bonuses" after internal link optimization being applied:
stronger visibility for internal pages in search results;
authority and link juice spread throughout your inner pages;
searcher/visitor engagement increase.
These efforts are just one of the heats in a marathon race. Keep your eye on the ball even if your pages rank well. Don't forget to do an SEO audit of your website on a regular basis. There are always things that need your improvement.
Download our guide to find out how to optimize your internal site structure and get more search engine visibility.