SEO for Ecommerce Websites: 10-Step Guide for Your Online Store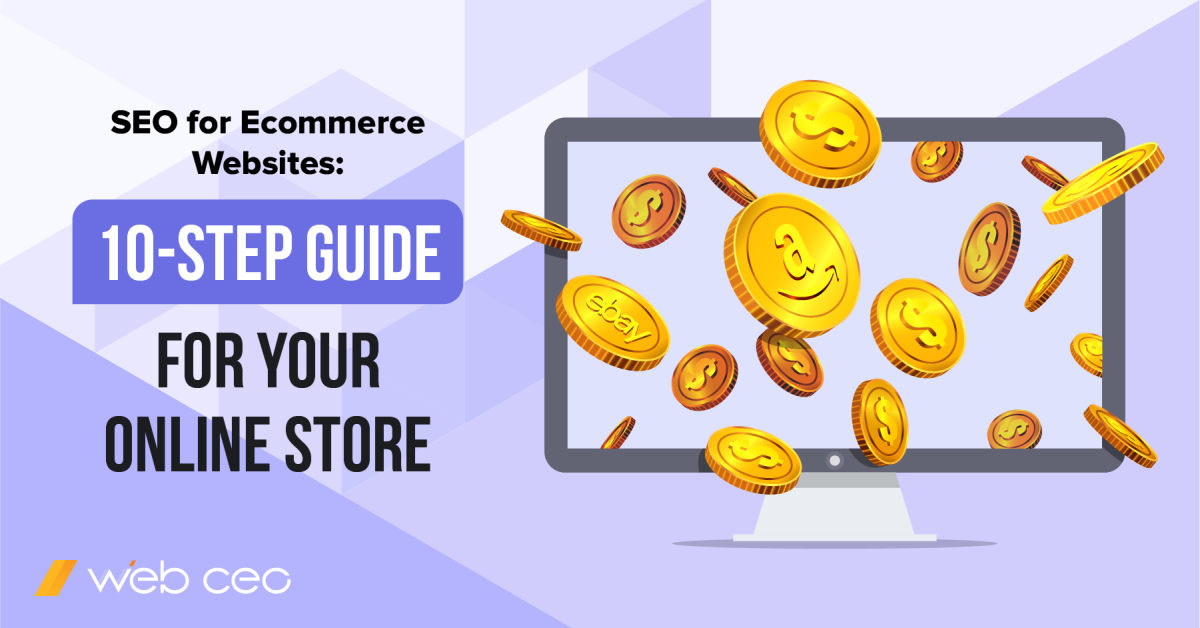 Ecommerce is huge all over the world. Wanting to sell things online is a healthy ambition, with more than just a promise of making you richer. However, because ecommerce is so massive, your competition is going to be just as enormous. You will probably compete against titans like Amazon, and even smaller stores may provide a challenge.
It certainly helps to be an ace businessman – even better when you have an expert business consultant, but it won't be enough. Your online store will never make it big if it can't be found on the first page of Google. That's why ecommerce and SEO go hand in hand – and that's why we've made this giude about how to do SEO for ecommerce websites. Are you excited? Then let's proceed!
1. Find keywords that sell
In the beginning was the keyword. Where do you start looking for keywords? Try the names of the products you are selling and their categories. There are two requirements your keywords should fulfil:
Act like a magnet for potential customers;
Give you a decent chance to outrank your competitors.
Obviously, not all keywords will be up for the task. Some will be too short and too vague to attract the kind of users you need (i.e. buyers). Smart SEOs rely on keywords that both sound specific and are searched in Google often enough to attract a large number of visitors. This awesome breed of keywords is called long-tail.
Where can you find long-tail keywords?
The first place to look is WebCEO's Keyword Suggestions tool. Simply type in your own ideas for keywords, and you will see their search volume – the higher, the better. The tool will also display a list of keywords similar to yours. You can even receive a list of searched-for keywords that have the same common root words. Choose the suggestions that suit your goals the best.
Keyword-finding sites like Soovle and AnswerThePublic offer a wide variety of long-tail keywords, although they don't measure search volume.
Big competitor sites like Amazon and Shopify are the ecommerce giants, as they have the largest audiences and more searches on their sites than anyone else in the business. That's why you can use their search bars to check the auto generated phrases based on what customers usually type in before buying. Here's an example: let's say you sell pillows on your site. Go to Amazon.com, type "pillow" in their search bar, and voila!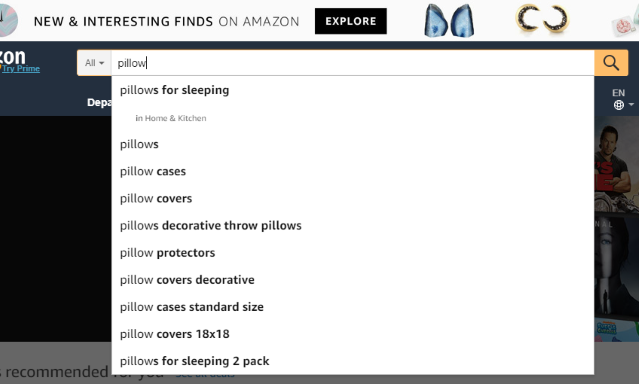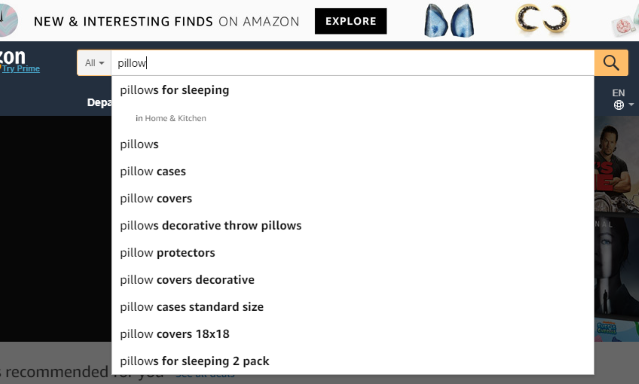 Once you've prepared a list of keywords, it's time to optimize your site. In order to make your pages rank high, use keywords in these places:
URLs
Title tags
Meta description tags
H1-H4 header tags
Image titles and ALT tags
Product descriptions
Make sure your site's pages have those places! If search engines can't scan them for keywords, those pages will sink lower to the deepest bottom of search results. Audit your site with WebCEO's On-Page Issues tool to avoid squandering your SEO potential.
Also, product descriptions need special care. Each of them has to be unique if you want them to appear in search results; if they aren't unique, Google will filter them out. The descriptions should also include words and terms that are often used with the page's subject (i.e. what you sell). And last but not least, write product descriptions in such a way that will convince the visitor to make a purchase after reading.
2. Interlink your store's pages
To say that ecommerce sites tend to have a lot of pages is an understatement. For example, Amazon's product selection is measured in hundreds of millions. That's why online stores must be a breeze to navigate, or else customers will find a more user-friendly place. In order to make your site easy to browse and use, its pages need to be linked between each other in the most efficient way possible.
Most ecommerce sites are structured like this: main page -> product category -> subcategory -> product. As a rule of thumb, the "link distance" between any two given pages shouldn't be more than three clicks, and this example of an ecommerce site layout follows this rule (even better when you don't have subcategories). You can make your online store even easier to use if you follow these tips:
Put a link to the main page on every other page. The best place for it is the store's logo in the top part of the page. The logo's ALT tag will be considered as the all-important link text to the home page.
Create a navigation bar. Online stores benefit the most from navigation bars that collapse into menus, providing users with fast and easy access to product categories.
Use breadcrumbs. They take little space and help users avoid getting lost on your site. Breadcrumbs for websites look like this: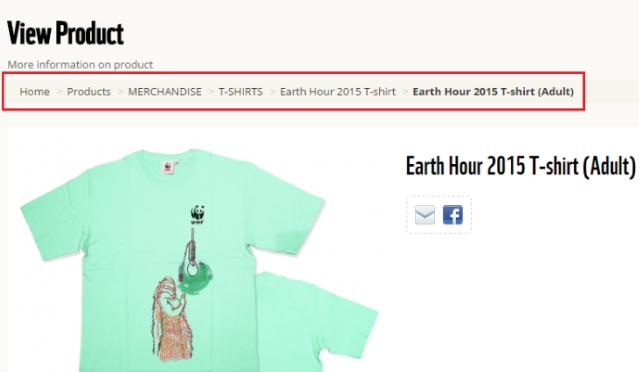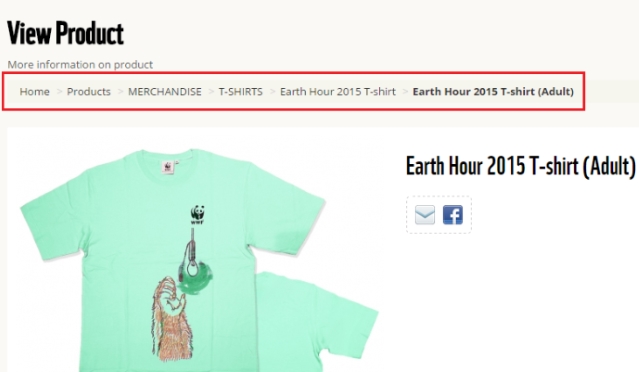 Don't use pagination. Many online stores have pagination, and it's often generated automatically by the platform used to create the store. However, it isn't the most user-friendly option because it takes time to load new pages. Instead, make a "Load more items" button that will add more products on the page when pressed. This option is better than infinite scrolling, too.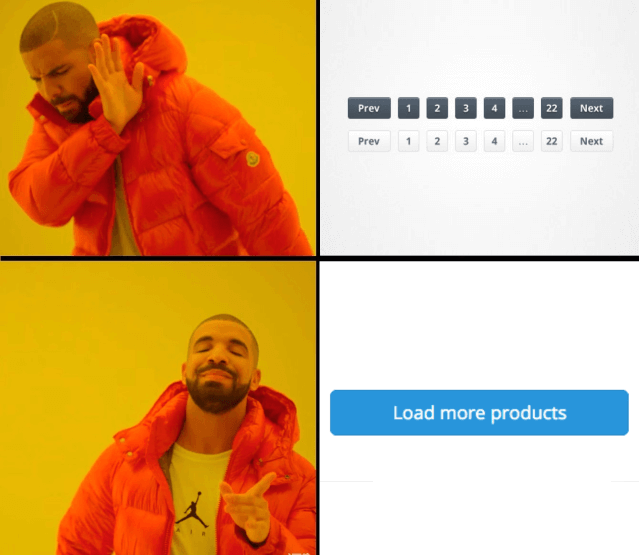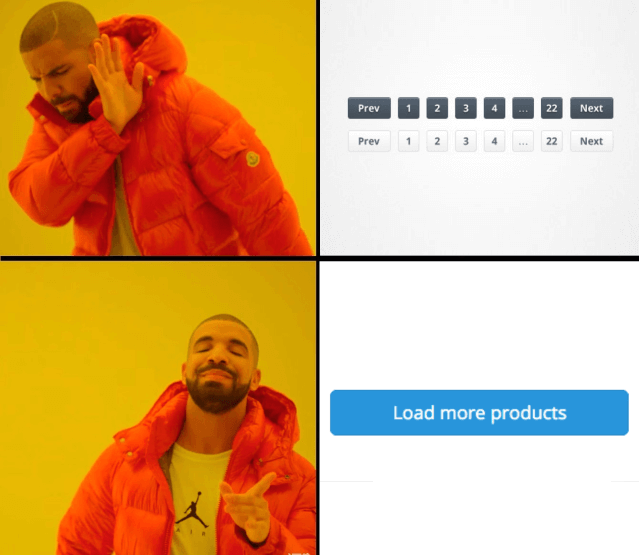 There's also the matter of products that permanently go out of stock. Don't delete pages belonging to such products; they can still be of use. One option is to redirect these pages to their categories or similar products. Another is to replace their content with a message that will convince visitors to keep browsing. The same kind of content will prove useful for your 404 error page.
3. Enhance your site with schema markup
No ecommerce SEO strategy can do without structured data. Why does it matter so much? Structured data helps Google understand the content of web pages better. When a page is marked up with a schema, Google can display additional information about it in search results, which is immensely useful for potential customers. Marked-up pages receive many more clicks from users than ordinary ones, so I highly recommend you learn how to use structured data.
Review schema is especially important for an ecommerce site. It displays customer feedback right in search results, convincing users about the quality of your products.


4. Make your online store secure
How important is online security? You've probably heard about the scandal surrounding Facebook and its data leaks. Incidents like this are a disaster for all parties involved: users are put in danger when their sensitive information falls into the wrong hands, and the website's stock and reputation may tank beyond recovery. Take online security seriously – especially when it comes to SEO for online stores.
Customers must feel safe when they use your website; make it as safe for them as possible. Here's what you can do to make your site secure:
Switch over to HTTPS. If you haven't done this already and your site is still on HTTP, you should see to this as soon as you can. Security isn't the only reason: when browsers display a page with the HTTP protocol, they mark it as "not secure" next to the URL address bar. Users see that and prefer to leave the page rather than risk their information being stolen.
Use a content delivery network. Many CDNs have safeguard measures against dangers like cyber-attacks and server failure. Many, but not all! Be sure to choose the most secure CDN you can afford.
Keep your plugins up to date. If you use plugins on your site, you should update them as soon as their new versions are released. This is because older versions of plugins tend to have vulnerabilities that hackers may exploit to gain access to your site. Of course, that doesn't mean the newest versions are completely free of holes. But they are still safer because their weaknesses might not be known to hackers yet.
5. Index your ecommerce site's pages
One of the most embarrassing mistakes you can do is forget to check if your site's pages are indexed by Google. If they aren't in the index, they will not appear in search results, period. Naturally, this means customers can't find you online, and all the work you've done on your site will go to waste. Make sure this never happens to you by generating a sitemap of your store and submitting it to Google.
The fastest way to create a sitemap is with WebCEO's Sitemap Generator tool. If you haven't made one yet, follow these steps. If you've made a sitemap but haven't submitted it yet, skip to step 6.
Click on Settings.
Choose Create the sitemap file from scratch.
Press Start. The tool will now begin scanning your site.
Download the sitemap file when the tool stops scanning.
Upload the sitemap file on your site.
Return to WebCEO's Sitemap Generator and click on Settings
Choose Submit to search engines the already existing sitemap file.
Type in your sitemap's URL address.
Press Start.
Done! Now search engines know about the pages on your site and will show them in search results.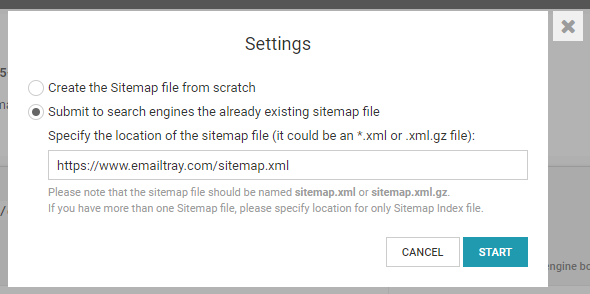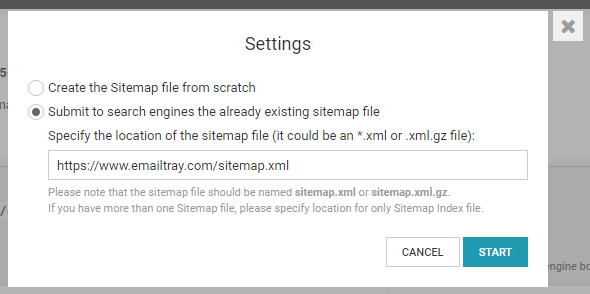 Here's a very important part: a single sitemap can list up to 50,000 pages. It isn't rare for ecommerce sites to go above this limit. If your site has more than 50,000 pages, you'll need to create multiple sitemaps to index everything. Fortunately, WebCEO's Sitemap Generator automatically creates multiple sitemaps when necessary. Be careful not to miss any when you are submitting them.
6. Make your store mobile-friendly
Mobile Internet has the majority of search queries, and now it's been reinforced with Google's mobile-first index. How does this affect SEO for ecommerce sites? Simple: if your online store isn't mobile-friendly and works fine only on desktop PCs, you'll miss out on a massive crowd of customers. What can you do to keep them on your site?
Use a responsive design. A website designed in this way will automatically shuffle and size its page elements around to fit any screen.
Use large, easy-to-read fonts. Zooming in and out on a mobile screen is easy, but it wastes time the users would rather spend viewing the content.
Use negative space. The smaller the screen, the worse cluttered pages look on it. Shorter paragraphs are easier to read, and some room between elements will prevent users from accidentally pressing a wrong button or checkbox.
Avoid using intrusive interstitials. That includes advertisements, banners and popups that cover too much on the screen, making the site unusable. If you need to have interstitials, they should be small and easy to close. Some types of intrusive interstitials are A-Okay: content warning, age verification and "use of cookies".
Make sure your redirects work. If your site's mobile version is on a separate URL, be careful while setting up redirects between them. A desktop web page should always lead to its mobile counterpart, and vice versa.
Make your website load fast. Users like it when you don't keep them waiting. Improve your website speed, and they'll be more eager to look around on your site and become your customers. Page load time affects a site's rankings, as well.
Run a test on your site in WebCEO's Speed Optimization tool (in the Mobile tab) and see how well it's doing.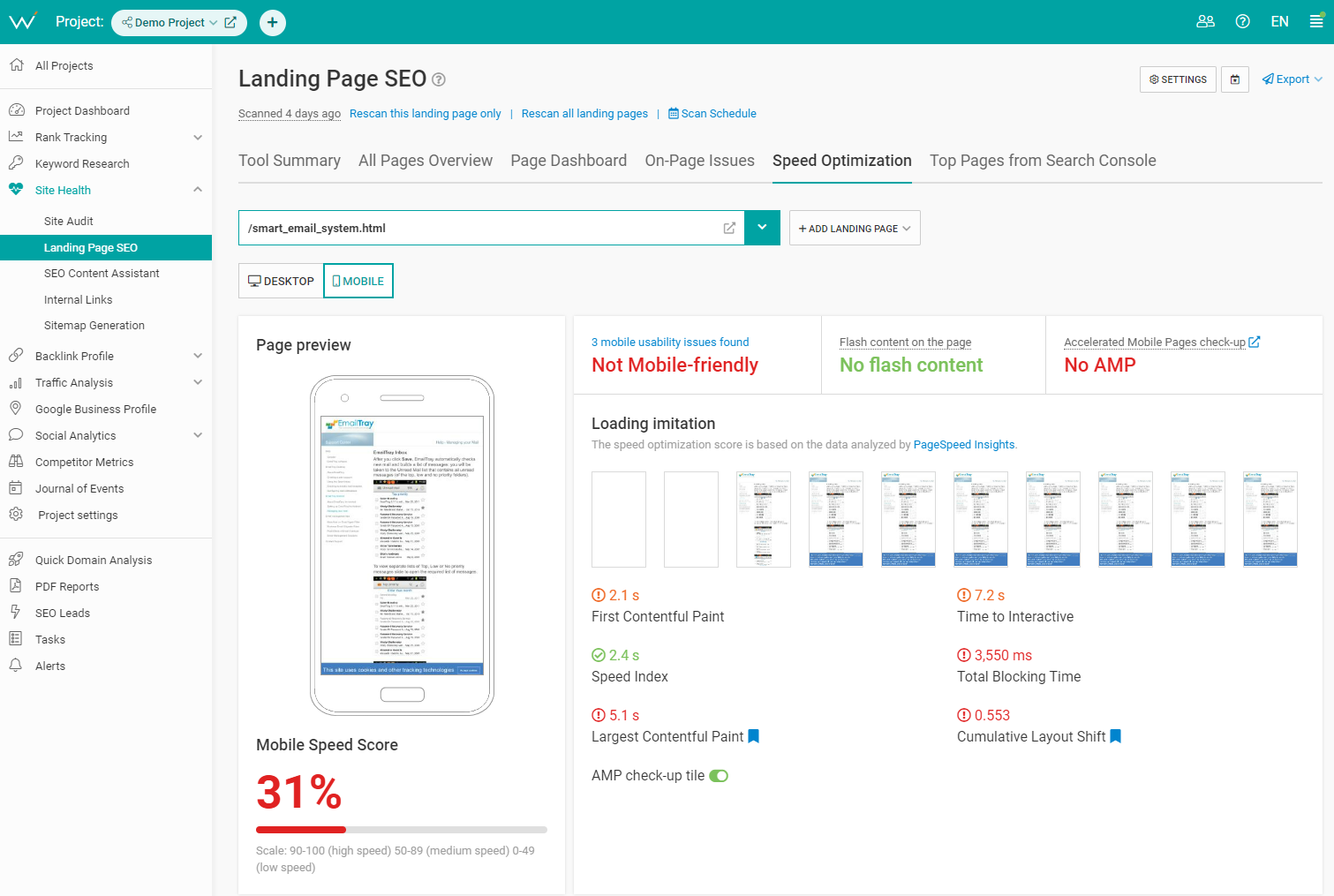 7. Start a blog on your site
SEO aside, a good ecommerce site must be able to close a sale quickly. If a page takes its time to convince a visitor to buy, it's not going to work; visitors would rather just get what they came for and move on. That's why it's better to leave long-winded descriptions of your products to pages that aren't directly involved in sales. That's right: this part of online shop SEO is better suited for a blog.
A blog post with interesting and valuable information can be a prolific source of extra traffic, especially when written by a marketer who knows how to sell her product. Social media may amplify the effect even further, so enable the option to share your posts.
8. Build links to your online shop
Link building does more than just move your website up in rankings. Backlinks bring you users from other sites. They also help you grow your store's authority and reputation. That's only if they are quality backlinks, of course. So what can you do to earn them?
The obvious way: Create valuable content on your website. Google's goal is to make the best pieces of content easy to find, so only this kind of content gets the most backlinks. Prioritize value for users when you work on your site's pages, and you are off to a good start. An example of valuable content on an ecommerce site is a discount offer or a tutorial.
The most powerful way: Share your content on social media. Although links made on social platforms don't usually pass authority, they get tons of views there – and that means they are so much more likely to become dofollow backlinks on other sites. Social media captures 30% of the time users spend online. Let that number sink in and start using it to your advantage.
The easiest way: See who links to your competitors and look for opportunities there. You can bring up a full list of your competitors' backlinks with WebCEO's Competitor Backlink Spy tool.
The expert way: Help reporters write articles. Ecommerce, business and online shopping are popular topics, and you can get your site mentioned in some of them. Sign up on HARO and similar websites as a source to find reporters in need.
The friendly way: Find unlinked mentions of your store. Use WebCEO's Web Buzz Monitoring tool to find out who says your good name. If you find a mention with nothing but bare text, contact the person who wrote about you and ask them to include a link.
The real-world way: Set up listings on business directories. This helps when your store is not just a website on the Internet, but also an actual place where customers set their feet. In this case, you'll want your store to be easily found online, and that's where the business directories come in. Create listings on Google My Business and other directories that are relevant to your line of work. Going local can capture an extremely large market of online buyers even if they don't care where products will be shipped from.
And don't forget that not all backlinks are good for you. Scan your backlinks with WebCEO's Toxic Pages tool to keep your website safe from any bad apples.
9. Audit your site for errors
If there's a niche where you cannot afford to let your users down, that's ecommerce. Site errors may paralyze your business or even hurt your customers' wallets. That's a lot of responsibility on a single website! Fix technical issues of any sort as soon as you notice them.
Find errors on your site with WebCEO's Site Audit tool. It can help you detect problems ranging from a broken image to server malfunction. Stay vigilant and scan regularly – or use the WebCEO Alerts tool to get emails whenever something on your site breaks.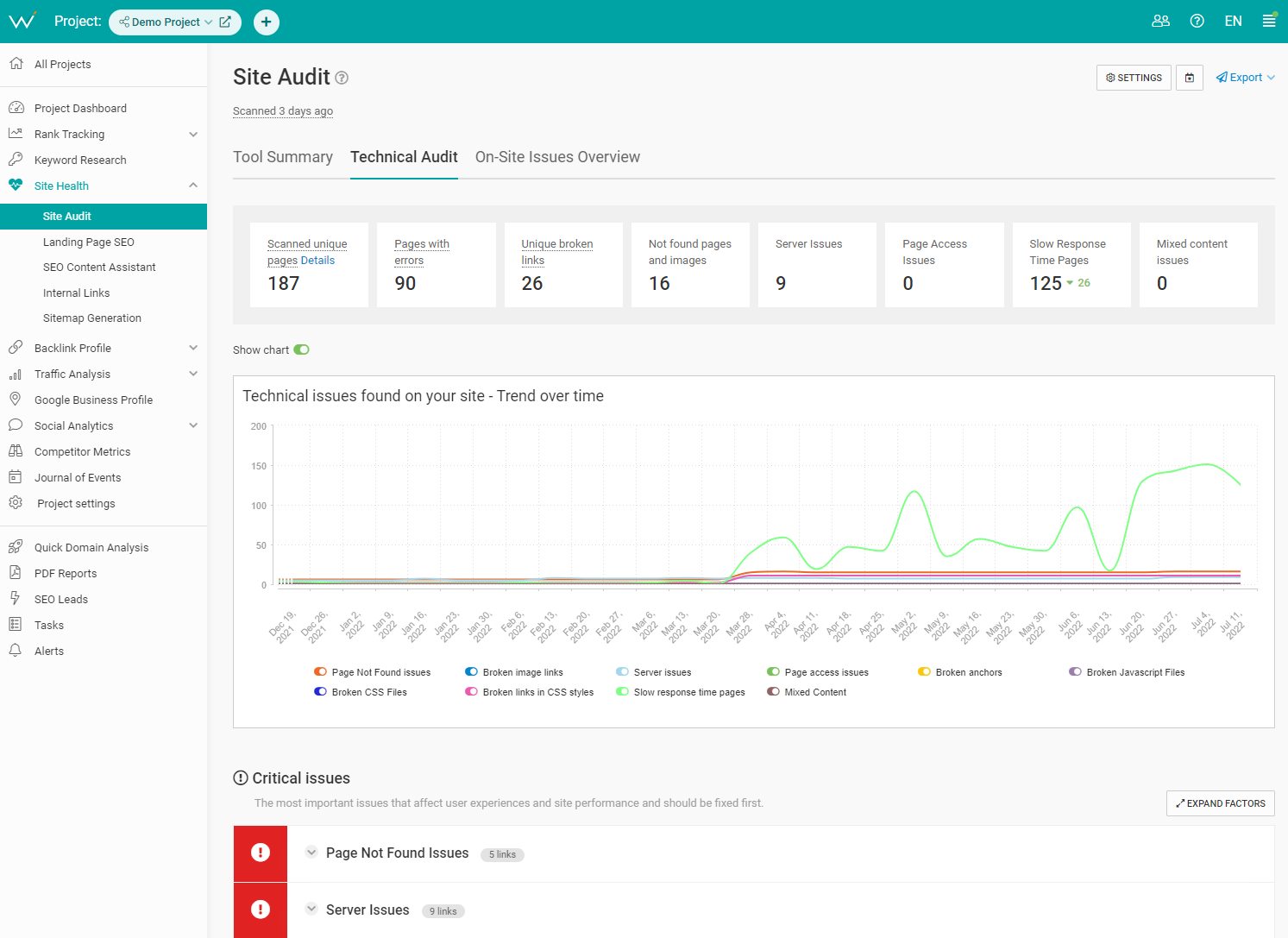 10. Monitor your rankings and traffic
Since you've already done so much SEO for your online store, there's no point in stopping halfway. Aren't you curious to know how well you've performed? You may have improved your rankings, but they are a fickle thing. Every SEO worth their salt knows that rankings should be checked regularly.
That's why you have SEO tools. There's no better way to keep track of the changes in rankings. Boot up WebCEO's Site Rankings tool, punch the keywords into the Settings and enjoy the view.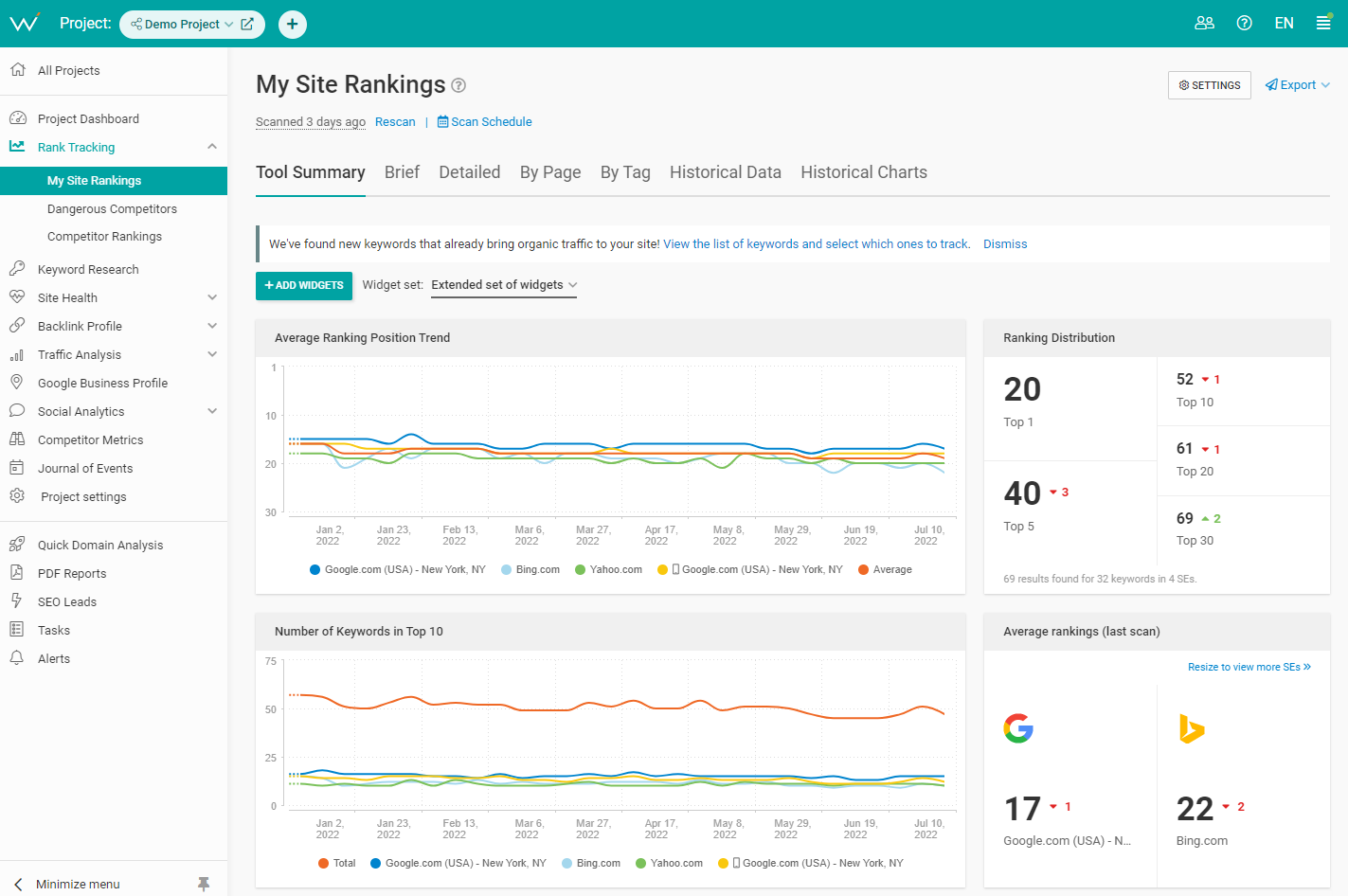 Why watch your rankings at all? For one, to feel proud of yourself. If you are driven by more than just optimism, then you might also expect the rankings to fall at some point. It might indeed happen, many times. A drop in rankings is a certain signal to double down on SEO; in a worst-case scenario, it could be because Google gave you a penalty. So spend a few minutes at least once per week to scan your site.
The exact same things can be said about user traffic. Keep an eye on its fluctuations with WebCEO's Web Analytics toolset.
BONUS Tip. Convert your organic traffic like a pro
Quick refresher: conversion means the users visiting your page AND performing the action you want, like buying. Conversion rates are measured in percentage. For example: number of buyers divided by number of visitors times 100%.
As you can imagine, online stores live or die by their conversion rates. Naturally, you want yours to be at their highest, and that's a good reason to invest your effort into conversion rate optimization (CRO for short).
Conversion rate optimization benefits any site where users perform money-making actions. In case with ecommerce websites, you want to focus on these points:
Making your pages more user-friendly. Less headache for users means they'll be more likely to place an order. Make sure your site displays everything a user would need in the first scroll, especially on mobile devices. By the way, is your ecommerce site mobile-friendly?
Well-placed, eye catching calls-to-action. Strong colors are encouraged, but don't overdo it. And if you have special offers? Even better.
Well-placed user testimonials. Words of praise from other customers will make newcomers feel safer. Their experience is the fruit of your labor – share it.
Simple forms with few form fields. Less is more, at least at first. If you need a ton of information from your customer to prepare their order (which is often the case), don't hit them with a dozen fields to fill out at once.
Use online chat software on your site. If you feel lost, here's the Top 10 Best Live Chat Software Solutions Compared.
Google Analytics remains the best (and completely free) tool for tracking your campaigns' conversions. It's even integrated in WebCEO – and we absolutely recommend connecting your Google Analytics account to your WebCEO project. You will receive the same data faster and in a much more user-friendly interface, plus quick access to other SEO reports for your ecommerce site.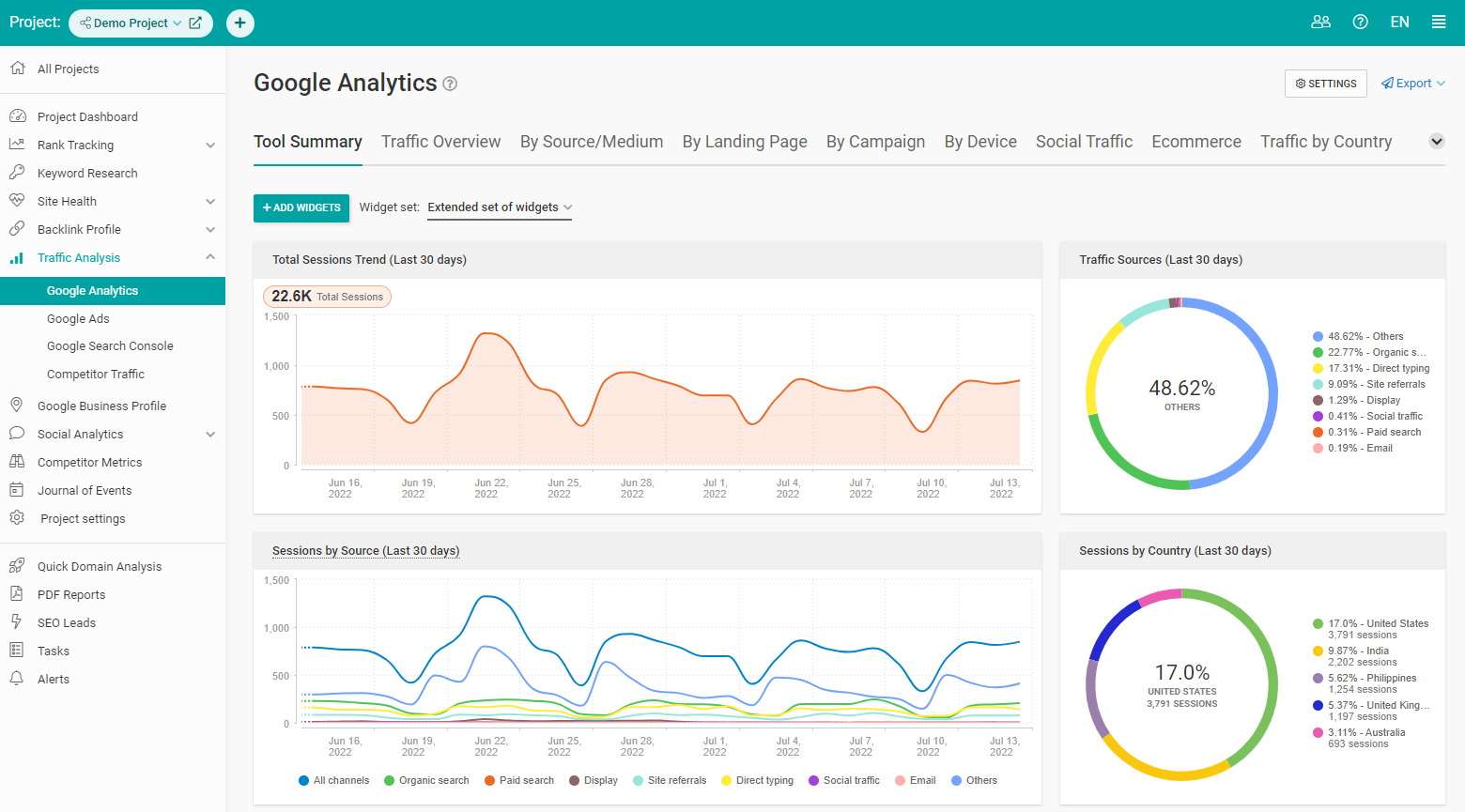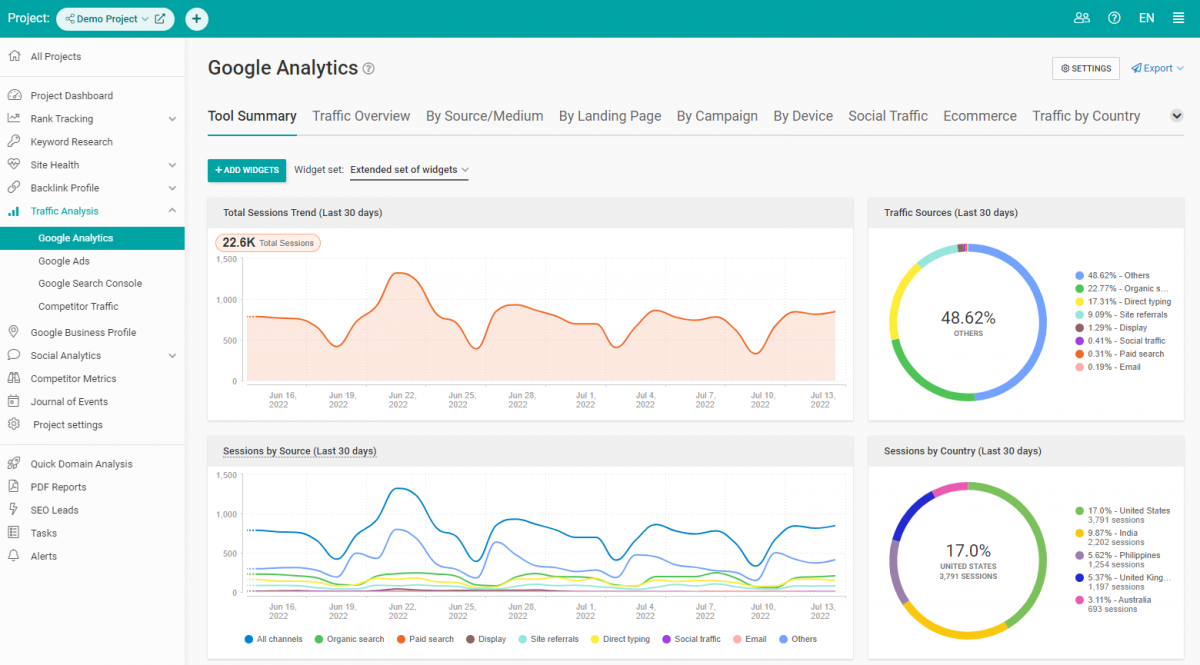 Now you've ensured high search engine rankings and targeted visitor traffic to your site. Congratulations, you've nailed SEO for ecommerce websites!
Engage visitors on your site and convert this traffic well. Otherwise people will come and go, and Google will think that your site is not relevant enough to the queries that have brought people to your site organically.