SEO for Photographers: A Definitive Guide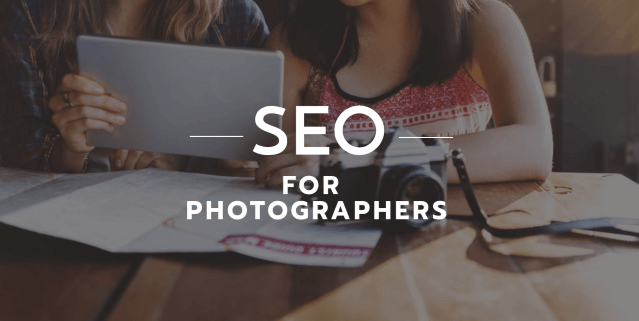 SEO – search engine optimization – is the practice of getting a website to appear in search engines. Websites want to rank high mostly on Google because it is by far the largest search engine today.
How important is it for your business to rank high there? 60% of clicks on Google's results pages go to the top three results – that's how. People searching for information generally only look at the top results and hardly ever scroll down.
When it comes to photography, people use search engines to find a photographer for family photos, pregnancy announcements, wedding photos, or stock photography. Many are interested in finding photographers in a specific area or for a specific purpose.
Google is your friend for getting your business recognized.
SEO can be mysterious in nature because Google is constantly improving its algorithms to find higher quality content. It can seem like a headache to stay on top of the changing algorithms but don't worry, there are many online SEO guides and tools to help you.
To get started, keep reading to learn about the four areas that most affect photography SEO success.
1. Keyword Research
We all know that a Google search starts with keywords. Keywords drive traffic. Keywords let your leads find you.
This is why keyword research is the starting point for any digital marketing strategy.
Keyword research is a process of brainstorming, researching, and planning what keywords to use in your content.
To begin with, think about client pain points and make a list of keyword ideas.
After brainstorming, it's time to research those potential keywords. Google Keyword Planner is an excellent starting tool for keyword research. It lets you explore your initial keyword ideas and suggests related search terms with their monthly search volumes. It also allows you to see keyword trends over time.
Other tools, like WebCEO's Keyword Suggestions, can help you execute your keyword research while also giving you more advanced tools like competitive analysis, content research, rank tracking, and more.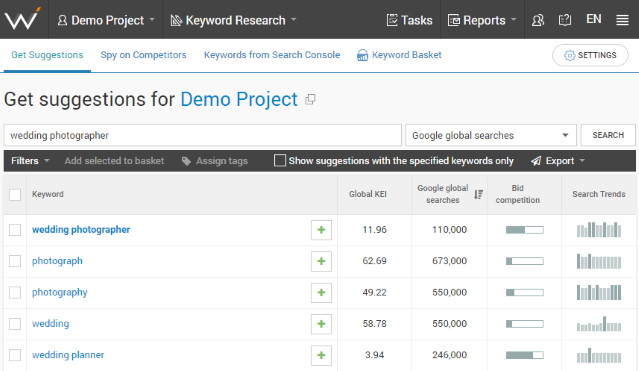 After choosing target keywords, it's time to start crafting useful content, usually in a blog format. Target keywords need to be in your headings, meta descriptions, and content.
At the end of the day, keywords are your vehicle for creating attractive content. High quality content is what drives leads and makes more sales.
2. Local SEO
People looking for photography as a service usually search locally. This is where local SEO comes in for you and your business.
The first step to boosting your SEO success is getting listed on Google My Business. If someone searches "Family Photographer San Diego," a map with a list of businesses and locations in San Diego appears. This is the easiest and quickest way for someone to find you.
Within your listing, you can add posts to business. This is like a social media post that shows up in your listing. You can add images, information about upcoming events or deals, or share links with other sites. The more content about your business on Google, the better.
Another tip for local SEO is to focus on building a locally optimized landing page. A clear and unique page title with target keywords will garner search engine attention. Don't forget to clearly identify your area in a positive, exciting, and unique way.
If you have a physical location, like a studio, the address and a map with linked directions should be listed somewhere on the landing page. This helps boost your ranking for local search.
Not convinced? Then see what local SEO can do for your photographer website. You could be there.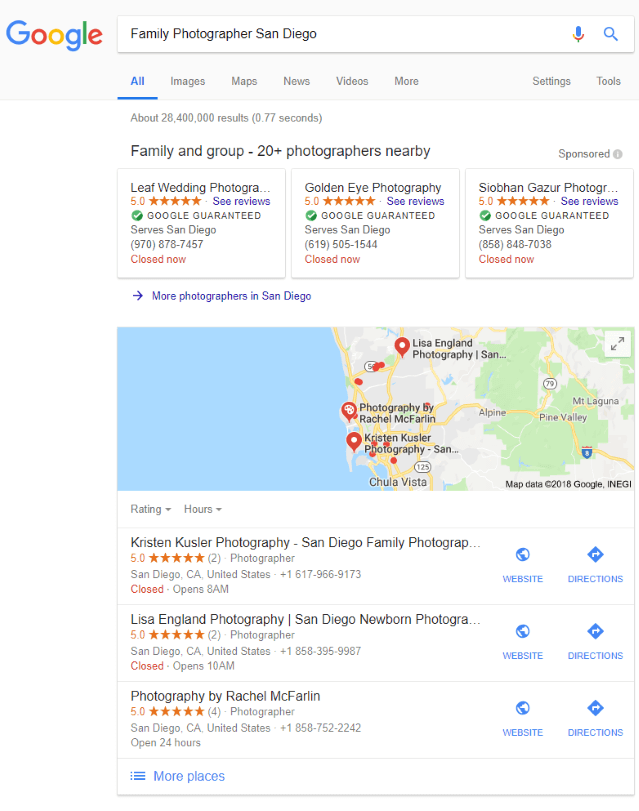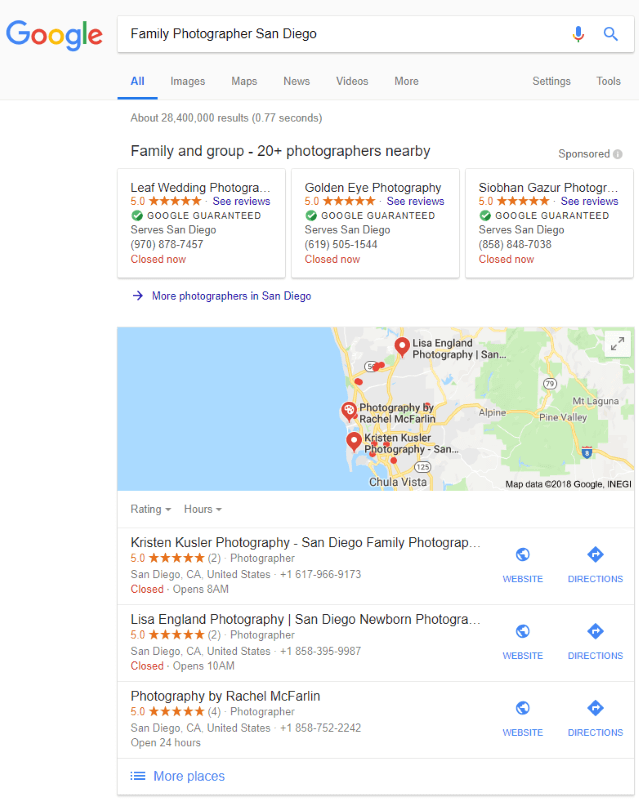 When you create content, highlighting the unique strengths of your area and providing testimonials from other locals can be a great way to emphasize your location.
If you run a photography business in multiple locations, consider using submarket landing pages. For example, if you work in Southern California, you can have subpages dedicated to Los Angeles, Orange County, San Diego, etc. These can all have unique content to grab more traffic.
People who want photography services are most likely to look for photographers near them. This is why your page needs to be optimized for local SEO.
Most importantly, remember to track your website's rankings in each of your locations. Online SEO tools like WebCEO's Rank Tracking can do exactly that: retrieve local rankings from places chosen by the user. Just open the tool's settings and select your locations in the Search engines tab.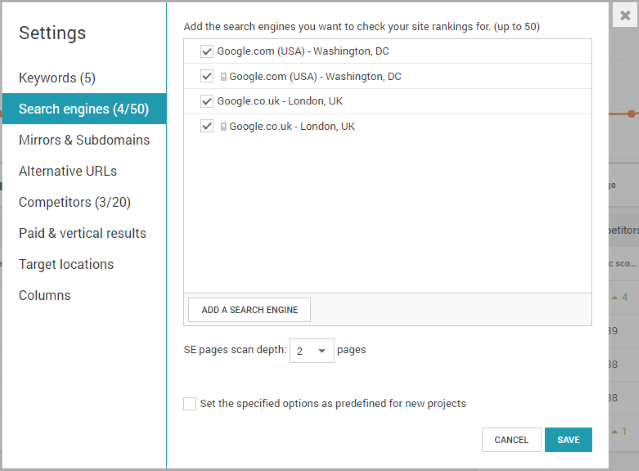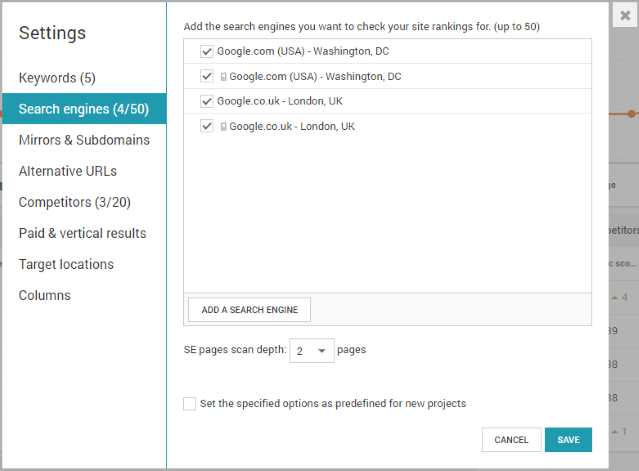 3. On-page Optimization
On-page optimization is what differentiates high-quality sites from spam. Websites today are judged by many on-page ranking factors. Top factors include:
Useful content
Title tags
Meta descriptions
Good URL structure
ALT attributes in your photos
Keywords in all of the above
Many photographers have strong visuals on their websites but lack written content. To rise to the top rankings, you must have targeted keywords, helpful blog posts, client reviews, and more. This content has to be authentic, beautiful and easy to read, authoritative, and accessible to crawlers.
Title tags are what appear as the clickable title on SERPs. They need to be relevant, clear, and concise to capture attention from Google and visitors. This will be the first impression you give to viewers. Title tags are one of the most deciding factors of whether someone will click on your website or not. Descriptions fulfil the same purpose.
Well-designed URLs are also important. Google and visitors alike are more likely to appreciate a simple URL with a clear and accurate description of the page rather than a long URL with many numbers instead of words.
ALT attributes are of the utmost importance for a photographer website because of all the photos. These tags help Google understand what your photos are about, which in turn helps users find your site in Google image search. Make sure every single one of your photographs has an ALT attribute with keywords!
Make sure you have covered everything by testing your site in WebCEO's Landing Page SEO tool.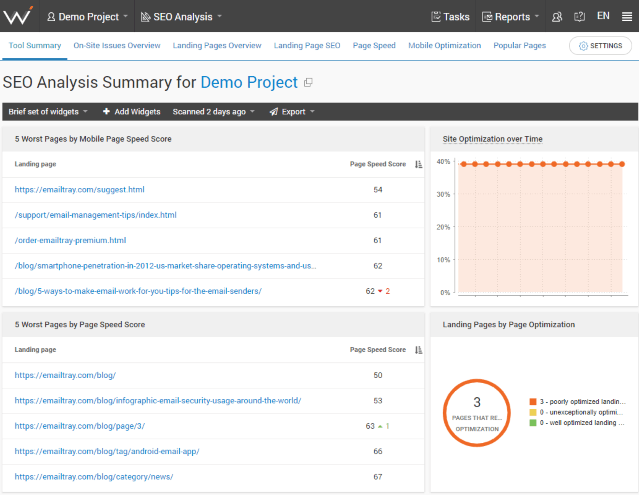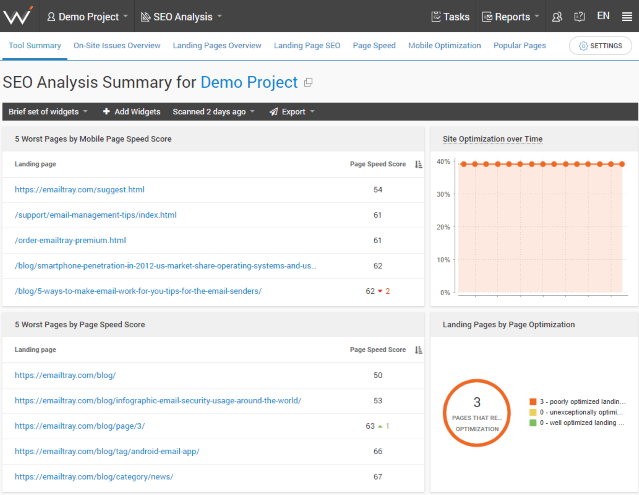 Not only do you have to worry about these factors, but you have to make sure your site is optimized for mobile devices. Google is now shifting to mobile-first indexing, which means Google will look at your mobile site first to determine how high it wants to rank you.
This can be a challenge for photographers. Most photographers do not want to reduce quality of image size but to be mobile optimized, images have to load fast. Photographers must find the right compression tools to make their site fast for viewers without compromising their quality standards.
As a photographer, you have an eye for what is beautiful and relevant. Apply that to your website, and you will be on the right track.
4. Social Media and SEO
As a photographer, social media can be your best friend because it is a great and free way to display your work, build content, and share your links.
The relationship between social media and SEO is complicated. Google has released contradicting statements on this topic, saying social media does and does not influence ranking. Despite that, it's still a great way to gain publicity and drive traffic to your website. We do know that Google tracks social media just like it would any other webpage. If someone links to your site from there, that counts as a backlink.
Also, social profiles are often some of the top results on Google. If someone searches your specific business, it is likely that your Facebook, Pinterest, Twitter, or Instagram accounts would appear in the top results.
Social profiles can be a more personal way for visitors to get to know your brand. They can be more engaging and offer more up-to-date information on your business. If you are travelling and doing photography sessions in different locations, social media can be a more accessible and quick way to update followers.
Once you have a page on every major social channel, you'll need to track user activity and engagement – on all of them! Can you imagine how difficult and time-consuming it is? Not at all, actually. Not when you have SEO tools to make it quick and easy.
Monitor all your social citations in WebCEO's Social Engagement Summary report.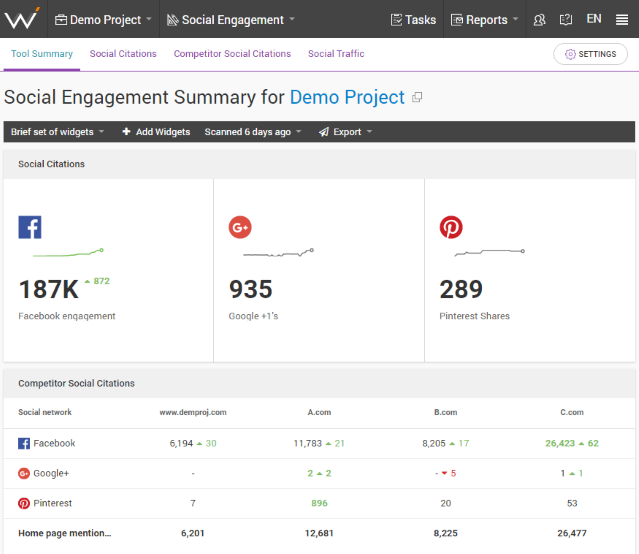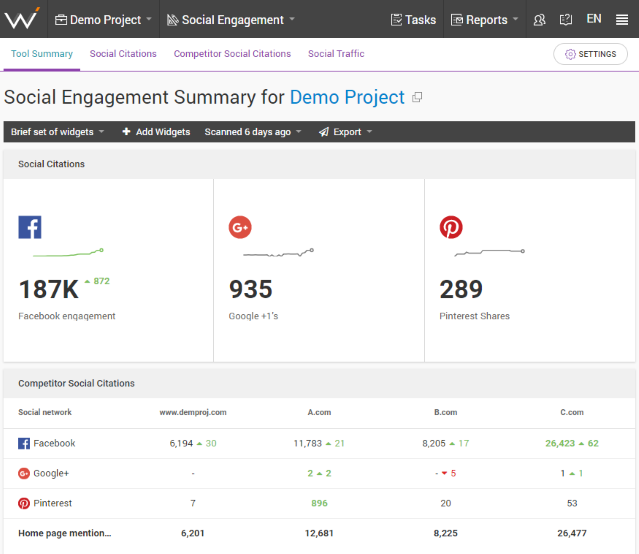 Now you know the importance of SEO and the basics for just getting started. For more advanced skills, consider tools that can help you with keyword research, website optimization, and social media management.