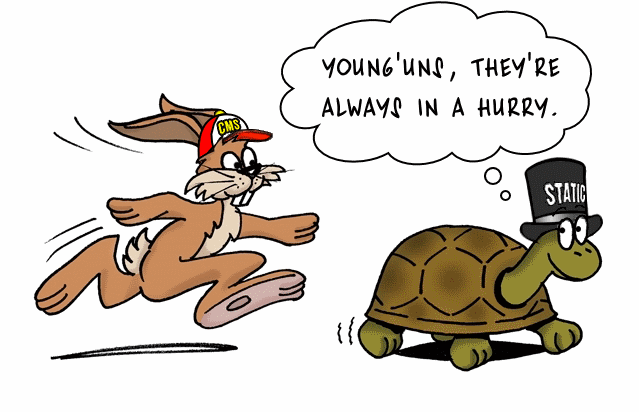 All websites were static once. Join me in my time machine and check the CNN web page as it was in 1996.
It loads in under 32 ms, its size is 74 KB, there are only 22 requests to load the full page.

Let's compare to the CNN home page today.

You see who the winner is.
Today we live in the era of content management systems (CMS). Dynamic sites, created with a CMS, are generated in real-time. When a dynamic page is accessed, the code within the page is parsed on the Web server and the resulting HTML is sent to the client's Web browser. It takes time and resources.
Choose your CMS carefully
CMS systems (like WordPress, Joomla, Magento, Drupal, etc.) became popular very quickly as they are quick to maintain and one needs no special knowledge to manage content with them.
However, there are several reasons why you should be careful when choosing a CMS:
1. Security vulnerabilities
WordPress, Joomla! and Drupal have one thing in common: they are the most common hacking targets on the Internet. According to the Sucuri Website Hacked Trend Report 2016, 78% of all hacked sites they worked with in Q1 of 2016 were built on the WordPress platform.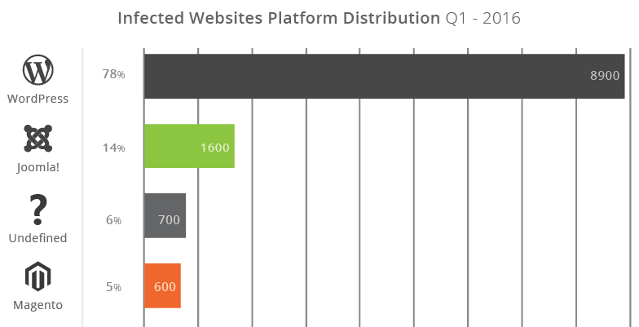 In most instances, says Sucuri, the reason is improper deployment, configuration, and overall maintenance by the webmasters and their hosts. That's not to say CMS systems are not completely defenseless, though; they do offer ways to make their sites more secure and prevent your WordPress SEO from crashing and burning.
2. Hard to scale
Implementing a CMS has ongoing costs as well. A CMS's architecture is based on the original designs and scaling the architecture can be tough. Especially if you need to change something quickly.
Static VS Dynamic. Which is better for SEO?
Since Google has indicated site speed to be one of the signals used to rank pages, no one can ignore the results of the PageSpeed Insights tool.
With pure HTML static websites:
You have total control over your SEO.
You can customize a website any way you want.
You can build adaptive websites.
You have HTML and CSS that are fully understood by search engines.
The sitemap will have a simple index which is recommended by all the search engines.
Faster load time!
With dynamic websites:
You need a special plugin to manage your SEO.
You will want to be very careful in producing a proper link structure and URL parameters.
You should optimize page load time.
What are good static sites made of?
They say that dynamic websites give you a lot of flexibility in managing and updating content (if someone has set a CMS system properly for you in advance). However, creating static websites is now easy too.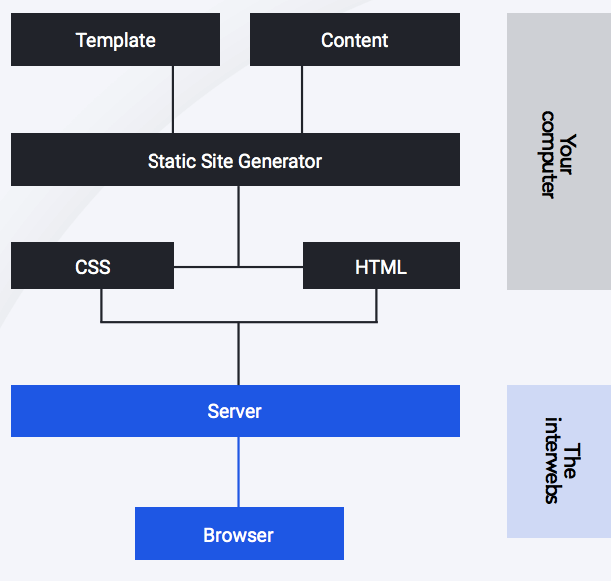 1. Template + Content
As with a dynamic site, you will need unique content to be written and a unique logo for your brand or company. Fortunately, it's really easy to design your own logo with help of the right online logo maker.
2. HTML + CSS
You can use any static site generator to create your new fast website. The most popular (and open-source i.e. free) are Jekyll, Hugo, Hexo.
3. Hosting
With a static website any option suits you: cloud file storage, static file hosting, any traditional hosting.
4. Dynamic functionality
If you have a static website, you do not need to sacrifice functionality that dynamic sites have.
5. Content management
You can even make your content easily manageable with the help of hosted CMS systems like Surreal CMS, Forestry.io or Prose.
Summary
Well, maybe I've gone too far demonizing dynamic sites, but I wanted you to see that static sites are:
Easier to develop
Easy to scale
Secure by default
Cheap to host
Quick to load
Great for SEO