Follow the Yellow Brick Road to Fit the Buyer's Journey by Customizing Your Social Media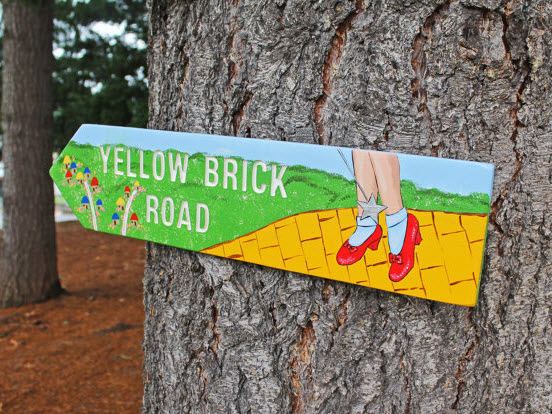 Where would Dorothy be without her fictional friends on that memorable journey down the Yellow Brick Road? There would be no book and forget about the many adaptations that followed.
She never would have navigated her trek to the magical land of Oz without a great deal of help from Glinda, the Good Witch of the North, and Dorothy overcame many challenges from the evil sister, the wicked one from the West. This is a perfect analogy for a successful social media marketing strategy. Think of it this way, we can be Glinda and guide our friends Dorothy, the scarecrow, the tin woodsman and lion down their path. We will learn from the obstacles that the Wicked Witch tosses at Dorothy's feet to throw her off her trek to buying success.
Just as Dorothy learned to adapt to the magic and wonderment within the world of Oz, gathering friends along the way, brands need to continue their journey and learn how to master social media, and customize it in a way to ensure that they meet their end goal:
THERE'S NO PLACE LIKE HOME – The Comfort Zone
 Even though she wasn't in the market for a new pair of ruby red shoes, Dorothy got them nonetheless, because she needed them. While she didn't know that she needed them in the beginning, she ultimately understood the importance of them. Likewise, users feel comfortable on the social sites they like to follow and will often consider an item that they didn't know they wanted or needed until it was effectively presented to them.
WE'RE NOT IN KANSAS ANYMORE – Emotional connection is key
Dorothy connected with her strange, new friends by sharing with them how much she missed her Auntie Em and life on the farm in Kansas. Connect with your new social media friends this way, on an emotional level, before you try to cram a product down their throat.
Walt Disney World, for example, is one of the most popular brands on Facebook. Boasting over 45 million fans, the key to their following is that they understand and know their target audience. At first, you would think Disney would target kids, teenagers and young adults, but according to statistics, the highest percentage of their Facebook followers is within the 34-54 year-old age bracket. After all, it's the parents who want to book and plan Disney vacations with their families.
When taking a look at their Facebook fan page, Disney connects with their audience by sharing a mixture of nostalgia-inducing images, exciting videos and updates from around the resorts — all to entice families around the world to book their next trip.
FOLLOW, FOLLOW, FOLLOW, FOLLOW – Consistent versus Persistent
Those cute little Munchkins repeated their follow advice over and over again, but showing persistence is better than consistency in this case. If no one is listening to your message, change the angle! Consider taking a different approach with your content and see how your audience responds. Once they do, be sure to engage with them appropriately and follow them on their journey.
CLICK YOUR HEELS TOGETHER – Show them the way
Once you have engaged a potential customer, show them precisely and concisely, neatly and sweetly, and ever so completely, exactly what they need to do and where they should go. Dorothy wasn't aware she already had the tools and ability to go home the entire time she was in Oz. Unfortunately, customers won't nearly have as much patience, and they will often prefer the quick trip to the Wizard and skip the Dorothy drama.
SOMEWHERE OVER THE RAINBOW – Unfamiliar territory
Consumers won't last long in a tornado — a twisting, swirling ride to an unknown place — but once they leave their "home" social site, they are in unfamiliar territory just like when Dorothy emerged from her shaken-up house in Munchkinland. Odds are there will be no cute, little friendly advisors available on your websitee, so explain their destination to them before and after they arrive. Your landing page should have a clear-cut route aimed directly at their purchase.
BACK TO KANSAS – Bring them back home
Dorothy awoke back home after completing her fantastical journey, learning from her mistakes, and conquering the Wicked Witch. By avoiding unnecessary social media challenges, you can give your social media traveler the quickest route to your product and let them feel at home using it and praising you on their social media platforms. Just as Dorothy's family and friends were there to greet her, remember your buyer and thank them for their adventure. If you aren't already following them on social media, do so then and there.
There's no place like home, and there's nothing better than a successful journey that brings us a new friend and customer.