How to Start a Website: Finding the Best Keywords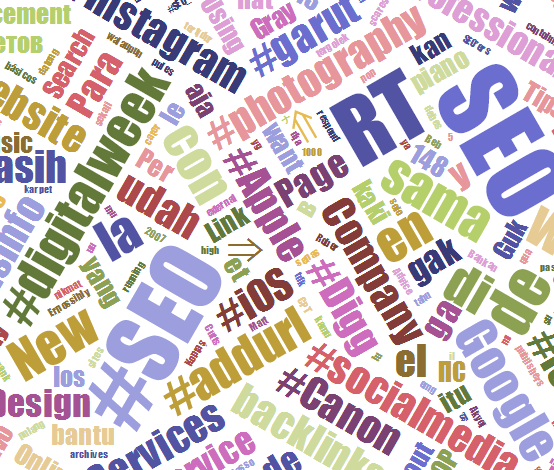 To best do SEO for your site, you will need to determine the optimal keywords for your site theme so the search engines can associate your site with them. Since modern search queries are more and more conversational now, you should think like your prospects do.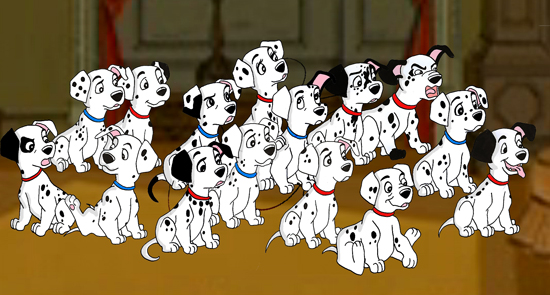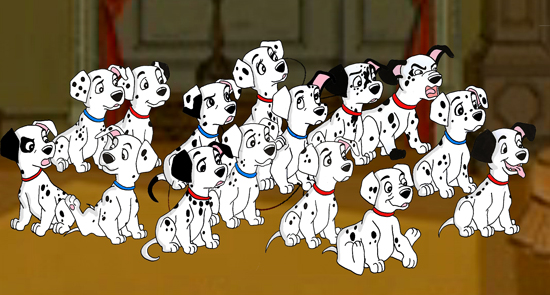 How to choose the best keywords?
1. Make a list of relevant keywords and phrases that your audience may use.
Think about keywords that describe your business, products or services. In this step you shouldn't worry about keyword effectiveness, as you are only creating a list to start experimenting with.
Single keywords are highly competitive – in fact so competitive that it is unrealistic to expect that your web pages can score at the top of the search results for a single word keyword search. But, that's okay because you don't need to, nor do you especially want to.
The search terms that convert best to sales are typically very specific key phrases comprised of two to five words (aka long-tail keywords). For example, if you plan to buy a blue bike jacket, you'd narrow down your search to 'blue bike jackets' to find exactly what you want and then you'd be more likely to buy.
Your keyword phrase should be popular enough to draw good visitor traffic, yet specific enough to outplay your competitors and get you to the top on the Search Engines.
2. Use the Keyword Research tool to expand your keyword list.
After you've thought of some keywords you'd like to work with, use the WebCEO Keyword Tool to get suggestions for keywords you haven't thought of yet. This tool will help you understand the different keywords for your industry so that you don't accidentally target the wrong keywords.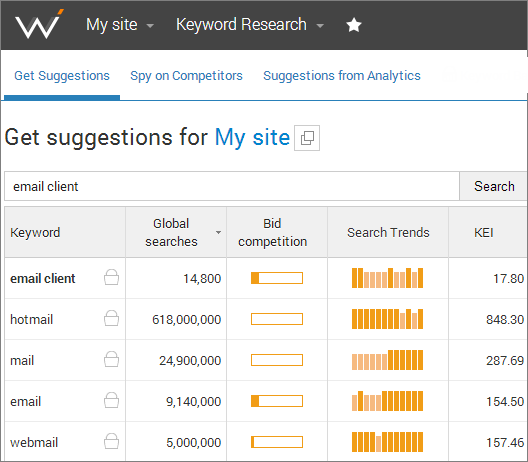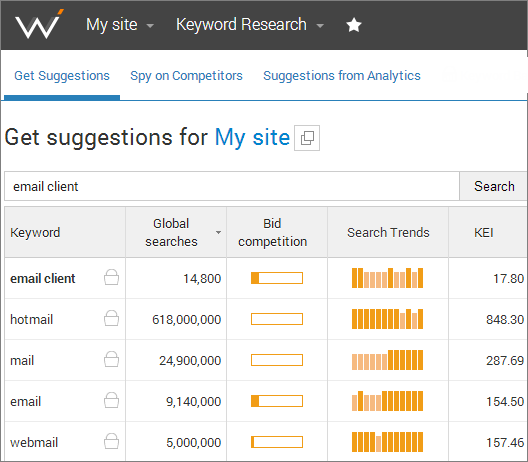 Go to the Keyword Tool's first report called 'Get Suggestions', enter your site theme and get keyword suggestions. Analyze the list and choose the keywords to add to your basket that most match your topic and that have a high search rate and desirably less competition so you will be able to occupy some niche.
3. Spy on your competition to get more suggestions on related keywords.
Knowing what keywords your competition is targeting and ranking for is another smart way to find keywords that lead to the type of traffic you want. This can show you keywords that you haven't thought of yet. The WebCEO Keyword Research tool will help you to research your competitors' keywords. You just need to enter the URL of your competitor.
4. Localize your keywords to target a local audience.
If you are targeting a local audience, be sure to add regional names (state, city or district) to the previously selected keywords. This helps you to rank high for local search queries.
5. Refine the list of keywords based on their effectiveness.
As soon as your initial keyword list is ready, analyze the detailed info (Global Searches, Bid Competition, Search Trends, KEI) on each one. The parameter that will help you to choose the best keywords is KEI.
KEI (Keyword Effectiveness Index) uses the number of global searches for a keyword and its bid competition coefficient to get a great estimate of the effectiveness of that keyword. We recommend optimizing your pages for the keywords and keyword phrases with the highest KEI. The higher the KEI the better, because the search number is relatively high while the competition is relatively low.
By following these 5 steps, you will pick the best keywords to optimize your pages for. Now you will need to decide which pages on your site you should optimize for high search engine rankings. These are called landing pages and should be the pages of your site that will attract targeted visitors and make them perform your targeted action (we will discuss how to optimize your landing pages for the highest conversions in our next blog post).